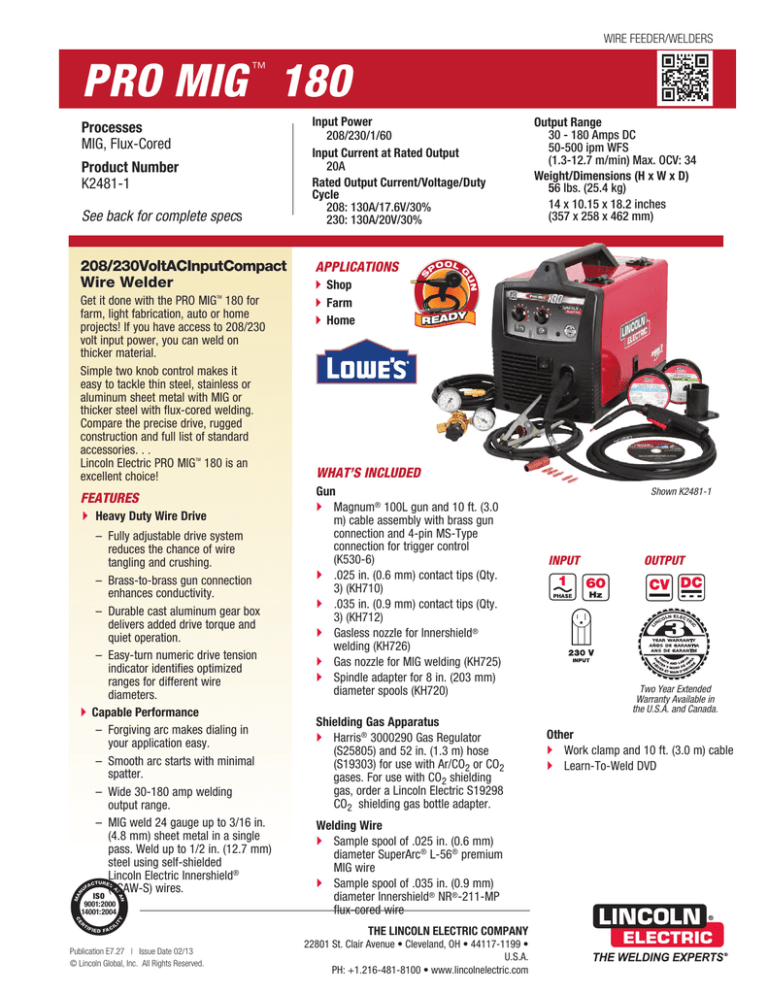 WIRE FEEDER/WELDERS
PRO MIG 180
™
Product Number
K2481-1
See back for complete specs
Get it done with the PRO MIG 180 for
farm, light fabrication, auto or home
projects! If you have access to 208/230
volt input power, you can weld on
thicker material.
Simple two knob control makes it
easy to tackle thin steel, stainless or
aluminum sheet metal with MIG or
thicker steel with flux-cored welding.
Compare the precise drive, rugged
construction and full list of standard
accessories. . .
Lincoln Electric PRO MIG 180 is an
excellent choice!
TM
APPLICATIONS
Shop
Farm
Home
P
Get the free mobile app at
Output Range
http:/ / gettag.mobi
30 - 180 Amps DC
50-500 ipm WFS
(1.3-12.7 m/min) Max. OCV: 34
Weight/Dimensions (H x W x D)
56 lbs. (25.4 kg)
14 x 10.15 x 18.2 inches
(357 x 258 x 462 mm)
O OL G
UN
208/230VoltACInputCompact
Wire Welder
Input Power
208/230/1/60
Input Current at Rated Output
20A
Rated Output Current/Voltage/Duty
Cycle
208: 130A/17.6V/30%
230: 130A/20V/30%
S
Processes
MIG, Flux-Cored
TM
 Heavy Duty Wire Drive
ISO
9001:2000
14001:2004
Shielding Gas Apparatus
 Harris® 3000290 Gas Regulator
(S25805) and 52 in. (1.3 m) hose
(S19303) for use with Ar/CO2 or CO2
gases. For use with CO2 shielding
gas, order a Lincoln Electric S19298
CO2 shielding gas bottle adapter.
Welding Wire
 Sample spool of .025 in. (0.6 mm)
diameter SuperArc® L-56® premium
MIG wire
 Sample spool of .035 in. (0.9 mm)
diameter Innershield® NR®-211-MP
flux-cored wire
THE LINCOLN ELECTRIC COMPANY
Publication E7.27 | Issue D­ate 02/13
© Lincoln Global, Inc. All Rights Reserved.
22801 St. Clair Avenue • Cleveland, OH • 44117-1199 •
U.S.A.
PH: +1.216-481-8100 • www.lincolnelectric.com
Shown K2481-1
INPUT
OUTPUT
IN
CO
LN ELECT
RI
C
– Fully adjustable drive system
reduces the chance of wire
tangling and crushing.
– Brass-to-brass gun connection
enhances conductivity.
– Durable cast aluminum gear box
delivers added drive torque and
quiet operation.
– Easy-turn numeric drive tension
indicator identifies optimized
ranges for different wire
diameters.
 Capable Performance
– Forgiving arc makes dialing in
your application easy.
– Smooth arc starts with minimal
spatter.
– Wide 30-180 amp welding
output range.
– MIG weld 24 gauge up to 3/16 in.
(4.8 mm) sheet metal in a single
pass. Weld up to 1/2 in. (12.7 mm)
steel using self-shielded
Lincoln Electric Innershield®
(FCAW-S) wires.
Gun
 Magnum® 100L gun and 10 ft. (3.0
m) cable assembly with brass gun
connection and 4-pin MS-Type
connection for trigger control
(K530-6)
 .025 in. (0.6 mm) contact tips (Qty.
3) (KH710)
 .035 in. (0.9 mm) contact tips (Qty.
3) (KH712)
 Gasless nozzle for Innershield®
welding (KH726)
 Gas nozzle for MIG welding (KH725)
 Spindle adapter for 8 in. (203 mm)
diameter spools (KH720)
L
FEATURES
WHAT'S INCLUDED
Two Year Extended
Warranty Available in
the U.S.A. and Canada.
Other
 Work clamp and 10 ft. (3.0 m) cable
 Learn-To-Weld DVD
HEAVY DUTY WIRE DRIVE
Enhanced Quality
1. Brass-to-brass gun connection enhances conductivity.
2. Rigid drive aids wire alignment. The cast aluminum body with an enclosed
multi-stage gear box delivers improved torque and quiet operation.
Easy to Use
3. Easy-turn drive tension adjustment with numeric tension indicators.
6
3
4
4. Fast tool-less drive roll changeovers. The dual track drive roll ensures
positive flux-cored wire feeding with common wire diameters.
1
5. Easy tool-less polarity changes for MIG or flux-cored welding.
5
6.Spool gun ready switch allows user to select spool gun or standard push gun
drive operation.
2
PERFORMANCE PLUS
DRIVE ROLLS
(1)
L12603-14
SP - Single Pass
MP - Multiple Pass
(1)
Product
Number
KP2948-1
KP3285-1
Wire Diameter
inches (mm)
.025-.035 (0.6-0.9)
.035-.045 (0.9-1.1)
Process
MIG/Flux-Cored
Flux-Cored
Aluminum welding requires optional K2532-1 Magnum® spool gun.
RECOMMENDED ACCESSORIES
GENERAL OPTIONS
4043
handle.
Order K520
Small Canvas Cover
Protect your welder when not
in use. Made from attractive red
canvas that is flame retardant,
mildew resistant and water
repellent. Includes a convenient
side pocket to hold your
welding torch or gun.
Order KH495
Welding Cart
Full-featured cart is designed
to store and transport a welder,
80 cubic foot gas cylinder,
welding cables and accessories.
Includes an angled top shelf for
easy access to welder controls,
a lower tray for added storage
space, a sturdy handle also used
as a convenient cable wrap
hanger.
Order K2275-3
.035 in (0.9 mm) MIG wire.
Packaged in a convenient
carrying case.
Order K2532-1
.045 Innershield® Welding Kit
Includes everything required
to weld with .045 in. (1.1 mm)
Innershield® self-shielded fluxcored wire. Includes an .035.045 in.
(0.9-1.1 mm) Magnum® 100L
gun liner, a .045 in. (1.1 mm)
contact tip, a gasless nozzle,
drive roll, and a
10 lb. (4.5 kg) spool of .045 in.
(1.1 mm) Innershield® NR®-212
wire.
Order K3281-1
WIRE FEEDER OPTIONS
Magnum® 100SG Spool Gun
Designed to easily feed 4 in
(102 mm) diameter 1 lb. (0.45
kg) spools of .030 in (0.8 mm)
or .035 in (0.9 mm) diameter
SuperGlaze® aluminum MIG
wire. Includes gun, adapter kit,
.035 in (0.9 mm) contact tips
(qty. 3), gas nozzle, and a 1 lb.
(0.45 kg) spool of SuperGlaze®
Utility Cart
Heavy duty cart stores and
transports welder, 150 cubic
foot shielding gas cylinder,
welding cables and accessories.
Includes stable platforms for
welder and gas bottle platform,
lower tray for added storage
capacity and adjustable height
PRODUCT SPECIFICATIONS
Product
Name
PRO MIG™ 180
Product
Number
K2481-1
Input
Power
208/230/1/60
Rated Output
Current/Voltage/Duty Cycle
208: 130A/17.6V/30%
230: 130A/20V/30%
Input Current
@ Rated Output
20A
Output
Range
30-180 Amps DC
50-500 ipm WFS
(1.3-12.7 m/min)
Max. OCV: 34
HxWxD
inches (mm)
14 x 10.15 x 18.2
(357 x 258 x 462)
Net
Weight
lbs. (kg)
56
(25.4)
For best welding results with Lincoln Electric equipment, always use Lincoln Electric consumables. Visit www.lincolnelectric.com for more details.
CUSTOMER ASSISTANCE POLICY
T he business of The Lincoln Electric Company is manufacturing and selling high quality welding equipment, consumables, and cutting equipment. Our challenge is to meet the
needs of our customers and to exceed their expectations. On occasion, purchasers may ask Lincoln Electric for information or advice about their use of our products. Our employees respond to inquiries to the best of their ability based on information provided to them by the customers and the knowledge they may have concerning the application. Our
employees, however, are not in a position to verify the information provided or to evaluate the engineering requirements for the particular weldment. Accordingly, Lincoln Electric
does not warrant or guarantee or assume any liability with respect to such information or advice. Moreover, the provision of such information or advice does not create, expand, or
alter any warranty on our products. Any express or implied warranty that might arise from the information or advice, including any implied warranty of merchantability or any warranty of fitness for any customers' particular purpose is specifically disclaimed. Lincoln Electric is a responsive manufacturer, but the selection and use of specific products sold by Lincoln Electric is solely within the control of, and remains the sole responsibility
of the customer. Many variables beyond the control of Lincoln Electric affect the results obtained in applying these types of fabrication methods and service requirements.
Subject to Change – This information is accurate to the best of our knowledge at the time of printing. Please refer to www.lincolnelectric.com for any updated information.