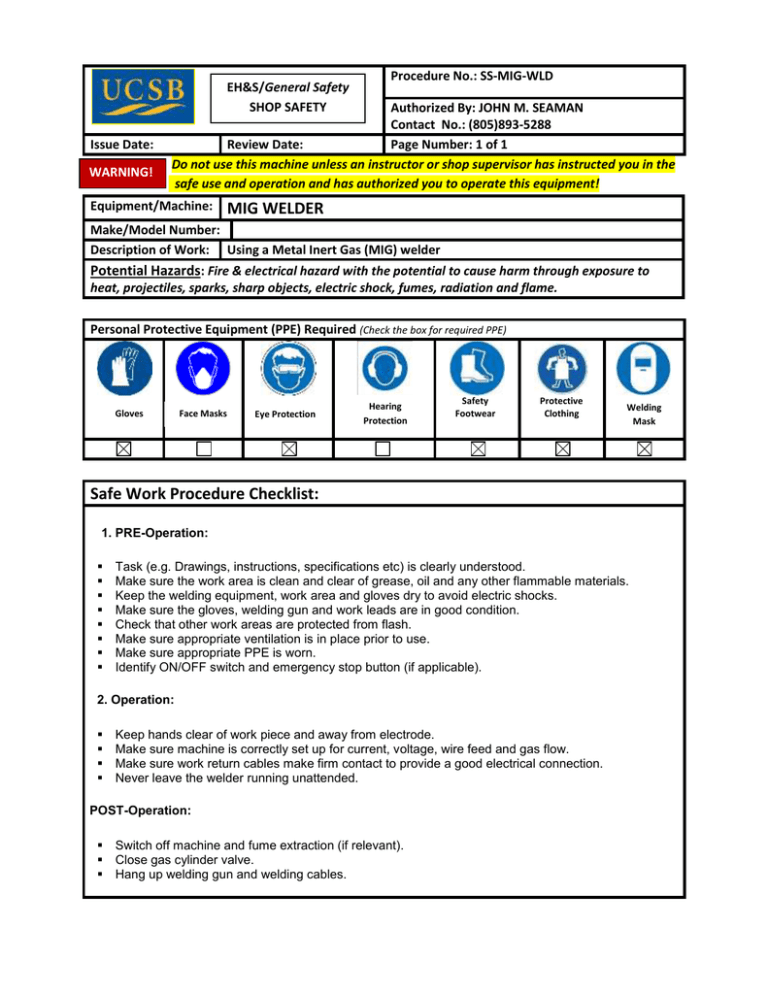 EH&S/General Safety
SHOP SAFETY
Issue Date:
WARNING!
Procedure No.: SS-MIG-WLD
Authorized By: JOHN M. SEAMAN
Contact No.: (805)893-5288
Review Date:
Page Number: 1 of 1
Do not use this machine unless an instructor or shop supervisor has instructed you in the
safe use and operation and has authorized you to operate this equipment!
Equipment/Machine:
MIG WELDER
Make/Model Number:
Description of Work: Using a Metal Inert Gas (MIG) welder
Potential Hazards: Fire & electrical hazard with the potential to cause harm through exposure to
heat, projectiles, sparks, sharp objects, electric shock, fumes, radiation and flame.
Personal Protective Equipment (PPE) Required (Check the box for required PPE)
Gloves
Face Masks
Eye Protection
Hearing
Protection
Safety
Footwear
Protective
Clothing
Welding
Mask
Safe Work Procedure Checklist:
1. PRE-Operation:
Task (e.g. Drawings, instructions, specifications etc) is clearly understood.
Make sure the work area is clean and clear of grease, oil and any other flammable materials.
Keep the welding equipment, work area and gloves dry to avoid electric shocks.
Make sure the gloves, welding gun and work leads are in good condition.
Check that other work areas are protected from flash.
Make sure appropriate ventilation is in place prior to use.
Make sure appropriate PPE is worn.
Identify ON/OFF switch and emergency stop button (if applicable).
2. Operation:
Keep hands clear of work piece and away from electrode.
Make sure machine is correctly set up for current, voltage, wire feed and gas flow.
Make sure work return cables make firm contact to provide a good electrical connection.
Never leave the welder running unattended.
3. POST-Operation:
Switch off machine and fume extraction (if relevant).
Close gas cylinder valve.
Hang up welding gun and welding cables.