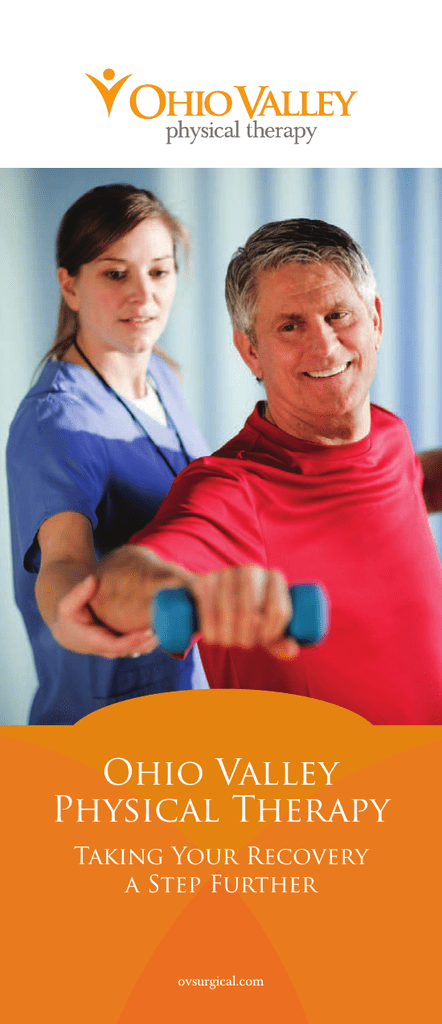 Ohio Valley
Physical Therapy
Taking Your Recovery
a Step Further
ovsurgical.com
TA K I N G T H E N E X T ST E P TO
R E STO R E D H E A LT H .
99% of our patients say they would recommend
Ohio Valley Surgical Hospital to family and friends. That's one
of the highest patient satisfaction rates in Ohio. Patients like our
skilled, experienced surgeons and health care team … our
state-of-the-art technology … the comforting environment we
provide. Now our Physical Therapy program takes us
a step further, helping patients recover faster.
THE OHIO VALLEY PHYSICAL THERAPY TEAM
R E STO R I N G W E L L- B E I N G
We Help Make Your Surgical Recovery Complete.
Ohio Valley Physical Therapy is a natural extension of Ohio
Valley Surgical Hospital's focused approach to superior
surgical care for the Greater Springfield area.
Our experienced physical therapists work alongside our
surgeons to help assure the best post-surgical results
possible for their patients, personalizing each
individual's treatment based on their needs.
Through a combination of manual therapy,
exercise, education and advanced treatment
modalities, our therapists help relieve each
patient's pain and increase their strength,
flexibility and range of motion.
We focus on restoring patients' optimum level of
function so they can return as quickly as possible
to enjoyable, productive, pain-free living.
The Ohio Valley Physical Therapy team works with
a wide range of post-operative patients – those
with sports injuries, others who have had spine
surgery, patients who have undergone knee or
hip replacements, and many others to help them
achieve the highest level of restored health. Ohio
Valley Physical Therapy gets patients started prior
to their surgery, educating them about their surgery
and what to expect following it. This approach is
proven effective to improve outcomes and satisfaction
following surgery.
S U P E R I O R T H E R A P I S TS
Our physical therapy team complements Ohio Valley's team
of surgeons and staff. They are educated and experienced to
provide a full range of physical therapy techniques, including
therapeutic exercise, neuromuscular re-education, postural
retraining, ergonomic education and manual techniques.
They also employ technology in their practice, such
as electrical stimulation to strengthen muscles and
promote healing and vasopneumatic therapy to
reduce swelling and inflammation from injury or
following surgery.
Comprehensive Outpatient
Physical Therapy Services
Ohio Valley's Physical Therapy
program stretches beyond
post-surgery care.
We help people return to work
as soon as possible, without
restrictions, after on-the-job injuries
caused by repetitive motion,
trauma or the stress of sustained
body positions. And we work with
patients on body mechanics and
ergonomics to reduce their risk of
recurrence.
S TAT E - O F -T H E - A R T FAC I L I T Y
And our therapists put their skills and
knowledge to work for patients in a beautiful,
new facility that features large private treatment
rooms and an open functional performance area
for running, throwing and hitting, or practicing
the activities of daily living.
The facility is furnished with top-of-the-line
technology – treadmills that facilitate gait
training and sports enhancement, video motion
analysis equipment, a biofeedback system for
muscle and movement re-education, a Cybex
Bravo functional trainer and a Quad 7 injury
recovery system.
S P E C I A LT I E S
Post-surgical therapy
Joint dysfunction
therapy
Ohio Valley Physical Therapy also
offers performance conditioning
and therapy for athletes and
weekend warriors, to help them
transition from their injury and
get back in the game.
Work injury therapy
In addition, our physical therapists
and experienced staff help others,
such as stroke patients, regain
lost function.
Balance disorders
Athletic injuries
Low back and
neck pain
Post-acute stroke
therapy
Chronic pain
Gait instability
Cardiovascular
conditioning
FO C U S O N E XC E L L E N C E
Ohio Valley focuses on surgical excellence delivered with the
personal attention that patients told us they value. Our Ohio
Valley Physical Therapy program offers this same focus on
excellence and patient-centered care to further enhance the
experience of our patients.
We Restore Your
Physical Wellbeing
OHIO VALLEY PHYSICAL THERAPY
140 West Main Street
Springfield, Ohio 45502
Located on the 3rd floor of the Ohio Valley Medical Building
www.ovsurgical.com
Phone: 937-521-4960
Fax: 937-521-4961
David Anon
PT, DPT
Wade Rice
PT, DPT
Ohio Valley
Surgical Hospital
is a physicianowned facility.