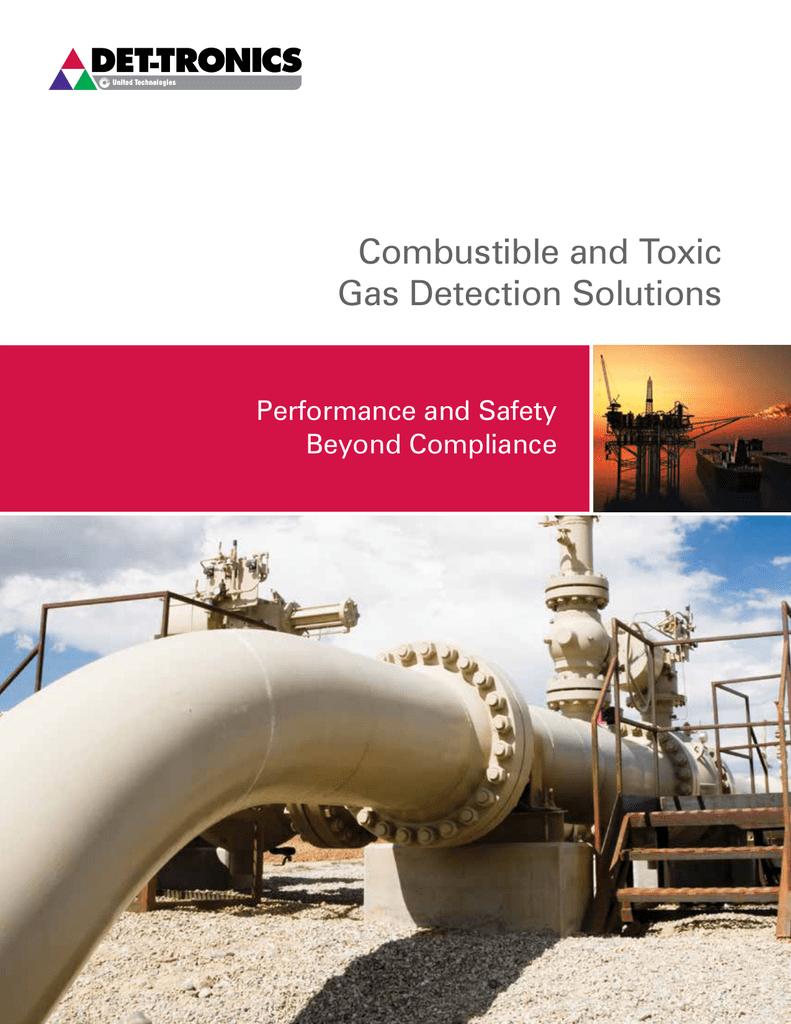 Combustible and Toxic
Gas Detection Solutions
Performance and Safety
Beyond Compliance
Reliable Solutions from Det-Tronics,
Your Partner in Safety
Our proven hazardous gas detection systems
deliver the highest level of protection for people,
processes and property—even under the most
extreme conditions.
▲▲ Rock-solid, performance-tested detectors
for a wide variety of gas hazards—all with
global approvals
▲▲ Durable, integrated solutions for protection
of people and critical industrial applications
▲▲ We partner with customers to design,
manufacture, test and deliver complete,
approved safety systems
Multiple Layers of Detection
LINE- OF-SIGHT GAS DETECTION
POINT GAS DETECTION
Detect combustible gas between two points up
to 120 meters apart with infrared technology
Detect toxic or combustible gases using
electrochemical, catalytic, infrared or NTMOS technology
ACOUSTIC LEAK DETECTION
Detect pressurized gas leaks instantly
without contact, regardless of wind direction
Trusted Response with
the Utmost Confidence
Det-Tronics leads the industry with performancetested hazardous gas detection solutions that
perform optimally with minimal maintenance.
▲▲ Certified SIL 2 Capable solutions to
streamline safety system design and
provide maximum reliability
▲▲ Performance tested in third-party labs
to validate response and accuracy
▲▲ Extra global approvals to ensure optimal
safety and protection
➊ Heated to improve operation in
➍ ➌
➊
➏
FlexVu® Universal Display
cold or damp environments
➋ Junction box designed to reduce
installation cost
➋
➑
➎
➌ Local display to provide confidence
that you are being protected
➑
➎
➍ Special versions available that support
easy integration with the Eagle Quantum
Premier Safety System
➎
Certified SIL 2 Capable to integrate
into high availability safety systems
GT3000 Electrochemical
Toxic Gas Detector
➌
➌
➐
➏ Approved to install without conduit
➑
seals to reduce installation cost
➐ Rugged-weather baffles for
best-in-class protection
➑
➐
➍
➊
➋
ART communication for comprehensive
H
diagnostic information
➏
Pointwatch Eclipse® Infrared
Hydrocarbon Gas Detector
➎
Combustible Gas Detection
®
POINTWATCH ECLIPSE INFRARED
HYDROCARBON GAS DETECTOR
▲▲ Certified to detect methane, propane,
ethylene and butane
▲▲ Proven infrared technology to detect and
communicate gas leaks
▲▲ Rugged IP66/67 construction and extended
interval testing reduces maintenance
CGS CATALYTIC BEAD SENSOR
▲▲ Best sensor for high temperature and
hydrogen detection applications
▲▲ Cost-effective solution to detect a broad
range of combustible gases
▲▲ Rugged, stainless steel construction
OPECL INFRARED LINE OF SIGHT
HYDROCARBON GAS DETECTOR
▲▲ Monitors up to 120m with a projected beam
▲▲ Reduced installation and maintenance costs over
multiple gas detectors
▲▲ HART communications for simplified maintenance
Toxic Gas Detection
GT3000 ELECTROCHEMICAL
TOXIC GAS DETECTOR
▲▲ D
etects hydrogen sulfide, hydrogen, oxygen,
carbon monoxide, nitrogen dioxide, ammonia,
chlorine and sulfur dioxide
▲▲ Certified SIL 2 Capable oxygen and hydrogen
sulfide sensors
▲▲ Simple, one-person calibration
COMBUSTIBLE AND
TOXIC GAS DETECTION
FLEXSONIC ® ACOUSTIC
LEAK DETECTOR
▲▲ D
etects instantly; no contact with
gas required
▲▲ Sensitivity unaffected by wind
direction or leak location
▲▲ Performs automatic integrity checks
NTMOS HYDROGEN
SULFIDE DETECTOR
▲▲ ISA-compliant and IP66/67 rated for
dust and water protection
▲▲ Ideal for extreme temperature and
humidity levels
▲▲ Provides incredibly fast response when
every second counts
POINTWATCH ECLIPSE ® INFRARED
CARBON DIOXIDE GAS DETECTOR
▲▲ Quickly detects hazardous levels of
carbon dioxide
▲▲ Tri-color LED provides local status
indication and improves maintenance
▲▲ Proven performance
Benefit from Universal Display
and Unparalleled Control
FLEXVU ® UNIVERSAL DISPLAY
▲▲ Reduces parts inventory and manpower;
lowers risk
▲▲ Non-intrusive, one-person calibration
▲▲ Approved to trigger life-safety horns
and alarms
▲▲ Loop-powered options for easy integration
EAGLE QUANTUM PREMIER ® (EQP)
SAFETY SYSTEM
▲▲ Combines gas and flame detection and
extinguishing flame release in a single
integrated solution
▲▲ Certified SIL 2 Capable
▲▲ NFPA 72 and EN 54 compliant
▲▲ Redundant, fault-tolerant loop reduces
installation costs
ACCESSORIES
▲▲ Application specific to meet customer
requirements
▲▲ Duct mounts, junction boxes, calibration kits
and more
▲▲ Single source, with highest-quality products
and support
UNIVERSAL
DISPLAYS
J
DIGITAL MODBUS RTU
▲
66/67
▲ ▲ ▲ ▲ ▲
•
53
• • • • •
▲
66/67
▲ ▲ ▲ ▲ ▲
66/67
▲ ▲
66/67
▲ ▲ ▲
66/67
▲
66
▲
Detected Gases
Temp. Range
PointWatch
Eclipse®
Hydrocarbons
(not hydrogen)
-40 to +75C
▲
▲
CGS Catalytic
Bead Sensor
Wide range of combustible
gases (hydrogen)
-55 to +75C
▲
•
Model OPECL IR
Line of Sight
Hydrocarbons
(not hydrogen)
-40 to +60C
▲
▲
▲
GT3000
H 2 S, CO, O2 , NH3, CI2,
SO2, H2 , NO2
-40 to +50C
▲
▲
▲
Eclipse CO2
CO2
-40 to +75C
NTMOS
H2 S
-40 to +65C
▲
•
FlexSonic®
Any gas
-55 to +75C
▲
▲
▲
FlexVu® UD10
–
-55 to +75C
▲
▲
▲
FlexVu® UD20
–
-55 to +75C
▲
▲
▲
▲
▲
▲
• • •
K
LOOP POWERED
I
EQP/LON
HART DIGITAL
H
RELAYS
G
IP RATING
F
▲
Model
•
E
HEATED SENSOR OR DISPLAY
ACOUSTIC
LEAK
D
CERTIFIED SIL 2 CAPABLE
TOXIC
GAS
C
EVENT HISTORIAN
COMBUSTIBLE
GAS
B
PERFORMANCE CERTIFIED
A
ANALOG 4-20 mA
Select from Proven Products
to Meet Your Safety Needs
▲
• ▲
• • • •
▲ • • •
66/67
▲ ▲ ▲ ▲ ▲
66/67
▲ ▲
▲
Additional capabilities when integrated with the FlexVu UD10 Universal Display
A Performance Certified: Outside laboratories independently validate Det-Tronics accuracy across the temperature range.
B E vent Historian: Most sensors maintain calibration logs and usage history. When combined with UD10, additional diagnostic information
is maintained like alarm events and faults like failed calibration or loss of power.
C Certified SIL 2 Capable: Det-Tronics uses exida to verify and certify the reliability of combustible gas and toxic gas detectors and displays.
D Heated Sensors or Displays: A sensor covered with condensation, rain or snow cannot detect hazards. Det-Tronics detectors are heated to operate in
extreme conditions.
E IP Rating: Verifies that dust and water will not affect the products' operation, third-party testing and ratings are provided on all products.
F Analog 4-20mA: The device outputs to the most common communication method for safety systems. This method requires home run wiring
topography to the controller.
G HART Digital: The device allows for the use of the HART handheld maintenance tool. In addition, the GT3000, UD10 and Eclipse are FDT/DTM
and AMS compatible.
H Relays: The device has multiple relay outputs to drive local horns and alarms without the need to connect to a controller.
I E QP/LON: The device is compatible with Det-Tronics Eagle Quantum Premier (EQP) Safety System. The EQP uses an addressable loop, which
allows customers to use multidrop wiring techniques to reduce installation costs.
J Digital Modbus RTU: Device outputs to an addressable loop, which allows customers to use multidrop wiring techniques to reduce installation costs.
K Loop Powered: A device that uses two wires for both power and signal.
The Global Leader in
Fire and Gas Safety Systems
Global Support centers
Representative offices
VdS
FlexSonic® Acoustic
Leak Detector
X3301 Multispectrum
IR Flame Detector
PointWatch Eclipse® IR
Combustible Gas Detector
FlexVu® Universal Display
with GT3000 Toxic Gas Detector
Eagle Quantum Premier ®
Safety System
92-1066-1.1
­Corporate Office
6901 West 110 th Street
Minneapolis, MN 55438 USA
www.det-tronics.com
Phone: +1 952.941.5665
Toll-free: +1 800.765.3473
Fax: +1 952.829.8750
[email protected]
All trademarks are the property of their respective owners.
© 2015 Detector Electronics Corporation. All rights reserved.
Det-Tronics is certified to ISO 9001 : 2008 in all manufacturing processes.