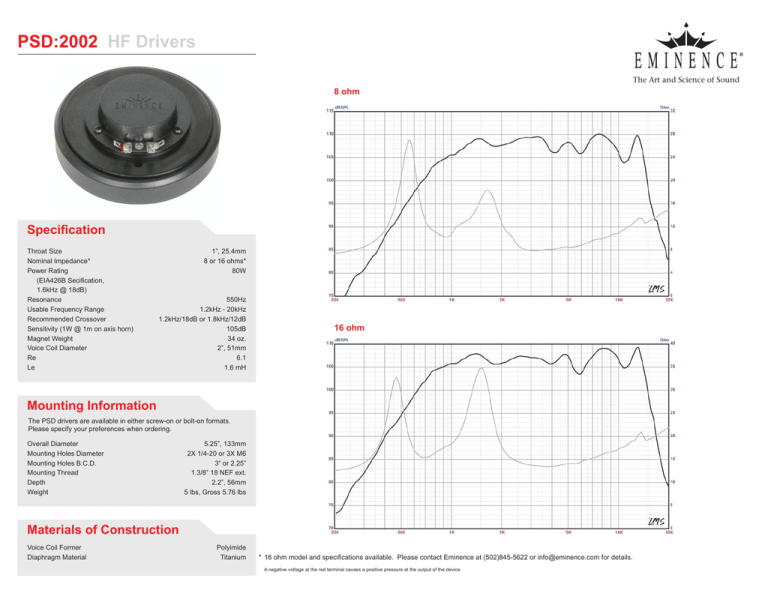 PSD:2002 HF Drivers
The Art and Science of Sound
8 ohm
Specification
Throat Size
Nominal Impedance*
Power Rating
(EIA426B Secification,
1.6kHz @ 18dB)
Resonance
Usable Frequency Range
Recommended Crossover
Sensitivity (1W @ 1m on axis horn)
Magnet Weight
Voice Coil Diameter
Re
Le
1", 25.4mm
8 or 16 ohms*
80W
550Hz
1.2kHz - 20kHz
1.2kHz/18dB or 1.8kHz/12dB
105dB
34 oz.
2", 51mm
6.1
1.6 mH
16 ohm
Mounting Information
The PSD drivers are available in either screw-on or bolt-on formats.
Please specify your preferences when ordering.
Overall Diameter
Mounting Holes Diameter
Mounting Holes B.C.D.
Mounting Thread
Depth
Weight
5.25", 133mm
2X 1/4-20 or 3X M6
3" or 2.25"
1 3/8" 18 NEF ext.
2.2", 56mm
5 lbs, Gross 5.76 lbs
Materials of Construction
Voice Coil Former
Diaphragm Material
Polyimide
Titanium
* 16 ohm model and specifications available. Please contact Eminence at (502)845-5622 or info@eminence.com for details.
A negative voltage at the red terminal causes a positive pressure at the output of the device.