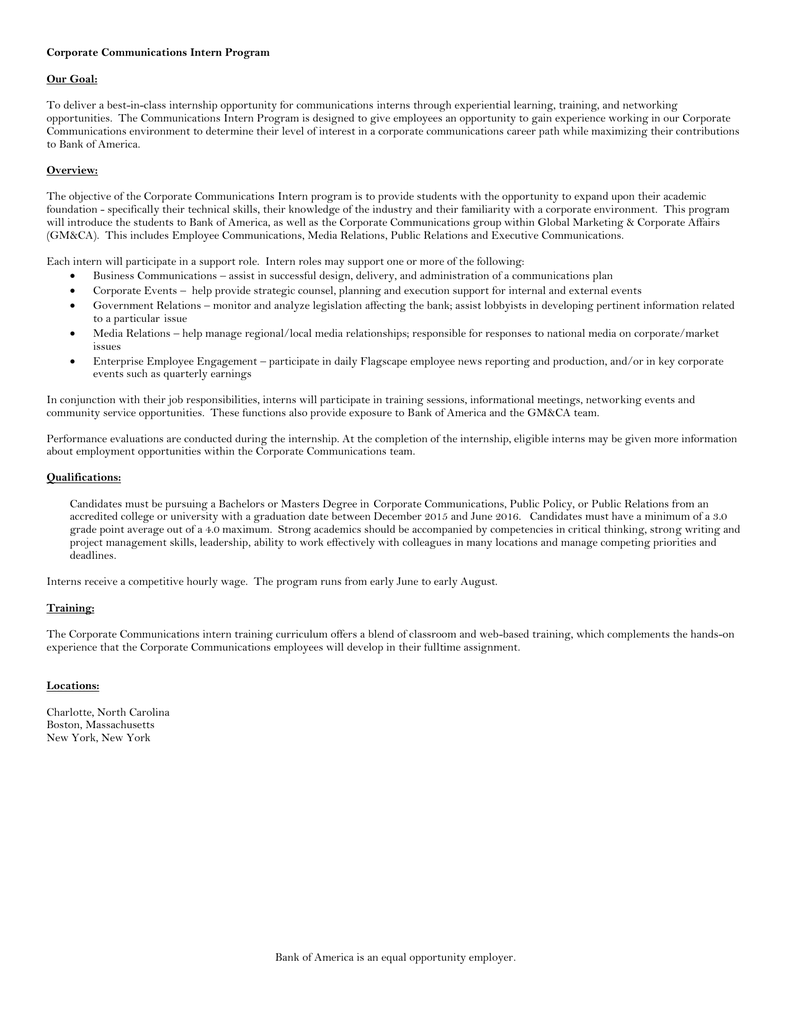 Corporate Communications Intern Program
Our Goal:
To deliver a best-in-class internship opportunity for communications interns through experiential learning, training, and networking
opportunities. The Communications Intern Program is designed to give employees an opportunity to gain experience working in our Corporate
Communications environment to determine their level of interest in a corporate communications career path while maximizing their contributions
to Bank of America.
Overview:
The objective of the Corporate Communications Intern program is to provide students with the opportunity to expand upon their academic
foundation - specifically their technical skills, their knowledge of the industry and their familiarity with a corporate environment. This program
will introduce the students to Bank of America, as well as the Corporate Communications group within Global Marketing & Corporate Affairs
(GM&CA). This includes Employee Communications, Media Relations, Public Relations and Executive Communications.
Each intern will participate in a support role. Intern roles may support one or more of the following:

Business Communications – assist in successful design, delivery, and administration of a communications plan

Corporate Events – help provide strategic counsel, planning and execution support for internal and external events

Government Relations – monitor and analyze legislation affecting the bank; assist lobbyists in developing pertinent information related
to a particular issue

Media Relations – help manage regional/local media relationships; responsible for responses to national media on corporate/market
issues

Enterprise Employee Engagement – participate in daily Flagscape employee news reporting and production, and/or in key corporate
events such as quarterly earnings
In conjunction with their job responsibilities, interns will participate in training sessions, informational meetings, networking events and
community service opportunities. These functions also provide exposure to Bank of America and the GM&CA team.
Performance evaluations are conducted during the internship. At the completion of the internship, eligible interns may be given more information
about employment opportunities within the Corporate Communications team.
Qualifications:
Candidates must be pursuing a Bachelors or Masters Degree in Corporate Communications, Public Policy, or Public Relations from an
accredited college or university with a graduation date between December 2015 and June 2016. Candidates must have a minimum of a 3.0
grade point average out of a 4.0 maximum. Strong academics should be accompanied by competencies in critical thinking, strong writing and
project management skills, leadership, ability to work effectively with colleagues in many locations and manage competing priorities and
deadlines.
Interns receive a competitive hourly wage. The program runs from early June to early August.
Training:
The Corporate Communications intern training curriculum offers a blend of classroom and web-based training, which complements the hands-on
experience that the Corporate Communications employees will develop in their fulltime assignment.
Locations:
Charlotte, North Carolina
Boston, Massachusetts
New York, New York
Bank of America is an equal opportunity employer.