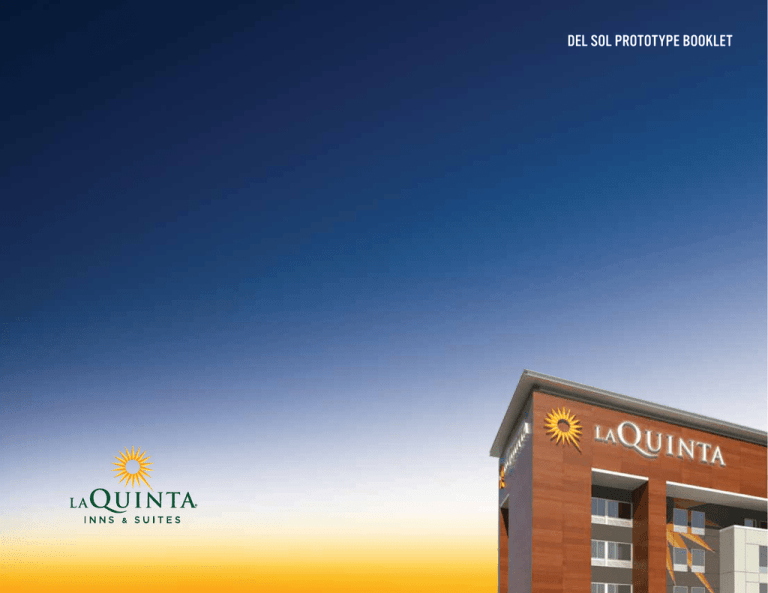 DEL SOL PROTOTYPE BOOKLET
About La Quinta Inns & Suites®
Welcome to the Bright Side® of Franchise Ownership
There are plenty of reasons why La Quinta® is
one of the fastest-growing hotel brands. Our
consistent, well-priced accommodations. Our
steadfast dedication to providing the highestquality limited-service lodging experience. And
the loyalty of our millions of satisfied guests.
Of course, the most important reason is the
commitment of our franchisees. Some of the
greatest design efficiencies incorporated into our
prototypes have come from franchise owners.
The strong relationships we have formed with our
franchisees have allowed us to grow from a single
San Antonio, Texas, hotel more than 45 years
ago to an international brand with locations in 47
states, as well as Canada and Mexico. When you
become a La Quinta Inns & Suites franchisee, you
join a hard-working, talented team that is driven
to succeed. To ensure you share in that success, we
provide extensive support and all the tools you need
to build a productive franchise. It begins with custom
design services and enhanced training programs,
and continues with marketing and sales assistance,
efficient operational costs and a superior reservations
system that will drive guests to your rooms.
This is your opportunity to participate in the growth
of La Quinta hotels, and benefit from a relationship
with one of the strongest, most-respected lodging
brands in the marketplace today. It's a chance to enter
a relationship founded on open communication and
mutual respect — because at La Quinta Inns & Suites,
that's the only way we know how to do business.
Promises Made. Promises Kept.®
To learn more about La Quinta Inns & Suites
or how to become part of the La Quinta family:
call: 866-832-6574
e-mail: franchise@laquinta.com
website: laquintafranchise.com
La Quinta introduces its fresh,
new prototype – Del Sol
This guest-inspired, owner-friendly design makes a bold and inviting statement for today's and
tomorrow's guest.
Competitive advantages for the hotel owner – The new Del Sol prototype is part of
La Quinta's overall business strategy to innovate for the benefit of our guests and hotel owners.
The use of bold shapes, colors and textures creates unique and distinctive elevations on the
exterior. The adaptable and scalable footprint optimizes the site and fully maximizes ROI
potential.
With its unique elements and curb appeal, the Del Sol prototype is a beacon that will attract
travelers to La Quinta and drive value for La Quinta hotel owners.
Del sol prototype design overviews
Every aspect of the appearance, layout and design is important to the La Quinta brand. Our
design and construction team has developed prototype designs that offer modern exteriors and
efficient design.
· Scalable building design
· Decorative paving at porte-cochère
· Nighttime identity from building wash lighting & accent LED lighting
· Modern contemporary architecture
· Distinctive architectural elements
· 4 stories
· Great curb appeal
· Cost-effective design
· Indoor or outdoor pool options
· Accommodates a wide range of room counts
· Attractive landscape/hardscape around the property and in the pool and courtyard areas
· Efficient use of land
· Flat roof design hides solar panels from guests' view
Front Elevation
Inviting entry with strong curb appeal – The highly visible placement of the La Quinta name, along with the outreaching rays of the La Quinta sun on the building, delivers on a promise that
people know and trust. With its bold and distinctive look, the entry makes the La Quinta Del Sol prototype a welcoming destination.
Side Elevations
REAR Elevation
DEL SOL Design Criteria
Guest-centered and distinctive design – Inspired by extensive guest-experience research,
the Del Sol prototype combines iconic brand elements with elegantly clean geometric lines.
It is a dramatic composition of color and texture that creates a facade that is bold and
inviting. Artfully blending light and shadow provides a new level of warmth that enhances
the guest experience.
La Quinta Inns & Suites are designed to meet the needs of our business guests as well as
our leisure travelers. In order to accommodate our guests' needs and drive additional guest
stays, the following features are included in each design:
· Two pairs of automatic sliding doors on each side of entry vestibule
· Guest room mix to include at least 20% suites
· Spacious "great room" with large windows and community seating
· Variety of seating in the breakfast area that can be used throughout the day
· On-site Bright Side Market™ with necessities for any type of traveler
· Pod-style front-desk counters to create enhanced check-in experience
· Separated breakfast serving area enables use of great room as a lounge
· Enhanced fitness center for health-conscious guest
· Conference/meeting facility designed to accommodate 40+ attendees
· Inviting print station with touchscreen monitors
· Sparkling swimming pools and hot tub with indoor or outdoor options
· Guest laundry facility with full-size washers and dryers
Living Modern 2.0 Design Scheme Shown
Great Room
Great room concept that aligns with guest trends – Once guests are inside, natural
elements and color cue the feeling of optimism that the La Quinta brand evokes. With an
emphasis on space and light, the great room serves as a multifunctional area for social
gatherings or as a place of relaxation and connectivity. Incorporating guest learnings, the
great room has been updated with a fresh and stylish design providing comfort, convenience
and productivity. The integration of the latest technology makes the room appealing to savvy
millennials, plugged-in boomers and all business travelers.
Verde Luxe 2.0 Design Scheme Shown
FIRST FLOOR PLAN
· Parking ratio to guest room 1:1 minimum
PATIO
· A minimum of 15% mature landscaping
75,530 SF (1.733 Acres)
14,560 SF
Second Floor
14,421 SF
Third Floor 14,421 SF
Fourth Floor
13,512 SF
Building Total
56,914 SF
INDOOR
POOL
OPTION
ELEVATOR
First Floor
PUBLIC
TOILET
BRIGHTSIDE®
MARKET
PRINT
STATION
ELEVATOR
Site Area
PUBLIC
TOILET
REGISTRATION
9
Second Floor
31
Third Floor
32
Fourth Floor 32
Total Minimum
104
Parking Spaces
104
GREAT ROOM
STAIRS
MEETING
ROOM
ENTRYWAY
PORTE-COCHÈRE
Outdoor Pool Option Available
Bar/Lounge Area Optional
Verde Luxe 2.0 Design Scheme Shown
FITNESS
ROOM
PANTRY
F irst Floor BREAKFAST SERVING
Number of Guest Rooms
HOT
TUB
STAIRS
Brightside®
Market
GREAT ROOM Layout
Registration
Serving Area
Print Center
Great Room
Bar/Lounge
Area Option
Shown
Entryway
24-Hour
Coffee
Station
Great Room Lobby View
Living Modern 2.0 Design Scheme
ENHANCED Fitness Center
· 750 Square Feet
· Rubber Flooring
· Mirror Wall
· Signature Wall Vinyl
· Free Weights
· Variety of Equipment
· Water Cooler
· Towel Station
· Wall-Mounted TV
TYPICAL Floor Plan
· 23 King/Double Rooms
· 9 Extended King Rooms
3rd/4th Floor Plan Shown Above
Room Décor Schemes
All La Quinta room schemes offer heightened value with enough flexibility to optimize your
investment. Our designs offer a range of sophisticated and imaginative styles that incorporate
an intriguing mix of textures and colors. To add depth and value to your selected décor scheme,
you can add options such as premium lighting or an all-leather ergonomic chair. Finish the room
design with a varied selection of window treatments. Your guests will feel at home as they relax
in the space you've created.
Living Modern 2.0
VERDE LUXE 2.0
Bellwether V1
Bellwether V2
Standard Guest Room Amenities and Features
· Spacious bedroom with 9-foot ceiling
· Enclosed closet
· Uniform and continuous flooring at entry, closet and
bathroom
· 37" or greater flat-screen TV with HD channels and
personal-input devices
· High-Speed Internet Access (HSIA)
· Pillowtop mattress
· Microwave/refrigerator unit
· Oversized desk
· Electric iron and ironing board
· Full-length mirror
· Decorative bedroom lighting package
· Artwork package
· Ergonomic desk chair
· Three-drawer dresser
· Lounge chair or side chair
· Upscale soft-goods package
·D
igitally controlled wall-mounted A/C unit thermostat with
Energy Management System
· Two touch-tone telephones
· Electric clock radio
· Electric coffee maker
Standard BATHroom Amenities and Features
· Furniture-style vanity
· Spacious bathroom with 8-foot ceiling
· Decorative vanity lighting fixtures
· Solid surface tub/shower surround
· Massaging shower head
· Curved shower rod and hookless shower curtain or glass enclosure for showers
· Electric hair dryer
Living Modern 2.0
Queen/Queen Guest Room
Dimensions
B edroom
Bathroom & Entryway
Total
12'-0" x 18'-4" (220 SF)
12'-0" x 8'-8" (104 SF)
12'-0" x 27'-0" (324 SF)
Verde Luxe 2.0 scheme shown
King Guest Room
D imensions
B edroom
Bathroom & Entryway
Total
12'-0" x 17'-4" (208 SF)
12'-0" x 8'-8" (104 SF)
12'-0" x 26'-0" (312 SF)
Living Modern 2.0 scheme shown
Extended King Guest Suite
D imensions
L iving Area 12'-0" x 13'-4" (160 SF)
Bedroom
12'-0" x 11'-0" (132 SF)
Bathroom & Entryway
Total
12'-0" x 8'-8" (104 SF)
12'-0" x 33'-0" (396 SF)
Bellwether V1 scheme shown
To learn more about La Quinta Inns & Suites or
how to become part of the La Quinta family :
call: 866-832-6574
e-mail: franchise@laquinta.com
visit: laquintafranchise.com
This is not an offering. Federal laws and regulations and the
laws and regulations of some states and provinces regulate
the offer and sale of franchises. An offering will only be made
in compliance with those laws and regulations, which may
require that we provide you with a disclosure document.
(MNREG#4544).
© 2014 La Quinta Worldwide, LLC. All rights reserved.
LA QUINTA, Bright Side, Promises Made, Promises Kept,
LQ.com and the Sunburst-Q are registered trademarks of
La Quinta Worldwide, LLC in the US and in other countries. All
other trademarks are the property of their respective owners.