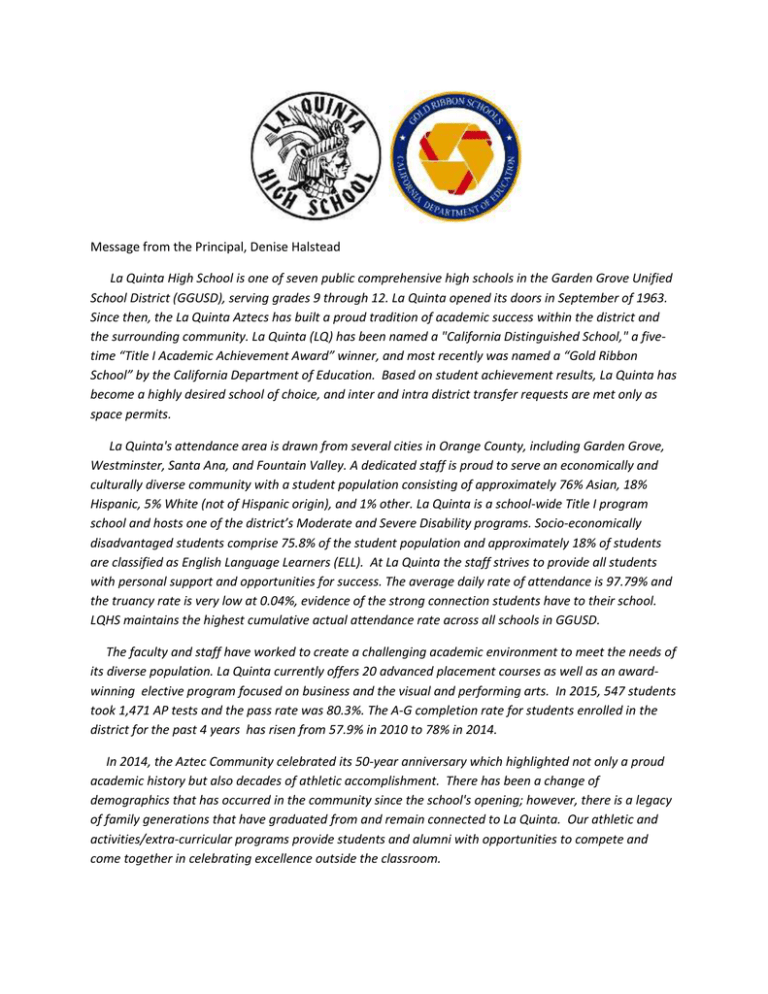 Message from the Principal, Denise Halstead
La Quinta High School is one of seven public comprehensive high schools in the Garden Grove Unified
School District (GGUSD), serving grades 9 through 12. La Quinta opened its doors in September of 1963.
Since then, the La Quinta Aztecs has built a proud tradition of academic success within the district and
the surrounding community. La Quinta (LQ) has been named a "California Distinguished School," a fivetime "Title I Academic Achievement Award" winner, and most recently was named a "Gold Ribbon
School" by the California Department of Education. Based on student achievement results, La Quinta has
become a highly desired school of choice, and inter and intra district transfer requests are met only as
space permits.
La Quinta's attendance area is drawn from several cities in Orange County, including Garden Grove,
Westminster, Santa Ana, and Fountain Valley. A dedicated staff is proud to serve an economically and
culturally diverse community with a student population consisting of approximately 76% Asian, 18%
Hispanic, 5% White (not of Hispanic origin), and 1% other. La Quinta is a school-wide Title I program
school and hosts one of the district's Moderate and Severe Disability programs. Socio-economically
disadvantaged students comprise 75.8% of the student population and approximately 18% of students
are classified as English Language Learners (ELL). At La Quinta the staff strives to provide all students
with personal support and opportunities for success. The average daily rate of attendance is 97.79% and
the truancy rate is very low at 0.04%, evidence of the strong connection students have to their school.
LQHS maintains the highest cumulative actual attendance rate across all schools in GGUSD.
The faculty and staff have worked to create a challenging academic environment to meet the needs of
its diverse population. La Quinta currently offers 20 advanced placement courses as well as an awardwinning elective program focused on business and the visual and performing arts. In 2015, 547 students
took 1,471 AP tests and the pass rate was 80.3%. The A-G completion rate for students enrolled in the
district for the past 4 years has risen from 57.9% in 2010 to 78% in 2014.
In 2014, the Aztec Community celebrated its 50-year anniversary which highlighted not only a proud
academic history but also decades of athletic accomplishment. There has been a change of
demographics that has occurred in the community since the school's opening; however, there is a legacy
of family generations that have graduated from and remain connected to La Quinta. Our athletic and
activities/extra-curricular programs provide students and alumni with opportunities to compete and
come together in celebrating excellence outside the classroom.
Generating pride and excitement amongst the current community, the school has just begun the first
phase of a 3-year project to rebuild and modernize the entire facility and will include the addition of a
performing arts center and high tech library media center. Our main office and 400 building were
completed over the summer and currently our men's and women's locker rooms are being modernized.
Staff and parents at La Quinta High School are committed to support all students in reaching their
hightest potential before graduating. The vision statement "From Learners to Leaders" succinctly
describes the expectation for all students and provides the impetus for college and career readiness.