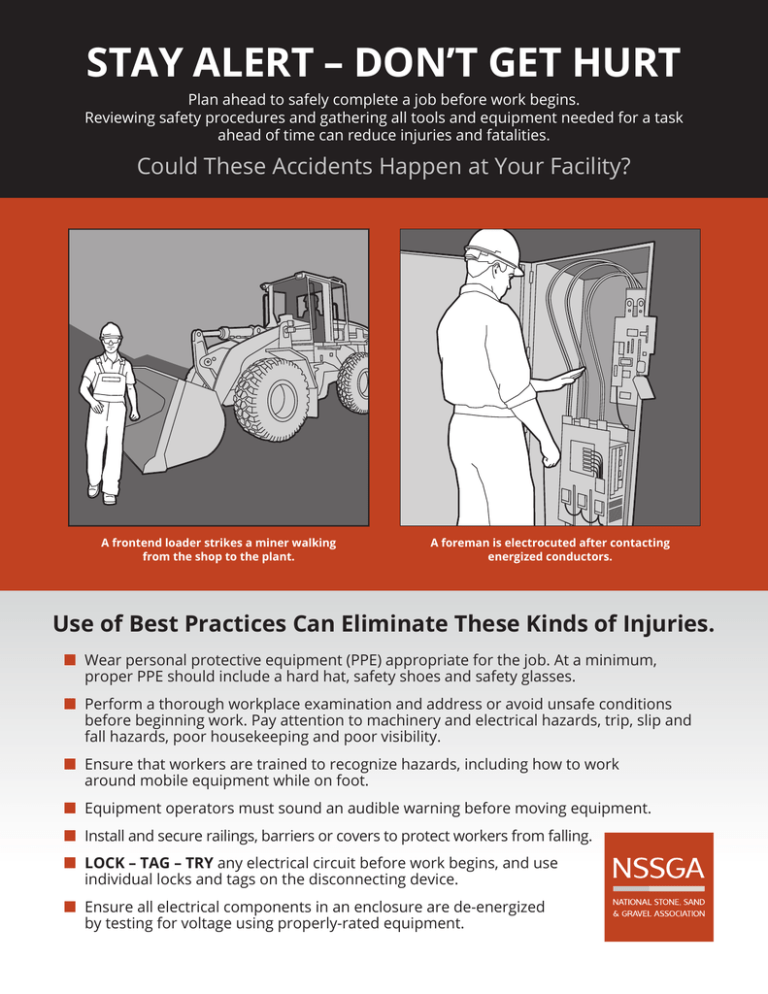 STAY ALERT – DON'T GET HURT
Plan ahead to safely complete a job before work begins.
Reviewing safety procedures and gathering all tools and equipment needed for a task
ahead of time can reduce injuries and fatalities.
Could These Accidents Happen at Your Facility?
A frontend loader strikes a miner walking
from the shop to the plant.
A foreman is electrocuted after contacting
energized conductors.
Use of Best Practices Can Eliminate These Kinds of Injuries.
Wear personal protective equipment (PPE) appropriate for the job. At a minimum,
proper PPE should include a hard hat, safety shoes and safety glasses.
Perform a thorough workplace examination and address or avoid unsafe conditions
before beginning work. Pay attention to machinery and electrical hazards, trip, slip and
fall hazards, poor housekeeping and poor visibility.
Ensure that workers are trained to recognize hazards, including how to work
around mobile equipment while on foot.
Equipment operators must sound an audible warning before moving equipment.
Install and secure railings, barriers or covers to protect workers from falling.
LOCK – TAG – TRY any electrical circuit before work begins, and use
individual locks and tags on the disconnecting device.
Ensure all electrical components in an enclosure are de-energized
by testing for voltage using properly-rated equipment.