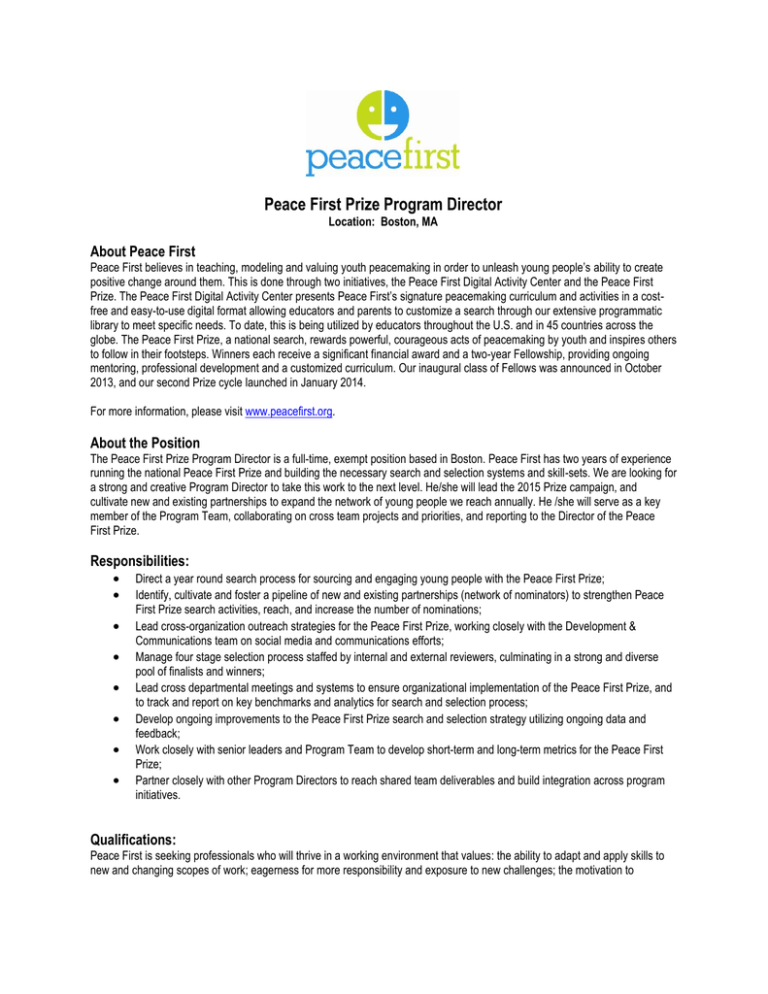 Peace First Prize Program Director
Location: Boston, MA
About Peace First
Peace First believes in teaching, modeling and valuing youth peacemaking in order to unleash young people's ability to create
positive change around them. This is done through two initiatives, the Peace First Digital Activity Center and the Peace First
Prize. The Peace First Digital Activity Center presents Peace First's signature peacemaking curriculum and activities in a costfree and easy-to-use digital format allowing educators and parents to customize a search through our extensive programmatic
library to meet specific needs. To date, this is being utilized by educators throughout the U.S. and in 45 countries across the
globe. The Peace First Prize, a national search, rewards powerful, courageous acts of peacemaking by youth and inspires others
to follow in their footsteps. Winners each receive a significant financial award and a two-year Fellowship, providing ongoing
mentoring, professional development and a customized curriculum. Our inaugural class of Fellows was announced in October
2013, and our second Prize cycle launched in January 2014.
For more information, please visit www.peacefirst.org.
About the Position
The Peace First Prize Program Director is a full-time, exempt position based in Boston. Peace First has two years of experience
running the national Peace First Prize and building the necessary search and selection systems and skill-sets. We are looking for
a strong and creative Program Director to take this work to the next level. He/she will lead the 2015 Prize campaign, and
cultivate new and existing partnerships to expand the network of young people we reach annually. He /she will serve as a key
member of the Program Team, collaborating on cross team projects and priorities, and reporting to the Director of the Peace
First Prize.
Responsibilities:








Direct a year round search process for sourcing and engaging young people with the Peace First Prize;
Identify, cultivate and foster a pipeline of new and existing partnerships (network of nominators) to strengthen Peace
First Prize search activities, reach, and increase the number of nominations;
Lead cross-organization outreach strategies for the Peace First Prize, working closely with the Development &
Communications team on social media and communications efforts;
Manage four stage selection process staffed by internal and external reviewers, culminating in a strong and diverse
pool of finalists and winners;
Lead cross departmental meetings and systems to ensure organizational implementation of the Peace First Prize, and
to track and report on key benchmarks and analytics for search and selection process;
Develop ongoing improvements to the Peace First Prize search and selection strategy utilizing ongoing data and
feedback;
Work closely with senior leaders and Program Team to develop short-term and long-term metrics for the Peace First
Prize;
Partner closely with other Program Directors to reach shared team deliverables and build integration across program
initiatives.
Qualifications:
Peace First is seeking professionals who will thrive in a working environment that values: the ability to adapt and apply skills to
new and changing scopes of work; eagerness for more responsibility and exposure to new challenges; the motivation to
contribute and try new ideas and ways of doing things; and the possession of a deep belief in the power of young people to
create change.
The successful candidate will be a flexible and motivated self-starter and multi-tasker that can work within an adaptive fastmoving environment while also being a force for organization, efficiency and solutions. Specific skills:








At least 5-7 years of experience in social entrepreneurship, youth and community development, and local or national
coalition building or campaign work;
Demonstrated success in building and managing partnerships and relationships;
Strategic thinking skills and a passion for strong execution;
Excellent written and verbal communication skills;
Excellent track record of project management;
Sales experience or public engagement work a plus;
Experience growing a national program in a results-oriented environment;
Bachelor's degree or equivalent experience.
To Apply
To be considered for this position, please send a resume and cover letter, both in Word format, to talent@peacefirst.org. Please
include "Peace First Prize Program Director" in the subject line of the email. Applications will be reviewed on a rolling basis.
Peace First is an Equal Opportunity Employer and makes a particular effort to recruit candidates from all backgrounds.