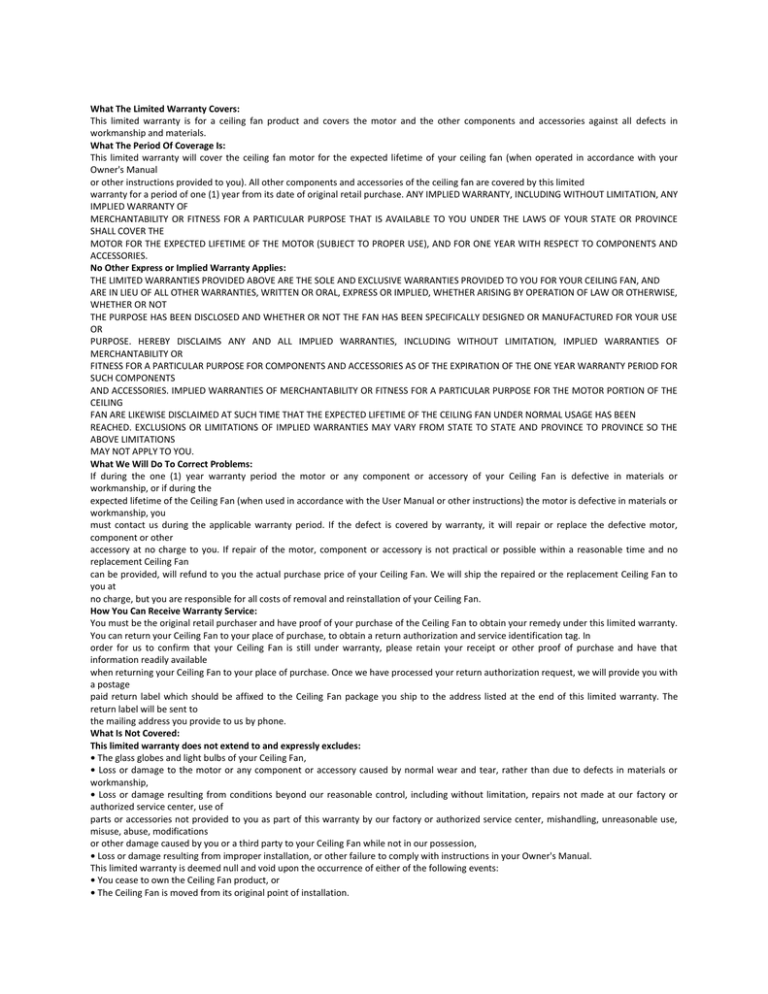 Emerson Air Comfort Ceiling Fan Limited Warranty
What The Limited Warranty Covers:
This limited warranty is for a ceiling fan product and covers the motor and the other components and accessories against all defects in
workmanship and materials.
What The Period Of Coverage Is:
This limited warranty will cover the ceiling fan motor for the expected lifetime of your ceiling fan (when operated in accordance with your
Owner's Manual
or other instructions provided to you). All other components and accessories of the ceiling fan are covered by this limited
warranty for a period of one (1) year from its date of original retail purchase. ANY IMPLIED WARRANTY, INCLUDING WITHOUT LIMITATION, ANY
IMPLIED WARRANTY OF
MERCHANTABILITY OR FITNESS FOR A PARTICULAR PURPOSE THAT IS AVAILABLE TO YOU UNDER THE LAWS OF YOUR STATE OR PROVINCE
SHALL COVER THE
MOTOR FOR THE EXPECTED LIFETIME OF THE MOTOR (SUBJECT TO PROPER USE), AND FOR ONE YEAR WITH RESPECT TO COMPONENTS AND
ACCESSORIES.
No Other Express or Implied Warranty Applies:
THE LIMITED WARRANTIES PROVIDED ABOVE ARE THE SOLE AND EXCLUSIVE WARRANTIES PROVIDED TO YOU FOR YOUR CEILING FAN, AND
ARE IN LIEU OF ALL OTHER WARRANTIES, WRITTEN OR ORAL, EXPRESS OR IMPLIED, WHETHER ARISING BY OPERATION OF LAW OR OTHERWISE,
WHETHER OR NOT
THE PURPOSE HAS BEEN DISCLOSED AND WHETHER OR NOT THE FAN HAS BEEN SPECIFICALLY DESIGNED OR MANUFACTURED FOR YOUR USE
OR
PURPOSE. HEREBY DISCLAIMS ANY AND ALL IMPLIED WARRANTIES, INCLUDING WITHOUT LIMITATION, IMPLIED WARRANTIES OF
MERCHANTABILITY OR
FITNESS FOR A PARTICULAR PURPOSE FOR COMPONENTS AND ACCESSORIES AS OF THE EXPIRATION OF THE ONE YEAR WARRANTY PERIOD FOR
SUCH COMPONENTS
AND ACCESSORIES. IMPLIED WARRANTIES OF MERCHANTABILITY OR FITNESS FOR A PARTICULAR PURPOSE FOR THE MOTOR PORTION OF THE
CEILING
FAN ARE LIKEWISE DISCLAIMED AT SUCH TIME THAT THE EXPECTED LIFETIME OF THE CEILING FAN UNDER NORMAL USAGE HAS BEEN
REACHED. EXCLUSIONS OR LIMITATIONS OF IMPLIED WARRANTIES MAY VARY FROM STATE TO STATE AND PROVINCE TO PROVINCE SO THE
ABOVE LIMITATIONS
MAY NOT APPLY TO YOU.
What We Will Do To Correct Problems:
If during the one (1) year warranty period the motor or any component or accessory of your Ceiling Fan is defective in materials or
workmanship, or if during the
expected lifetime of the Ceiling Fan (when used in accordance with the User Manual or other instructions) the motor is defective in materials or
workmanship, you
must contact us during the applicable warranty period. If the defect is covered by warranty, it will repair or replace the defective motor,
component or other
accessory at no charge to you. If repair of the motor, component or accessory is not practical or possible within a reasonable time and no
replacement Ceiling Fan
can be provided, will refund to you the actual purchase price of your Ceiling Fan. We will ship the repaired or the replacement Ceiling Fan to
you at
no charge, but you are responsible for all costs of removal and reinstallation of your Ceiling Fan.
How You Can Receive Warranty Service:
You must be the original retail purchaser and have proof of your purchase of the Ceiling Fan to obtain your remedy under this limited warranty.
You can return your Ceiling Fan to your place of purchase, to obtain a return authorization and service identification tag. In
order for us to confirm that your Ceiling Fan is still under warranty, please retain your receipt or other proof of purchase and have that
information readily available
when returning your Ceiling Fan to your place of purchase. Once we have processed your return authorization request, we will provide you with
a postage
paid return label which should be affixed to the Ceiling Fan package you ship to the address listed at the end of this limited warranty. The
return label will be sent to
the mailing address you provide to us by phone.
What Is Not Covered:
This limited warranty does not extend to and expressly excludes:
• The glass globes and light bulbs of your Ceiling Fan,
• Loss or damage to the motor or any component or accessory caused by normal wear and tear, rather than due to defects in materials or
workmanship,
• Loss or damage resulting from conditions beyond our reasonable control, including without limitation, repairs not made at our factory or
authorized service center, use of
parts or accessories not provided to you as part of this warranty by our factory or authorized service center, mishandling, unreasonable use,
misuse, abuse, modifications
or other damage caused by you or a third party to your Ceiling Fan while not in our possession,
• Loss or damage resulting from improper installation, or other failure to comply with instructions in your Owner's Manual.
This limited warranty is deemed null and void upon the occurrence of either of the following events:
• You cease to own the Ceiling Fan product, or
• The Ceiling Fan is moved from its original point of installation.
This limited warranty is only valid within the 50 United States, the District of Columbia, and Canada. No other written or oral warranties apply,
and no employee, agent, dealer
or other person is authorized to give any warranties
Limitation of Liability
REPAIR, REPLACEMENT OR A REFUND ARE THE EXCLUSIVE REMEDIES AVAILABLE TO YOU UNDER THIS LIMITED WARRANTY. TO THE EXTENT
PERMITTED BY LAW, IN
NO EVENT SHALL ANY AUTHORIZED DEALER BE LIABLE FOR ANY INCIDENTAL, SPECIAL, INDIRECT, OR CONSEQUENTIAL DAMAGES,
INCLUDING ANY ECONOMIC LOSS, WHETHER RESULTING FROM NONPERFORMANCE, USE, MISUSE OR INABILITY TO USE THE CEILING FAN OR
FOR THE
NEGLIGENCE OF AUTHORIZED DEALER. SHALL NOT BE LIABLE FOR DAMAGES CAUSED BY DELAY IN PERFORMANCE AND IN NO
EVENT, REGARDLESS OF THE FORM OF THE CLAIM OR CAUSE OF ACTION (WHETHER BASED IN CONTRACT, INFRINGEMENT, NEGLIGENCE,
STRICT LIABILITY, OTHER
TORT OR OTHERWISE), SHALL AUTHORIZED AGENT'S LIABILITY TO YOU OR ANY INDIVIDUAL USING THE CEILING FAN
EXCEED THE PRICE PAID BY THE ORIGINAL OWNER FOR THE CEILING FAN. The term "consequential damages" shall include, but not be limited
to, loss of
anticipated profits, business interruption, loss of use or revenue, cost of capital or loss or damage to property or equipment.
How State and Provincial Law Relates To The Warranty:
Some states and provinces do not allow the exclusion or limitation of incidental or consequential damages so the above exclusion or limitation
may not apply to you. This
limited warranty gives you specific legal rights, and you may also have other rights which vary from state to state or province to province.