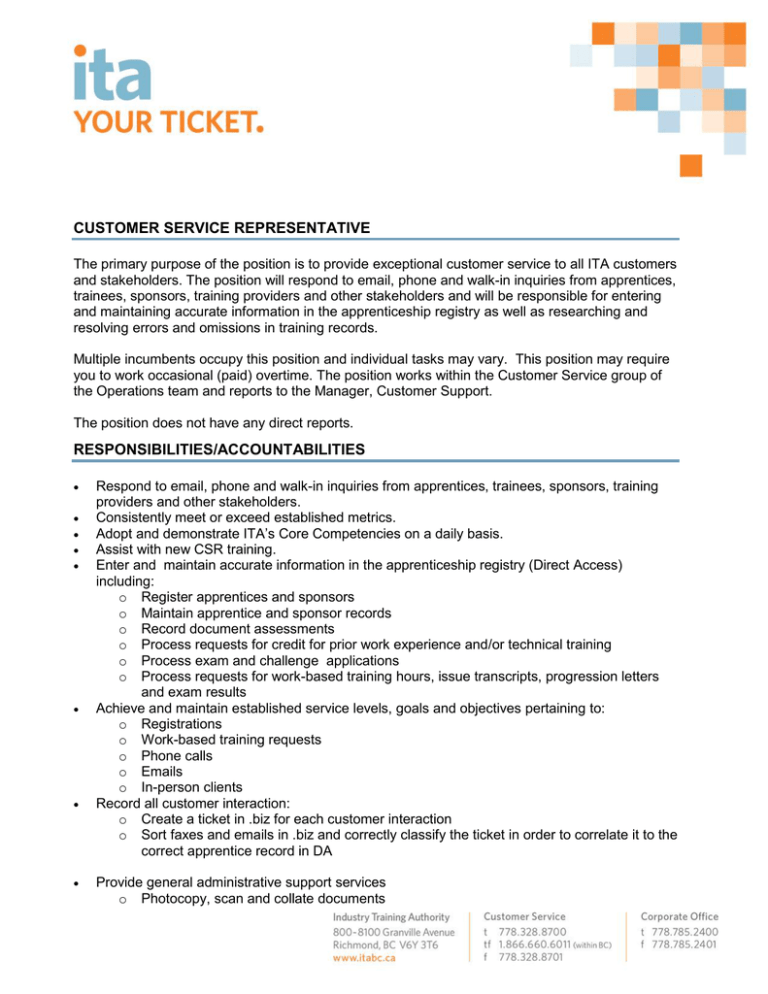 CUSTOMER SERVICE REPRESENTATIVE
The primary purpose of the position is to provide exceptional customer service to all ITA customers
and stakeholders. The position will respond to email, phone and walk-in inquiries from apprentices,
trainees, sponsors, training providers and other stakeholders and will be responsible for entering
and maintaining accurate information in the apprenticeship registry as well as researching and
resolving errors and omissions in training records.
Multiple incumbents occupy this position and individual tasks may vary. This position may require
you to work occasional (paid) overtime. The position works within the Customer Service group of
the Operations team and reports to the Manager, Customer Support.
The position does not have any direct reports.
RESPONSIBILITIES/ACCOUNTABILITIES








Respond to email, phone and walk-in inquiries from apprentices, trainees, sponsors, training
providers and other stakeholders.
Consistently meet or exceed established metrics.
Adopt and demonstrate ITA's Core Competencies on a daily basis.
Assist with new CSR training.
Enter and maintain accurate information in the apprenticeship registry (Direct Access)
including:
o Register apprentices and sponsors
o Maintain apprentice and sponsor records
o Record document assessments
o Process requests for credit for prior work experience and/or technical training
o Process exam and challenge applications
o Process requests for work-based training hours, issue transcripts, progression letters
and exam results
Achieve and maintain established service levels, goals and objectives pertaining to:
o Registrations
o Work-based training requests
o Phone calls
o Emails
o In-person clients
Record all customer interaction:
o Create a ticket in .biz for each customer interaction
o Sort faxes and emails in .biz and correctly classify the ticket in order to correlate it to the
correct apprentice record in DA
Provide general administrative support services
o Photocopy, scan and collate documents

o Receive and process mail
o Receive fees (cheques, cash, debit, credit) and issue receipts
o Assist in UAT for Direct Access and .biz
Perform other related duties and participate in special projects as assigned by Manager,
Customer Support.
EDUCATION/EXPERIENCE










Focus on delivering exceptional customer service.
Previous experience in an adult training would be advantageous as would experience with
apprenticeship registry applications.
Proficient experience with MS Office programs and the internet is required.
Excellent command of the English language is required; knowledge of a second language is an
asset.
The ability to use computer applications to enter and retrieve data accurately and process
information efficiently is necessary.
The ability to work with clients from diverse backgrounds in a courteous, professional, and
confidential manner is necessary.
The ability to quickly and effectively recognize a problem, determine the cause, take
appropriate action and follow-up is necessary.
Strong competencies are required in the following areas:
o Ability to learn and retain a large amount of complex information
o Communication, both verbal and written
o Problem solving
o Attention to detail and accuracy
o Critical analysis
o Ability to deal with ambiguity
o Ability to multitask
o Ability to diffuse complex and tense situations
o Ability to work as a supportive team member as well as demonstrate autonomy
o Ability to quickly adapt to ever changing and often conflicting priorities
Call center experience is an asset.
A combination of education and/or sufficient experience is necessary to perform all aspects of
the position successfully.
COMPENSATION
Salary to commensurate with experience. The ITA offers a highly competitive benefits package
and perks which include:


Flexible working schedule, floater days, and a 37.5 hour work week.
Eligible for pension contributions.





A newly renovated office space situated near the Canada Line (Richmond–
Brighouse, adjacent to Richmond Centre)
Access to an in-house gym and a secure bike locker.
Healthy Living Program
Generous Professional Development Plan
Extensive Extended Health and Dental Plans that are 100% employer paid
HOW TO APPLY
If this sounds like you, we look forward to hearing from you! Submit your cover letter and resume by
email before the closing date to humanresources@itabc.ca . Be sure to include "Your Name and
Customer Service Representative" in the subject line, or your application may not reach the
appropriate person.
We kindly ask that applications be sent by email only - no fax or mail applications - and we ask for no
phone calls please. Applicants will receive an emailed response confirming receipt of their resume
submission. Due to the high number of applications the ITA receives, only applicants who are selected
for an interview will be contacted.
We sincerely thank all applicants for their interest in the ITA.
ABOUT ITA
Established as a crown corporation in 2004, The Industry Training Authority (ITA) leads and
coordinates British Columbia's skilled trades system. ITA works with employers, employees,
industry, labour, training providers and government to issue credentials, manage apprenticeships,
set program standards, and increase opportunities in the trades.
We are entering an exciting phase of our organization as a result of the ITA mandate review that
was made public by the B.C. government as part of a larger initiative--B.C.'s Skills for Jobs
Blueprint. This initiative sees ITA as being an integral part of continuing to develop a skilled
workforce that is ready to meet the challenges of our expanding industry.
Our success depends on a strong team of passionate people dedicated to making a difference.
Attracting and investing in outstanding talent, ITA is a customer-service focused organization with
deep provincial reach and broad national influence.
We strive to keep our employees challenged, support them with professional development, and
recognize and reward their contributions.