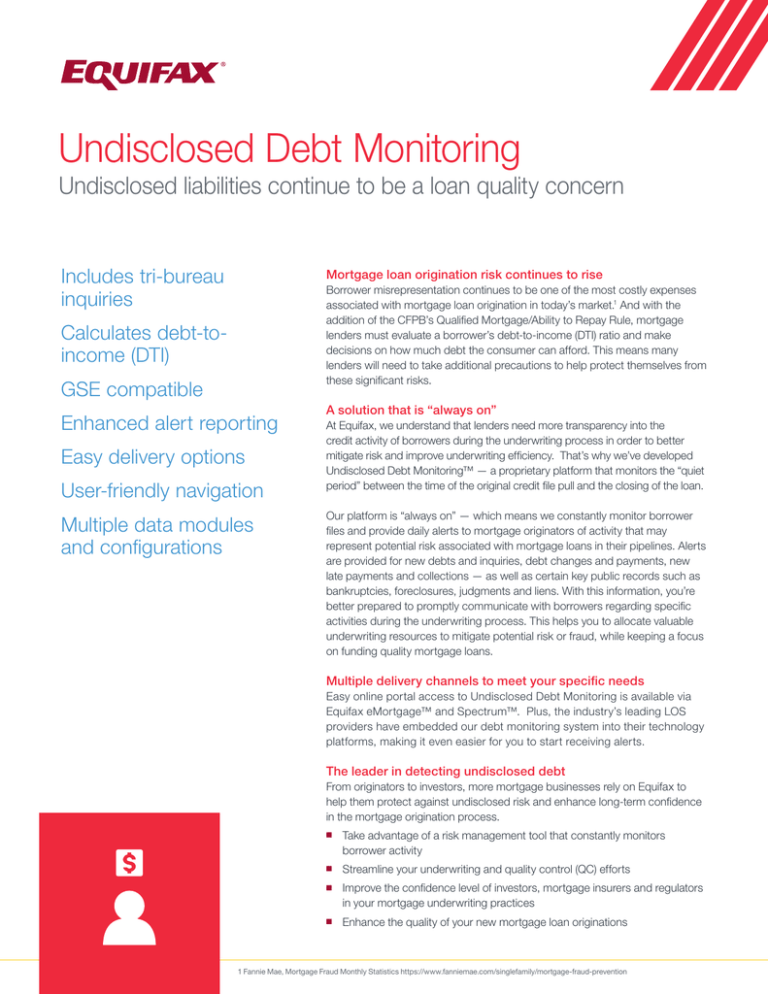 Undisclosed Debt Monitoring
Undisclosed liabilities continue to be a loan quality concern
Includes tri-bureau
inquiries
Mortgage loan origination risk continues to rise
Borrower misrepresentation continues to be one of the most costly expenses
associated with mortgage loan origination in today's market.1 And with the
addition of the CFPB's Qualified Mortgage/Ability to Repay Rule, mortgage
lenders must evaluate a borrower's debt-to-income (DTI) ratio and make
decisions on how much debt the consumer can afford. This means many
lenders will need to take additional precautions to help protect themselves from
these significant risks.
Calculates debt-toincome (DTI)
GSE compatible
Enhanced alert reporting
Easy delivery options
User-friendly navigation
Multiple data modules
and configurations
A solution that is "always on"
At Equifax, we understand that lenders need more transparency into the
credit activity of borrowers during the underwriting process in order to better
mitigate risk and improve underwriting efficiency. That's why we've developed
Undisclosed Debt Monitoring™ — a proprietary platform that monitors the "quiet
period" between the time of the original credit file pull and the closing of the loan.
Our platform is "always on" — which means we constantly monitor borrower
files and provide daily alerts to mortgage originators of activity that may
represent potential risk associated with mortgage loans in their pipelines. Alerts
are provided for new debts and inquiries, debt changes and payments, new
late payments and collections — as well as certain key public records such as
bankruptcies, foreclosures, judgments and liens. With this information, you're
better prepared to promptly communicate with borrowers regarding specific
activities during the underwriting process. This helps you to allocate valuable
underwriting resources to mitigate potential risk or fraud, while keeping a focus
on funding quality mortgage loans.
Multiple delivery channels to meet your specific needs
Easy online portal access to Undisclosed Debt Monitoring is available via
Equifax eMortgage™ and Spectrum™. Plus, the industry's leading LOS
providers have embedded our debt monitoring system into their technology
platforms, making it even easier for you to start receiving alerts.
The leader in detecting undisclosed debt
From originators to investors, more mortgage businesses rely on Equifax to
help them protect against undisclosed risk and enhance long-term confidence
in the mortgage origination process.
■■
Take advantage of a risk management tool that constantly monitors
borrower activity
■■
Streamline your underwriting and quality control (QC) efforts
■■
Improve the confidence level of investors, mortgage insurers and regulators
in your mortgage underwriting practices
■■
Enhance the quality of your new mortgage loan originations
1 Fannie Mae, Mortgage Fraud Monthly Statistics https://www.fanniemae.com/singlefamily/mortgage-fraud-prevention
How our platform
works
Your organization
provides Equifax with an
input file of the borrowers
you need us to monitor
Equifax allows
mortgage originators
to leverage one of the
most comprehensive
data assets available
for risk management
in the U.S. mortgage
market. Take a look at
these steps to see how
we constantly monitor
borrower files and
provide daily alerts.
2
Equifax monitors the
activity of borrowers
in your pipeline
1
Equifax Undisclosed Debt
Monitoring Platform
3
Equifax alerts you to borrower activity that
may suggest misrepresentation, whether
intentional or unintentional
The most streamlined and efficient debt monitoring system available
Our system's flexible and configurable rules and filters help you zero in on the right alerts. Plus, our customizable packages of
data modules (Basic, Plus or Premium) allow you to consume as much or as little data as you need within each module based
on your credit risk policy and investor requirements.
Data Module
Description
Plus
Premium
X
X
X
Base Monitoring
•
•
•
•
•
New Collection
Any new collection found on borrower's file New!
X
X
New Public Record
Any new bankruptcies, foreclosures, judgments, or liens found on borrower's file New!
Any increase in or zero out of balance on borrower's tradeline balance on
borrower's file New!
X
X
X
X
Scheduled Payment
Any increase in scheduled payment amount on borrower's tradeline New!
X
X
New Late Payments
Any new late payments 30, 60, 90, 120 days past due New!
X
X
Tradeline Bankruptcy
Any new accounts found to be in bankruptcy on borrower's tradeline New!
X
X
Tradeline Collections
Any new accounts found to be in collections on borrower's tradeline New!
X
X
TransUnion® Inquiries
Inquiries sourced from TransUnion Pre/Post Closing Mortgage Notifications
(PCMN) New!
X
ExperianSM Inquiries
Inquiries sourced from Experian's Retention TriggersSM for Mortgage (MURS) New!
X
Balance Changes
Debt to Income (DTI) New!
Trade Account Number
Date to File
Date Opened
Forward and look back periods 120 days
Basic
CONTACT US TODAY
For more information:
contact your Equifax sales
representative or visit:
www.equifax.com/mortgage/UDM
Equifax and EFX are registered trademarks of Equifax Inc. Undisclosed Debt Monitoring is a trademark Equifax Inc. Copyright © 2015, Equifax Inc., Atlanta, Georgia. All rights reserved.