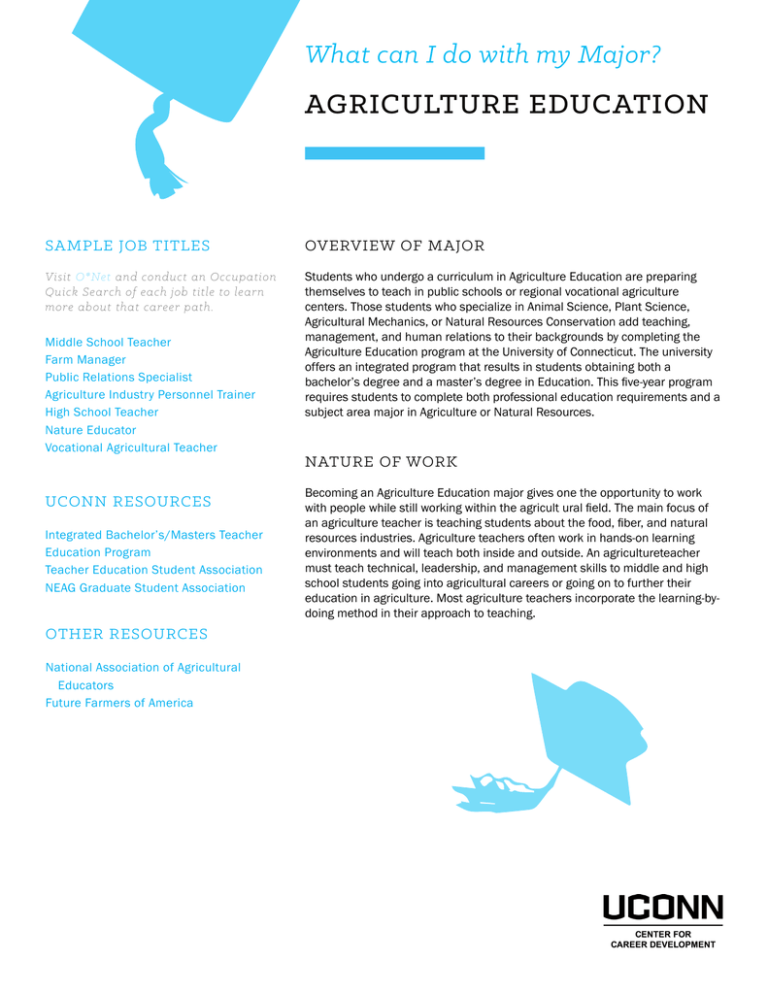 What can I do with my Major?
Agriculture Education
SAMPLE JOB TITLES
OVERVIEW OF MAJOR
Visit O*Net and conduct an Occupation
Quick Search of each job title to learn
more about that career path.
Students who undergo a curriculum in Agriculture Education are preparing
themselves to teach in public schools or regional vocational agriculture
centers. Those students who specialize in Animal Science, Plant Science,
Agricultural Mechanics, or Natural Resources Conservation add teaching,
management, and human relations to their backgrounds by completing the
Agriculture Education program at the University of Connecticut. The university
offers an integrated program that results in students obtaining both a
bachelor's degree and a master's degree in Education. This five-year program
requires students to complete both professional education requirements and a
subject area major in Agriculture or Natural Resources.
Middle School Teacher
Farm Manager
Public Relations Specialist
Agriculture Industry Personnel Trainer
High School Teacher
Nature Educator
Vocational Agricultural Teacher
UCONN RESOURCES
Integrated Bachelor's/Masters Teacher
Education Program
Teacher Education Student Association
NEAG Graduate Student Association
OTHER RESOURCES
National Association of Agricultural
Educators
Future Farmers of America
NATURE OF WORK
Becoming an Agriculture Education major gives one the opportunity to work
with people while still working within the agricult ural field. The main focus of
an agriculture teacher is teaching students about the food, fiber, and natural
resources industries. Agriculture teachers often work in hands-on learning
environments and will teach both inside and outside. An agricultureteacher
must teach technical, leadership, and management skills to middle and high
school students going into agricultural careers or going on to further their
education in agriculture. Most agriculture teachers incorporate the learning-bydoing method in their approach to teaching.