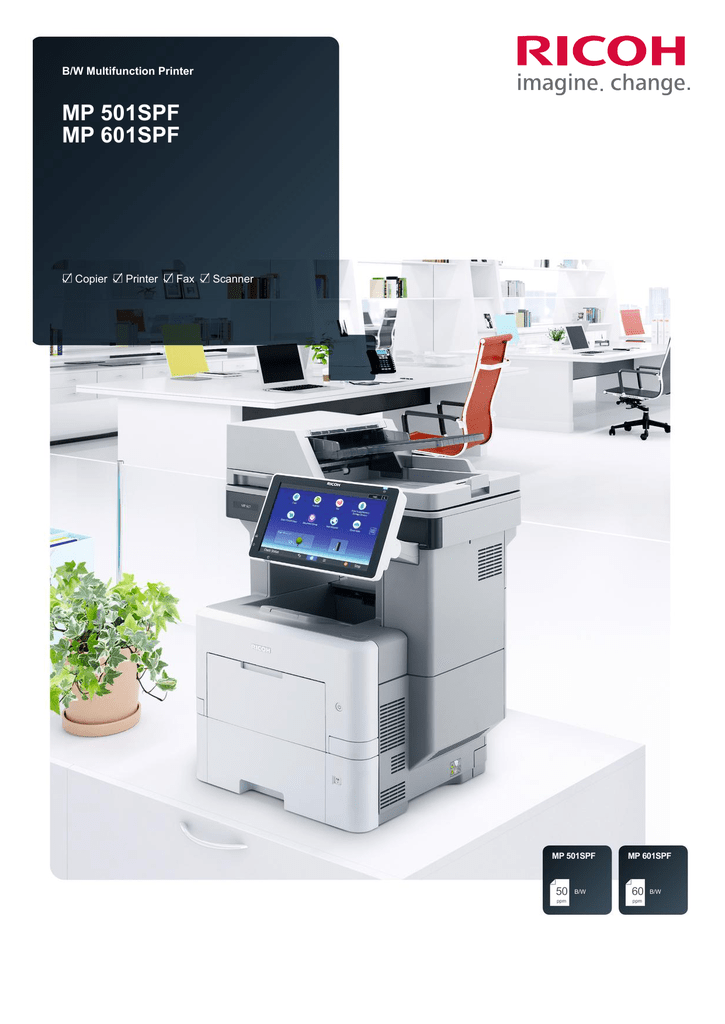 B/W Multifunction Printer
MP 501SPF
MP 601SPF
Copier
Printer
Fax
Scanner
MP 501SPF
50
ppm
B/W
MP 601SPF
60
ppm
B/W
Smart. Capable. Powerful. Introducing our latest
A4 B&W MFPs.
These two A4 B&W MFPs give you faster print speeds – with both the MP 501SPF and MP 601SPF
offering 50-60ppm respectively – a large 10.1 inch Smart Operation Panel and compatibility and
commonality with other Ricoh devices. But what's perhaps more important is the sheer range of work you
can complete, including the ability to take on complex tasks much more efficiently, combined with a small
footprint and durability that means these printers will be with you as your business grows.
Intuitive 10.1 colour Smart Operations Panel
Unified user experience
Download apps via our Application Site
Prints at up 50-60ppm
Low running costs
More flexible. More mighty. More options.
It's easy to be smart.
The complex made simple.
Our 10.1" Smart Operation Panel makes it even
easier to touch, pinch, swipe and get the job done
thanks to a range of features. Its customisable
home screen and full internet browser capability
helps you improve document processes in your
office. Its intuitive user interface and its Application
Site connectivity – where you can download apps
directly – means no matter what you want to do,
you can get on with the task in hand.
A new improved processor means you can
complete even the most complex of jobs with the
minimum of fuss. And the advanced controller
gives you an overview of exactly what you need
and what you can do next. All this technology is
working in the background, so all you see is your
productivity, speed and output increasing, which inturn helps your business become even more
efficient.
Feature packed. Small footprint.
High productivity. Low impact.
Thanks to their considered design, you don't have
to worry about space, or set aside a specific area in
the office. Their small footprint disguises just how
much they can do – and these printers can be
located almost anywhere, so you never feel
hemmed-in by our technology. Which leads to a
better working environment – and more
productivity.
Cost is always a concern for more productive
businesses. But we know you want to put the
environment first too. So these printers offer the
best combination of technological features, value
for money and also help aid sustainability. And this
is thanks to innovations like low energy
consumption – which result in lower energy costs –
and long-life yield drums, so maintenance is almost
eliminated.
MP 501SPF/MP 601SPF
MAIN SPECIFICATIONS
GENERAL
FAX
Warm-up time:
60 seconds
Circuit:
PSTN, PBX
First output speed:
6 seconds
Compatibility:
ITU-T (CCITT) G3
Continuous output speed:
A4: 50/60 pages per minute
A4 duplex: 50/60 pages per minute
Resolution:
Standard: 8 x 3.85 line/mm, 200 x 100
dpi8 x 7.7 line/mm, 200 x 200 dpi
CPU:
Intel Atom Processor Bay Trail:
1.46GHz
Transmission speed:
G3: 2 second(s)
Modem speed:
Maximum: 33.6 Kbps
Memory:
Standard: 2 GB
Memory capacity:
Standard: 4 MB
HDD:
Standard: 320 GB
Dimensions (W x D x H):
475 x 504 x 645 mm
Weight:
28 kg
Power source:
220 - 240 V, 50/60 Hz
COPIER
Copying process:
Laser beam scanning and electrophotographic printing
Multiple copying:
Up to 999 copies
Resolution:
600 x 600 dpi
Zoom:
From 25% to 400% in 1% steps
PAPER HANDLING
Recommended paper size:
Standard paper tray(s): A4, A5, A6, B4,
B5, B6
Paper input capacity:
Standard: 600 sheets
Maximum: 2,600 sheets
Paper output capacity:
Standard: 500 sheets
Paper weight:
60 - 220 g/m²
ECOLOGY
Power consumption:
PRINTER
Printer language:
Standard: PCL5e, PCL6, Adobe®
PostScript® 3™, PDF
Option: XPS
Print resolution:
Maximum: 1,200 x 1,200 dpi
Interface:
Standard: USB 2.0, SD slot, Ethernet
10 base-T/100 base-TX/1000 base-T
Option: Bi-directional IEEE 1284,
Wireless LAN (IEEE 802.11a/b/g),
Bluetooth, USB Server for Second
Network Interface, NIC2 Port
Mobile printing capability:
Network protocol:
TCP/IP
Windows® Vista, Windows® 7,
Windows® 8, Windows® 8.1,
Windows® 10, Windows® Server
2003, Windows® Server 2003R2,
Windows® Server 2008, Windows®
Server 2008R2, Windows® Server
2012, Windows® Server 2012R2
Mac OS environments:
Macintosh OS X v10.7 or later
UNIX environments:
UNIX Sun® Solaris: 9, 10
HP-UX: 11.x, 11i v2, 11i v3
SCO OpenServer: 5.0.7, 6.0
RedHat® Linux Enterprise: 4, 5, 6
IBM® AIX: V 5L, V5.3, V6.1, V7.1
SAP® R/3® environments:
SAP® R/3®
Supported barcode & OCR fonts
ARDF: Max. 60 originals per minute
Resolution:
Maximum: 600 dpi
Original size:
A4, A5, B4, B5, B6, A6
Bundled drivers:
Network TWAIN
www.ricoh-europe.com
SmartDeviceMonitor, Web
SmartDeviceMonitor®, Web Image
Monitor
Optional:
ELP-NX V2, ELP-NX FS V2, RICOH
Scan CX, FlexRelease CX,
SmartDeviceMonitor for Admin
Accounting Report Package, Device
Manager NX Lite, Device Manager NX
Accounting, Device Manager NX Pro,
Device Manager NX Enterprise,
RICOH @Remote Connector NX,
SmartDeviceMonitor for Client
OPTIONS
1 x 500-sheet paper tray, Caster table, Low cabinet, High cabinet, Bidirectional IEEE 1284, Wireless LAN (IEEE 802.11a/b/g/n), Bluetooth,
IPDS unit, Counter interface, File format converter, Data Overwrite
Security Unit (Certified version), Fax Connection Unit, OCR Unit, XPS
direct print, Enhanced security HDD, NFC Card Reader, USB Device
Server, Extended USB board
CONSUMABLES
SCANNER
Scanning speed:
SOFTWARE
Standard:
Apple AirPrint™
Windows® environments:
Maximum: 1,500 W
Ready mode: 90.7/88.6 W or less
Sleep mode: Power (Less than 1.1 W)
TEC (Typical Electricity Consumption):
2.8/3.3 kWh
Energy Saver mode: 1.1 W
Toner capacity:
Black: 25,000 prints
Declared yield value in
accordance with ISO/IEC 19752
For availability of models, options and software, please consult your
local Ricoh supplier.
ISO9001 certified, ISO14001
certified, ISO27001 certified
All brand and/or product
names are trademarks of their
respective owners.
Specifications and external
appearance are subject to
change without notice. The
colour of the actual product
may vary from the colour
shown in the brochure. The
images in this brochure are
not real photographs and
slight differences in detail
might appear.
Copyright © 2016 Ricoh
Europe PLC. All rights
reserved. This brochure, its
contents and/or layout may
not be modified and/or
adapted, copied in part or in
whole and/or incorporated
into other works without the
prior written permission of
Ricoh Europe PLC.