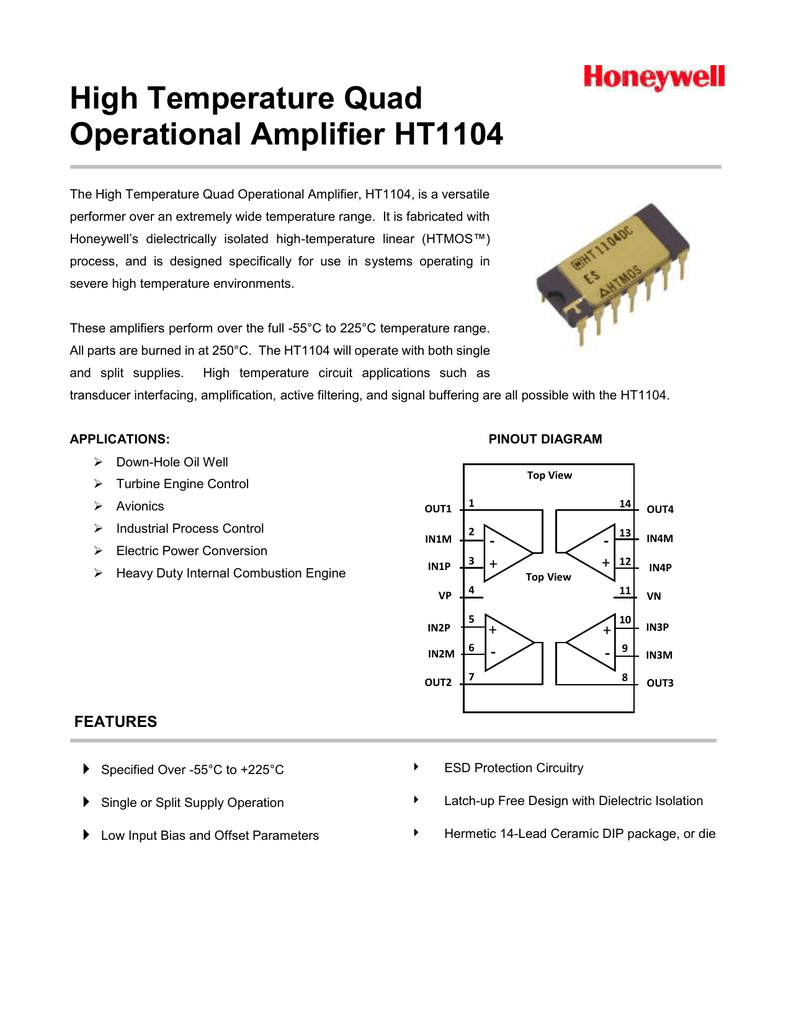 High Temperature Quad
Operational Amplifier HT1104
The High Temperature Quad Operational Amplifier, HT1104, is a versatile
performer over an extremely wide temperature range. It is fabricated with
Honeywell's dielectrically isolated high-temperature linear (HTMOS™)
process, and is designed specifically for use in systems operating in
severe high temperature environments.
These amplifiers perform over the full -55°C to 225°C temperature range.
All parts are burned in at 250°C. The HT1104 will operate with both single
and split supplies.
High temperature circuit applications such as
transducer interfacing, amplification, active filtering, and signal buffering are all possible with the HT1104.
APPLICATIONS:

Down-Hole Oil Well

Turbine Engine Control

Avionics

Industrial Process Control

Electric Power Conversion

Heavy Duty Internal Combustion Engine
PINOUT DIAGRAM
Top View
OUT1
IN1M
IN1P
VP
IN2P
IN2M
OUT2
1
2
3
+
+
6
OUT4
13
IN4M
12
Top View
4
5
14
11
+
-
7
+
-
10
9
8
IN4P
VN
IN3P
IN3M
OUT3
FEATURES

Specified Over -55°C to +225°C

ESD Protection Circuitry

Single or Split Supply Operation

Latch-up Free Design with Dielectric Isolation

Low Input Bias and Offset Parameters

Hermetic 14-Lead Ceramic DIP package, or die
HT1104
ABSOLUTE MAXIMUM RATINGS (1)
Rating
Symbol
VN to VP
VPIN
IOUT
IOS
VHBM
ΘJC
TSTORE
TSOLDER
TJ
Parameter
Min
Total Supply Voltage
Voltage on Any Pin (excluding power pins)
DC or Average Output Current (each output)
Output Short Circuit Current (1 second)
ESD Input Protection Voltage (Human Body Model)
Thermal Resistance (Jct-to-Case)
Storage Temperature
Lead Temperature (soldering, 10 seconds)
Junction Temperature
Max
13
VP + 0.5
+50
110
2000
10
300
355
315
VN - 0.5
-50
-65
Units
V
V
mA
mA
V
°C/W
°C
°C
°C
(1) Stresses in excess of those listed above may result in permanent damage. These are stress ratings only, and operation at
these levels is not implied. Frequent or extended exposure to absolute maximum conditions may affect device reliability.
RECOMMENDED OPERATING CONDITIONS
Symbol
VP
Parameter
Positive Supply Voltage (Single supply)
Min
5
Max
10
Units
V
VN
Negative Supply Voltage (Single supply)
0
VP
Positive Supply Voltage (Split supply)
VN
Negative Supply Voltage (Split supply)
-5
IOUT
Continuous Output Current
-10
+10
mA
VPIN
Voltage on Any Pin (excluding power pins)
VN - 0.3
VP + 0.3
V
TC
Case Temperature
-55
225
°C
V
+5
V
V
ELECTRICAL SPECIFICATIONS
Unless otherwise specified, specifications apply over the Recommended Operating Conditions.
VP = +5V, VN=-5V.
Limits
Symbol
Supply Current
VO
Output Voltage Swing
ISOH
ISOL
2
Parameter
IP
Output Short Circuit Current
High
Output Short Circuit Current
Low
Conditions
R =10kΩ, C =20pF
Open Loop, VP>VN, Vo = 0V,
Absolute value
Open Loop, VN>VP, Vo = 0V,
Absolute value
Open Loop, VP>VN, Vo = 0V,
absolute value
Open Loop, VN>VP, Vo = 0V,
absolute value
Min
-4.8
Max
Unit
12.5
mA
+4.6
V
110
mA
110
mA
ISOURCE
Output Drive Current - source
10
mA
ISINK
Output Drive Current - sink
10
mA
IIO
Input Offset Current
-55°C to 25°C
+225°C
-10
-50
10
50
nA
nA
IIB
Input Bias Current
-55°C to 25°C
+225°C
-10
-50
10
50
nA
nA
VIO
Input Offset Voltage
-7
7
mV
www.hightempsolutions.com
HT1104
Limits
Symbol
VCM
Parameter
Input Common Mode Voltage
Range
Conditions
25°C to +225°C,
-55°C
Min
VN+0.2
VN+0.2
Max
VP-2.2
VP-2.4
Unit
V
V
AVOL
DC Open Loop Gain
100
dB
CMRR
Common Mode Rejection
Ratio
80
dB
PSRR
Power Supply Rejection Ratio
66
dB
TYPICAL ELECTRICAL SPECIFICATIONS
The following specifications are not tested on each device and are for reference only.
Symbol
VIO
Parameter
Input Offset Voltage
Conditions
Drift with Temperature
Typical
10
Units
µV/°C
fo = 10 Hz
fo = 1 kHz
f = 0.1 to 10 Hz
200
30
8
nv/√Hz
nv/√Hz
µV, p-p
N
Noise
SR
Slew Rate
R = 10kΩ, C = 20pF, 25°C
1.4
V/µsec
UGB
Unity Gain Bandwidth
R = 10kΩ, C = 20pF, 25°C
1.4
MHz
ØM
Phase Margin
C = 20pF
60
degrees
AM
Gain Margin
C = 20pF
8
dB
SIMPLIFIED SCHEMATIC (each amplifier)
www.hightempsolutions.com
3
HT1104
PACKAGE DETAIL
B1
All dimensions in inches
Leads are NiFE (Alloy 42)
A
B
C
D
E
E1
B1
e
L
Q
0.150 (max)
0.018 ± 0.002
0.010 ± 0.002
0.700 ± 0.010
0.295 REF
0.300 ± 0.010
0.047 ± 0.002
0.100 ± 0.005
0.125 ± 0.180
0.035 ± 0.010
DIE DETAIL
Die Dimension (millimeters)
A
D
E
D1
E1
Min.
0.655
---------
Nom.
0.675
2.455
2.575
0.100
0.100
Max.
0.695
---------
Terminal Connections for Die
Die Pad
Number
1
2
3
4
5
6
7
8
9
10
11
12
13
14
15
16
17
1. Die backside is isolated from topside. Die backside shall be
externally connected to VN potential.
2. Top-side bond-pad surface metalization is aluminum.
3. Die back-side surface is gold.
4
Terminal
Connection
IN2M
OUT2
OUT3
IN3M
IN3P
VN*
IN4P
Do not connect
IN4M
OUT4
VN*
OUT1
IN1M
Do not connect
IN1P
VP
IN2P
*Die pads 6 and 11, VN, are
electrically common, by on-chip
interconnect.
www.hightempsolutions.com
HT1104
TYPICAL PERFORMANCE PLOTS
Supply Current (mA)
SUPPLY CURRENT vs. TEMPERATURE
12
11
10
9
8
7
6
5
4
3
2
VSUP=±5.0V
All Inputs at GND
-100 -50
0
50 100 150 200 250 300
Ambient Temperature (°C)
www.hightempsolutions.com
5
HT1104
6
www.hightempsolutions.com
HT1104
www.hightempsolutions.com
7
HT1104
8
www.hightempsolutions.com
HT1104
www.hightempsolutions.com
9
HT1104
DIE LEVEL SCREENING
The HT1104 die are specified to operate over the entire temperature range. To meet this objective, three levels of
screening are in place.
1. Wafer Level – 100% of die are electrically tested at room temperature.
2. Sample Package Test – A sample of die from each wafer are assembled into packages and screened over the
temperature range of -55C to +225C to verify performance.
3. The sample packaged parts also receive 44 hours of burn-in at 250C.
DIE LEVEL ASSEMBLY RECOMMENDATIONS
Die Bonding
Honeywell recommends using a Eutectic Gold/Silicon preform or high temperature conductive adhesive for die
bonding to a ceramic package.
Wire Bonding
1. Aluminum bond wires must be used to achieve high temperature reliability.
2. Wire bond power (die pad 16) and ground (die pads 6 and 11) pads before the other signal pads.
10
www.hightempsolutions.com
HT1104
ORDERING INFORMATION
H
T
1104
x
SOURCE
H = Honeywell
PROCESS
T=Hi Temp SOI
PART NUMBER
1104 = Quad Op Amp
PACKAGE DESIGNATION
D = 14 Pin DIP
Z = Die
Find out more
For more information on Honeywell's High Temperature Electronics visit us online at
www.hightempsolutions.com, or contact us at 1-800-323-8295. Customer Service Email:
[email protected]
Honeywell reserves the right to make changes of any sort without notice to any and all products, technology and testing identified herein. You
are advised to consult Honeywell or an authorized sales representative to verify that the information in this data sheet is current before ordering
this product. Absent express contract terms to the contrary, Honeywell does not assume any liability of any sort arising out of the application or
use of any product or circuit described herein; nor does it convey any license or other intellectual property rights of Honeywell or of third parties.
Honeywell
12001 Highway 55
Plymouth, MN 55441
Tel: 800-323-8295
www.hightempsolutions.com
ADS-14254 Rev B
November 2015
©2015 Honeywell International Inc.