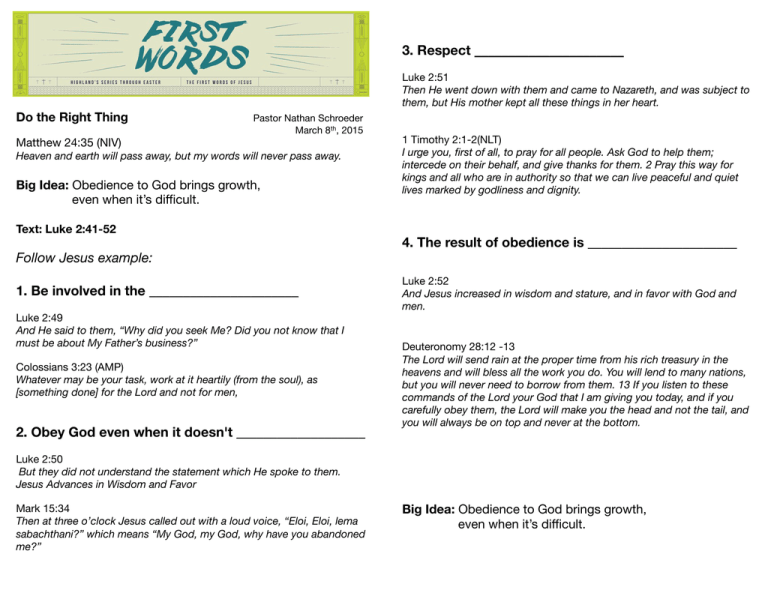 3. Respect ______________________
Luke 2:51 Then He went down with them and came to Nazareth, and was subject to
them, but His mother kept all these things in her heart.
Do the Right Thing
Matthew 24:35 (NIV)
Pastor Nathan Schroeder
March 8th, 2015
Heaven and earth will pass away, but my words will never pass away.
Big Idea: Obedience to God brings growth, even when it's difficult.
Text: Luke 2:41-52
Follow Jesus example:
1. Be involved in the ______________________
Luke 2:49 And He said to them, "Why did you seek Me? Did you not know that I
must be about My Father's business?"
Colossians 3:23 (AMP)
Whatever may be your task, work at it heartily (from the soul), as
[something done] for the Lord and not for men,
2. Obey God even when it doesn't ___________________
1 Timothy 2:1-2(NLT)
I urge you, first of all, to pray for all people. Ask God to help them;
intercede on their behalf, and give thanks for them. 2 Pray this way for
kings and all who are in authority so that we can live peaceful and quiet
lives marked by godliness and dignity.
4. The result of obedience is ______________________
Luke 2:52 And Jesus increased in wisdom and stature, and in favor with God and
men.
Deuteronomy 28:12 -13 The Lord will send rain at the proper time from his rich treasury in the
heavens and will bless all the work you do. You will lend to many nations,
but you will never need to borrow from them. 13 If you listen to these
commands of the Lord your God that I am giving you today, and if you
carefully obey them, the Lord will make you the head and not the tail, and
you will always be on top and never at the bottom.
Luke 2:50
But they did not understand the statement which He spoke to them.
Jesus Advances in Wisdom and Favor
Mark 15:34
Then at three o'clock Jesus called out with a loud voice, "Eloi, Eloi, lema
sabachthani?" which means "My God, my God, why have you abandoned
me?"
Big Idea: Obedience to God brings growth, even when it's difficult.