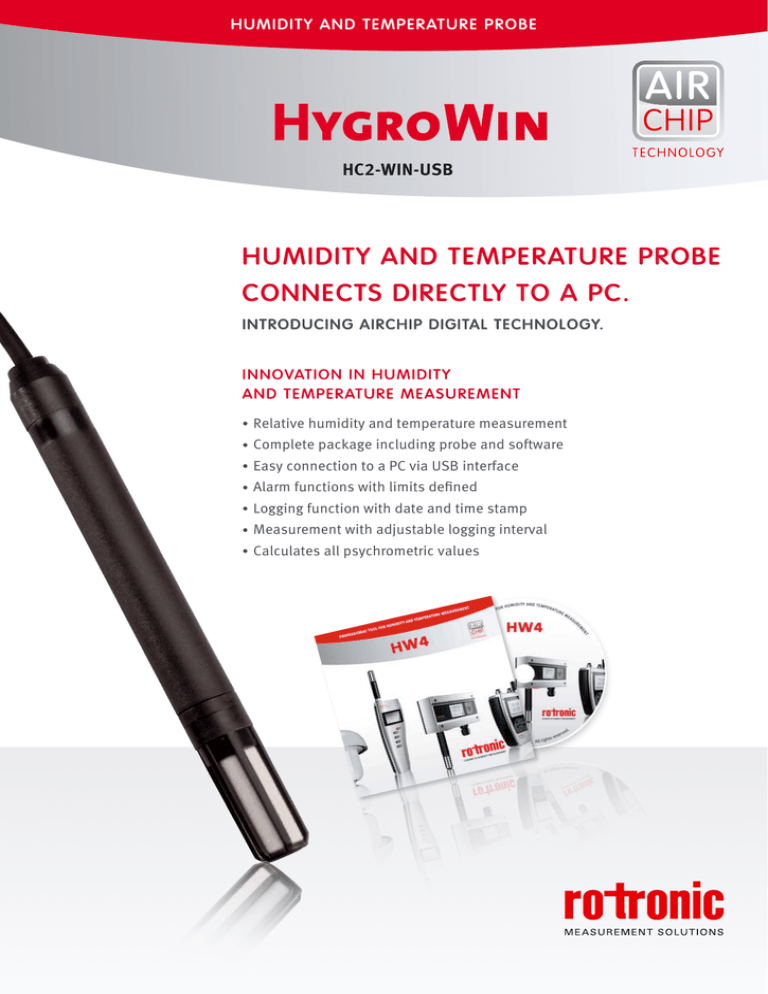 H U M I D I T Y A N D T E M P E R AT U R E P R O B E
HC2-WIN-USB
HUMIDITY AND TEMPERATURE PROBE
CONNECTS DIRECTLY TO A PC.
INTRODUCING AIRCHIP DIGITAL TECHNOLOGY.
I N N O VAT I O N I N H U M I D I T Y
A N D T E M P E R AT U R E M E A S U R E M E N T
• Relative
humidity and temperature measurement
• Complete
• Easy
package including probe and software
connection to a PC via USB interface
• Alarm
functions with limits defined
• Logging
function with date and time stamp
• Measurement
• Calculates
with adjustable logging interval
all psychrometric values
THE APPLICATIONS
Why you feel uncomfortable in certain climates?
People work more effectively in comfortable conditions. Equipment is more reliable when the climate is controlled.
Sick days and accidents have been shown to be reduced when humidity and temperature are maintained within the comfort
ranges (40…60 %rh and 20…25 °C). The HygroWin is the perfect tool for the measurement of conditions in modern environments. It connects to your PC to provide a
display of the current conditions and allows you to record data for later review. HygroWin can even convert the measured values
into other humidity parameters such as dew point, wet bulb and moisture content.
Viewing measured values
Simple and user-friendly; HygroWin data is presented in both graphic and numerical forms, both for live and recorded data. Data
can be stored on any PC drive, including network locations.
Technical data for the HygroWin
Measuring range Accuracy
Cable length Probe dimensions
Connection
Power supply 0…100 %rh / -40…+85 °C
± 2 %rh / ±0.3 K (@ 23 °C)
3m
D = 15 mm, L = 110 mm
USB
Via USB cable
System requirements
Processor RAM Monitor
Hard disk
Operating system Connection
Pentium 1 GHz
512 MB
SVGA, 1280 x 960
colours 65535, 96 DPI
HW4: 50 MB
NET2: 280 MB
Windows XP Service Pack 2
Windows 2000 Service Pack 3
Windows Server 2003
Windows Vista, Windows7
USB port
Installation
ROTRONIC AG, Grindelstrasse 6, CH - 8303 Bassersdorf, Tel. +41 44 838 11 11, Fax +41 44 836 44 24, www.rotronic.ch
ROTRONIC Instruments (UK) Ltd, Crompton Fields, Crompton Way, Crawley, West Sussex, RH10 9EE, UK, Phone +44 (0)1293 571000, Fax +44 (0)1293 571008, www.rotronic.co.uk
ROTRONIC Instrument Corp,Suite 150, 135 Engineers Road, Hauppauge, NY 11788, USA , Phone, +1 631 427-3898, Fax, +1 631 427-3902, www.rotronic-usa.com
590021e/2010-07
The probe is connected to a free USB port on the PC. The HW4 software is installed and you are now a climate professional!
The software also enables the data to be recorded on your hard disk and retrieved at any time.