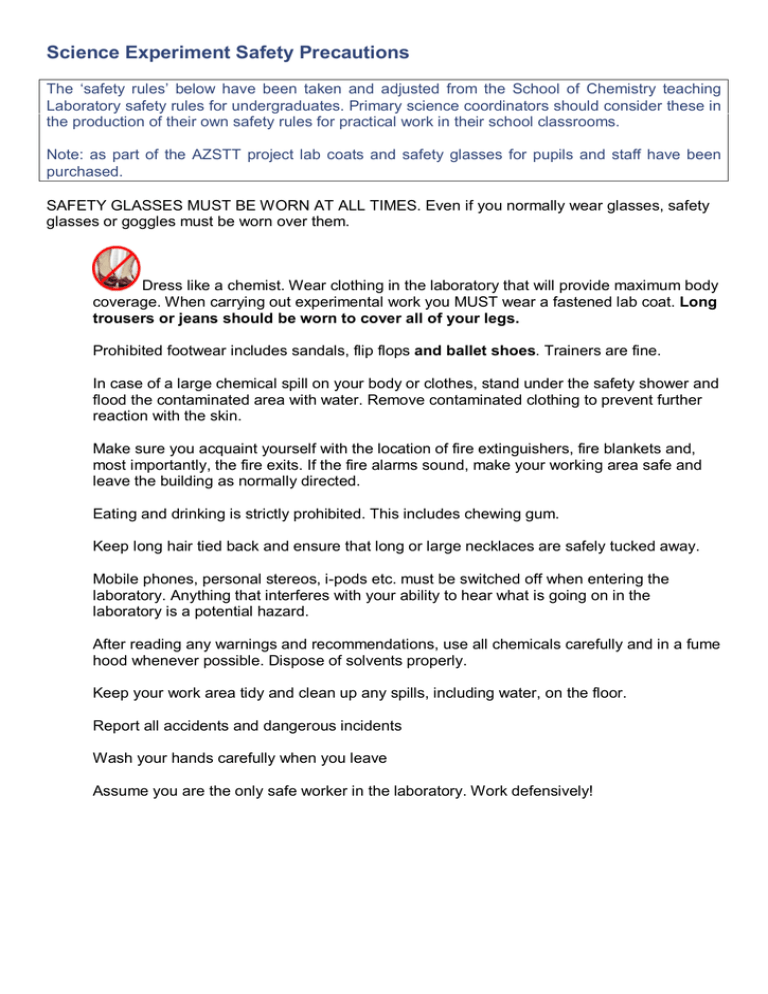 Science Experiment Safety Precautions
The 'safety rules' below have been taken and adjusted from the School of Chemistry teaching
Laboratory safety rules for undergraduates. Primary science coordinators should consider these in
the production of their own safety rules for practical work in their school classrooms.
Note: as part of the AZSTT project lab coats and safety glasses for pupils and staff have been
purchased.
SAFETY GLASSES MUST BE WORN AT ALL TIMES. Even if you normally wear glasses, safety
glasses or goggles must be worn over them.
Dress like a chemist. Wear clothing in the laboratory that will provide maximum body
coverage. When carrying out experimental work you MUST wear a fastened lab coat. Long
trousers or jeans should be worn to cover all of your legs.
Prohibited footwear includes sandals, flip flops and ballet shoes. Trainers are fine.
In case of a large chemical spill on your body or clothes, stand under the safety shower and
flood the contaminated area with water. Remove contaminated clothing to prevent further
reaction with the skin.
Make sure you acquaint yourself with the location of fire extinguishers, fire blankets and,
most importantly, the fire exits. If the fire alarms sound, make your working area safe and
leave the building as normally directed.
Eating and drinking is strictly prohibited. This includes chewing gum.
Keep long hair tied back and ensure that long or large necklaces are safely tucked away.
Mobile phones, personal stereos, i-pods etc. must be switched off when entering the
laboratory. Anything that interferes with your ability to hear what is going on in the
laboratory is a potential hazard.
After reading any warnings and recommendations, use all chemicals carefully and in a fume
hood whenever possible. Dispose of solvents properly.
Keep your work area tidy and clean up any spills, including water, on the floor.
Report all accidents and dangerous incidents
Wash your hands carefully when you leave
Assume you are the only safe worker in the laboratory. Work defensively!