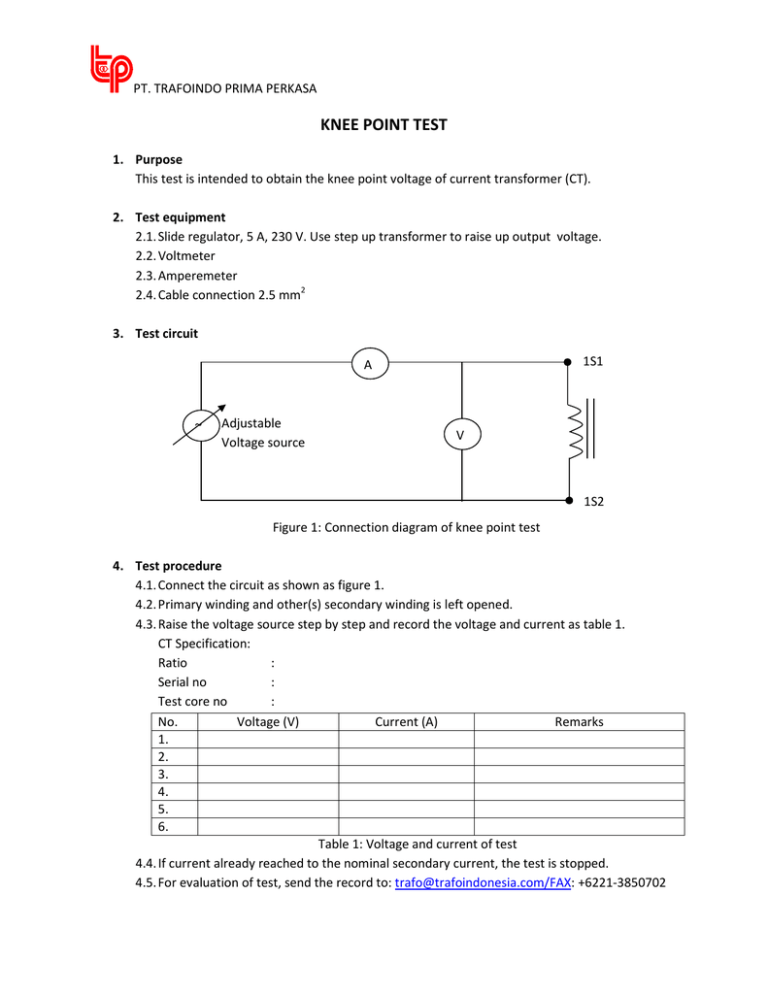 PT. TRAFOINDO PRIMA PERKASA
KNEE POINT TEST
1. Purpose
This test is intended to obtain the knee point voltage of current transformer (CT).
2. Test equipment
2.1. Slide regulator, 5 A, 230 V. Use step up transformer to raise up output voltage.
2.2. Voltmeter
2.3. Amperemeter
2.4. Cable connection 2.5 mm2
3. Test circuit
1S1
A
~
Adjustable
Voltage source
V
1S2
Figure 1: Connection diagram of knee point test
4. Test procedure
4.1. Connect the circuit as shown as figure 1.
4.2. Primary winding and other(s) secondary winding is left opened.
4.3. Raise the voltage source step by step and record the voltage and current as table 1.
CT Specification:
Ratio
:
Serial no
:
Test core no
:
No.
Voltage (V)
Current (A)
Remarks
1.
2.
3.
4.
5.
6.
Table 1: Voltage and current of test
4.4. If current already reached to the nominal secondary current, the test is stopped.
4.5. For evaluation of test, send the record to: trafo@trafoindonesia.com/FAX: +6221-3850702
PT. TRAFOINDO PRIMA PERKASA
PRIMARY CURRENT INJECTION TEST
1. Purpose
This test is intended to verify that current transformation ratio as shown on the name
plate is correct. Primary current injection test is not accuracy test, therefore the result
of this test to calculate ratio error is not acceptable.
2. Test Circuit
A
~
P1
1S1
Adjustable
Current source
A
1S2
P2
Note: Ensure to short-circuited secondary terminal prior to conduct primary current
injection. Fail to do so will cause damage to current transformer.
3. Test procedure
3.1. Check the name plate ratio and primary current
3.2. Check the current source is able to raise up to nominal current of CT.
3.3. Check the size of primary cable
3.4. Check the terminal on secondary CT either core I, core II and or core III are shortcircuited.
3.5. Start to raise up the current and record with below simple table.
CT Specification:
Ratio
:
Serial no
:
Test core no
:
No.
Actual primary current
Actual secondary
Actual ratio
Calculated
(A)
current (A)
ratio
1.
2.
3.
4.
5.
6.