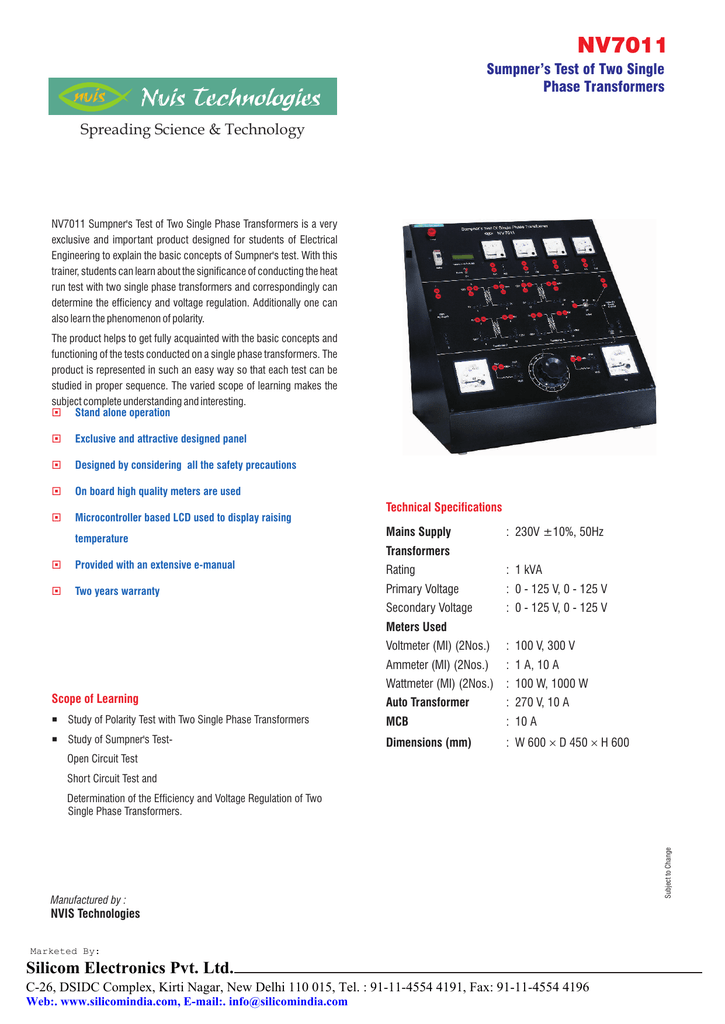 NV7011
Sumpner's Test of Two Single
Phase Transformers
Spreading Science & Technology
NV7011 Sumpner's Test of Two Single Phase Transformers is a very
exclusive and important product designed for students of Electrical
Engineering to explain the basic concepts of Sumpner's test. With this
trainer, students can learn about the significance of conducting the heat
run test with two single phase transformers and correspondingly can
determine the efficiency and voltage regulation. Additionally one can
also learn the phenomenon of polarity.
The product helps to get fully acquainted with the basic concepts and
functioning of the tests conducted on a single phase transformers. The
product is represented in such an easy way so that each test can be
studied in proper sequence. The varied scope of learning makes the
subject complete understanding and interesting.
Stand alone operation
¨
Exclusive and attractive designed panel
¨
Designed by considering all the safety precautions
¨
On board high quality meters are used
¨
Microcontroller based LCD used to display raising
¨
temperature
Technical Specifications
Mains Supply
: 230V ±10%, 50Hz
Transformers
Provided with an extensive e-manual
¨
Rating
: 1 kVA
Two years warranty
¨
Primary Voltage
: 0 - 125 V, 0 - 125 V
Secondary Voltage
: 0 - 125 V, 0 - 125 V
Meters Used
Voltmeter (MI) (2Nos.)
: 100 V, 300 V
Ammeter (MI) (2Nos.)
: 1 A, 10 A
Wattmeter (MI) (2Nos.)
: 100 W, 1000 W
Scope of Learning
Auto Transformer
: 270 V, 10 A
¡
Study of Polarity Test with Two Single Phase Transformers
MCB
: 10 A
¡
Study of Sumpner's Test-
Dimensions (mm)
: W 600 ´´
D 450 H 600
Open Circuit Test
Short Circuit Test and
Manufactured by :
NVIS Technologies
Marketed By:
Silicom Electronics Pvt. Ltd.
C-26, DSIDC Complex, Kirti Nagar, New Delhi 110 015, Tel. : 91-11-4554 4191, Fax: 91-11-4554 4196
Web:. www.silicomindia.com, E-mail:. [email protected]
Subject to Change
Determination of the Efficiency and Voltage Regulation of Two
Single Phase Transformers.