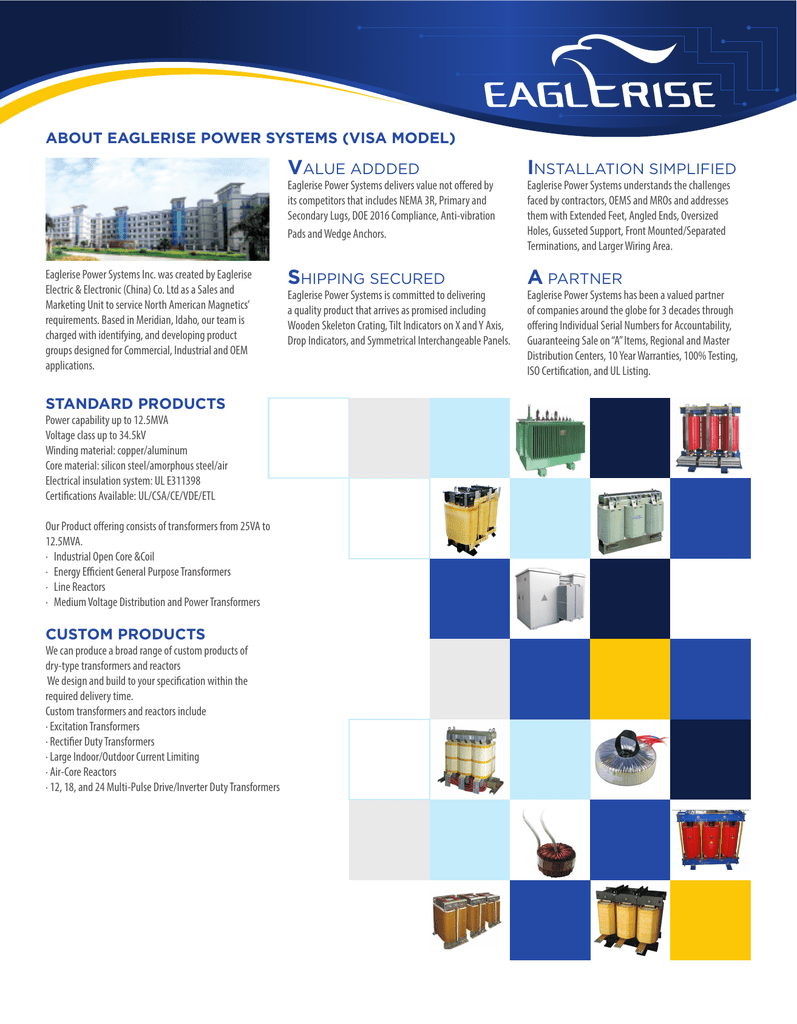 ABOUT EAGLERISE POWER SYSTEMS (VISA MODEL)
VALUE ADDDED
INSTALLATION SIMPLIFIED
SHIPPING SECURED
A PARTNER
Eaglerise Power Systems delivers value not offered by
its competitors that includes NEMA 3R, Primary and
Secondary Lugs, DOE 2016 Compliance, Anti-vibration
Pads and Wedge Anchors.
Eaglerise Power Systems Inc. was created by Eaglerise
Electric & Electronic (China) Co. Ltd as a Sales and
Marketing Unit to service North American Magnetics'
requirements. Based in Meridian, Idaho, our team is
charged with identifying, and developing product
groups designed for Commercial, Industrial and OEM
applications.
STANDARD PRODUCTS
Power capability up to 12.5MVA
Voltage class up to 34.5kV
Winding material: copper/aluminum
Core material: silicon steel/amorphous steel/air
Electrical insulation system: UL E311398
Certifications Available: UL/CSA/CE/VDE/ETL
Our Product offering consists of transformers from 25VA to
12.5MVA.
· Industrial Open Core ﹠Coil
· Energy Efficient General Purpose Transformers
· Line Reactors
· Medium Voltage Distribution and Power Transformers
CUSTOM PRODUCTS
We can produce a broad range of custom products of
dry-type transformers and reactors
We design and build to your specification within the
required delivery time.
Custom transformers and reactors include
· Excitation Transformers
· Rectifier Duty Transformers
· Large Indoor/Outdoor Current Limiting
· Air-Core Reactors
· 12, 18, and 24 Multi-Pulse Drive/Inverter Duty Transformers
Eaglerise Power Systems is committed to delivering
a quality product that arrives as promised including
Wooden Skeleton Crating, Tilt Indicators on X and Y Axis,
Drop Indicators, and Symmetrical Interchangeable Panels.
Eaglerise Power Systems understands the challenges
faced by contractors, OEMS and MROs and addresses
them with Extended Feet, Angled Ends, Oversized
Holes, Gusseted Support, Front Mounted/Separated
Terminations, and Larger Wiring Area.
Eaglerise Power Systems has been a valued partner
of companies around the globe for 3 decades through
offering Individual Serial Numbers for Accountability,
Guaranteeing Sale on "A" Items, Regional and Master
Distribution Centers, 10 Year Warranties, 100% Testing,
ISO Certification, and UL Listing.