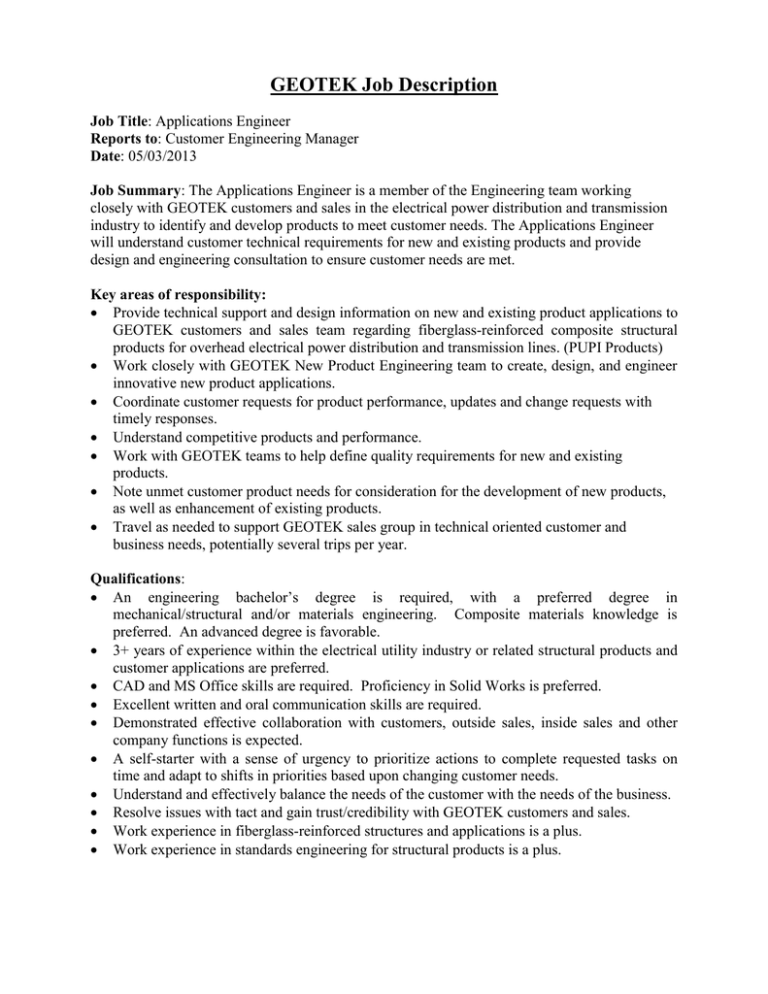 GEOTEK Job Description
Job Title: Applications Engineer
Reports to: Customer Engineering Manager
Date: 05/03/2013
Job Summary: The Applications Engineer is a member of the Engineering team working
closely with GEOTEK customers and sales in the electrical power distribution and transmission
industry to identify and develop products to meet customer needs. The Applications Engineer
will understand customer technical requirements for new and existing products and provide
design and engineering consultation to ensure customer needs are met.
Key areas of responsibility:
 Provide technical support and design information on new and existing product applications to
GEOTEK customers and sales team regarding fiberglass-reinforced composite structural
products for overhead electrical power distribution and transmission lines. (PUPI Products)
 Work closely with GEOTEK New Product Engineering team to create, design, and engineer
innovative new product applications.
 Coordinate customer requests for product performance, updates and change requests with
timely responses.
 Understand competitive products and performance.
 Work with GEOTEK teams to help define quality requirements for new and existing
products.
 Note unmet customer product needs for consideration for the development of new products,
as well as enhancement of existing products.
 Travel as needed to support GEOTEK sales group in technical oriented customer and
business needs, potentially several trips per year.
Qualifications:
 An engineering bachelor's degree is required, with a preferred degree in
mechanical/structural and/or materials engineering. Composite materials knowledge is
preferred. An advanced degree is favorable.
 3+ years of experience within the electrical utility industry or related structural products and
customer applications are preferred.
 CAD and MS Office skills are required. Proficiency in Solid Works is preferred.
 Excellent written and oral communication skills are required.
 Demonstrated effective collaboration with customers, outside sales, inside sales and other
company functions is expected.
 A self-starter with a sense of urgency to prioritize actions to complete requested tasks on
time and adapt to shifts in priorities based upon changing customer needs.
 Understand and effectively balance the needs of the customer with the needs of the business.
 Resolve issues with tact and gain trust/credibility with GEOTEK customers and sales.
 Work experience in fiberglass-reinforced structures and applications is a plus.
 Work experience in standards engineering for structural products is a plus.