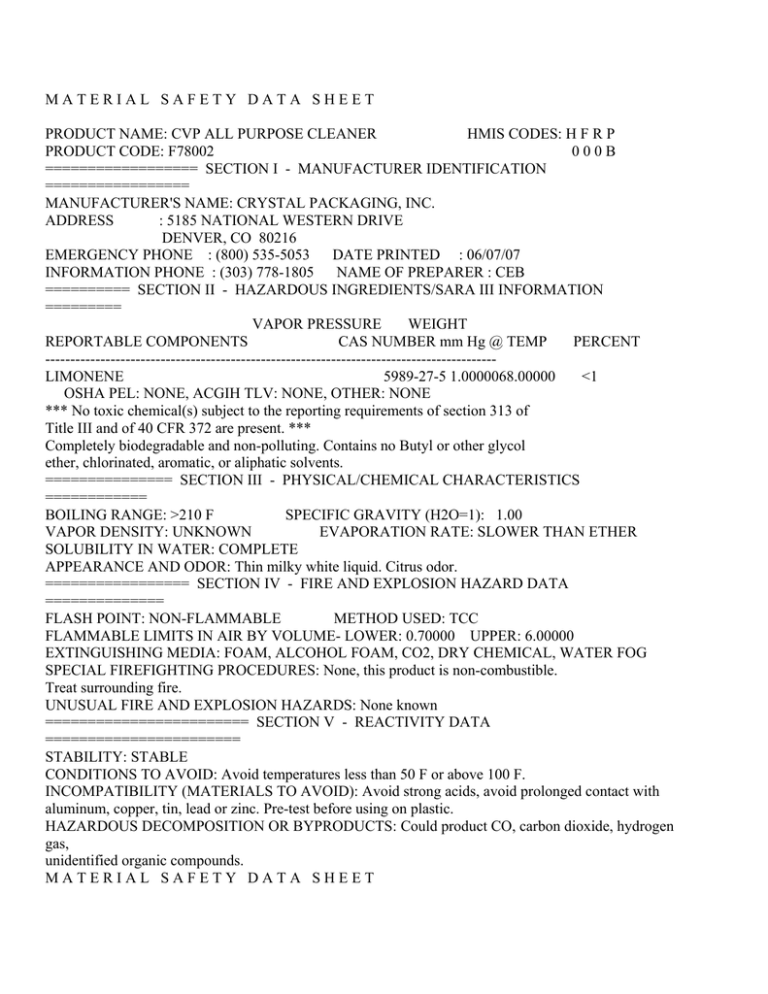 MATERIAL SAFETY DATA SHEET
PRODUCT NAME: CVP ALL PURPOSE CLEANER
HMIS CODES: H F R P
PRODUCT CODE: F78002
000B
================== SECTION I - MANUFACTURER IDENTIFICATION
=================
MANUFACTURER'S NAME: CRYSTAL PACKAGING, INC.
ADDRESS
: 5185 NATIONAL WESTERN DRIVE
DENVER, CO 80216
EMERGENCY PHONE : (800) 535-5053
DATE PRINTED : 06/07/07
INFORMATION PHONE : (303) 778-1805 NAME OF PREPARER : CEB
========== SECTION II - HAZARDOUS INGREDIENTS/SARA III INFORMATION
=========
VAPOR PRESSURE
WEIGHT
REPORTABLE COMPONENTS
CAS NUMBER mm Hg @ TEMP
PERCENT
-----------------------------------------------------------------------------------------LIMONENE
5989-27-5 1.0000068.00000
<1
OSHA PEL: NONE, ACGIH TLV: NONE, OTHER: NONE
*** No toxic chemical(s) subject to the reporting requirements of section 313 of
Title III and of 40 CFR 372 are present. ***
Completely biodegradable and non-polluting. Contains no Butyl or other glycol
ether, chlorinated, aromatic, or aliphatic solvents.
=============== SECTION III - PHYSICAL/CHEMICAL CHARACTERISTICS
============
BOILING RANGE: >210 F
SPECIFIC GRAVITY (H2O=1): 1.00
VAPOR DENSITY: UNKNOWN
EVAPORATION RATE: SLOWER THAN ETHER
SOLUBILITY IN WATER: COMPLETE
APPEARANCE AND ODOR: Thin milky white liquid. Citrus odor.
================= SECTION IV - FIRE AND EXPLOSION HAZARD DATA
==============
FLASH POINT: NON-FLAMMABLE
METHOD USED: TCC
FLAMMABLE LIMITS IN AIR BY VOLUME- LOWER: 0.70000 UPPER: 6.00000
EXTINGUISHING MEDIA: FOAM, ALCOHOL FOAM, CO2, DRY CHEMICAL, WATER FOG
SPECIAL FIREFIGHTING PROCEDURES: None, this product is non-combustible.
Treat surrounding fire.
UNUSUAL FIRE AND EXPLOSION HAZARDS: None known
======================== SECTION V - REACTIVITY DATA
=======================
STABILITY: STABLE
CONDITIONS TO AVOID: Avoid temperatures less than 50 F or above 100 F.
INCOMPATIBILITY (MATERIALS TO AVOID): Avoid strong acids, avoid prolonged contact with
aluminum, copper, tin, lead or zinc. Pre-test before using on plastic.
HAZARDOUS DECOMPOSITION OR BYPRODUCTS: Could product CO, carbon dioxide, hydrogen
gas,
unidentified organic compounds.
MATERIAL SAFETY DATA SHEET
CVP ALL PURPOSE CLEANER
PAGE 2
HAZARDOUS POLYMERIZATION: WILL NOT OCCUR
==================== SECTION VI - HEALTH HAZARD DATA
=======================
INHALATION HEALTH RISKS AND SYMPTOMS OF EXPOSURE: Difficulty breathing.
SKIN AND EYE CONTACT HEALTH RISKS AND SYMPTOMS OF EXPOSURE: Irritation of eyes
or skin.
SKIN ABSORPTION HEALTH RISKS AND SYMPTOMS OF EXPOSURE: Not known to occur.
INGESTION HEALTH RISKS AND SYMPTOMS OF EXPOSURE: Gastric distress.
HEALTH HAZARDS (ACUTE AND CHRONIC): Harmful if swallowed. May cause irritation of the
skin due to prolonged contact. Contact with the eyes may cause irritation and burning.
Inhalation overexposure is not anticipated to have serious effects.
CARCINOGENICITY: NTP CARCINOGEN: No IARC MONOGRAPHS: No OSHA
REGULATED: No
Not carcinogenic.
MEDICAL CONDITIONS GENERALLY AGGRAVATED BY EXPOSURE: None known.
EMERGENCY AND FIRST AID PROCEDURES: IF SWALLOWED: Drink large amounts of water or
milk.
Contact physician immediately. NEVER give liquids to an unconscious person.
IF ON SKIN: Wash with water. See physician if irritation persists.
IF IN EYES: Immediately flood with large amount of flowing water. See physician.
IF INHALED: Move to location with plenty of fresh air. If breathing has stopped, apply
artificial respiration. See physician.
=========== SECTION VII - PRECAUTIONS FOR SAFE HANDLING AND USE
============
STEPS TO BE TAKEN IN CASE MATERIAL IS RELEASED OR SPILLED: Leaks should be
repaired
immediately. Spills should be swept, mopped, or collected & surface rinsed with water.
WASTE DISPOSAL METHOD: Disposal should comply with Federal, State & Local regulations.
PRECAUTIONS TO BE TAKEN IN HANDLING & STORING: Store at temperatures between 50 and
100 F.
OTHER PRECAUTIONS: Do not use in presence of unprotected foods. Before using on plastics,
pre-test on an inconspicuous area for possible deleterious action.
===================== SECTION VIII - CONTROL MEASURES
======================
RESPIRATORY PROTECTION: None needed.
VENTILATION: General ventilation.
PROTECTIVE GLOVES: Rubber/neoprene if using stronger than 1 part Brute to 10 parts water.
EYE PROTECTION: Safety glasses if using stronger than 1 part Brute to 10 parts water.
OTHER PROTECTIVE CLOTHING OR EQUIPMENT: None.
MATERIAL SAFETY DATA SHEET
CVP ALL PURPOSE CLEANER
PAGE 3
WORK/HYGIENIC PRACTICES: Contaminated clothing should be removed.
========================= SECTION IX - DISCLAIMER
==========================
All information given is believed to be accurate but is presented without
guarantee, warranty, or responsibility of any kind, express or implied, on our
part.