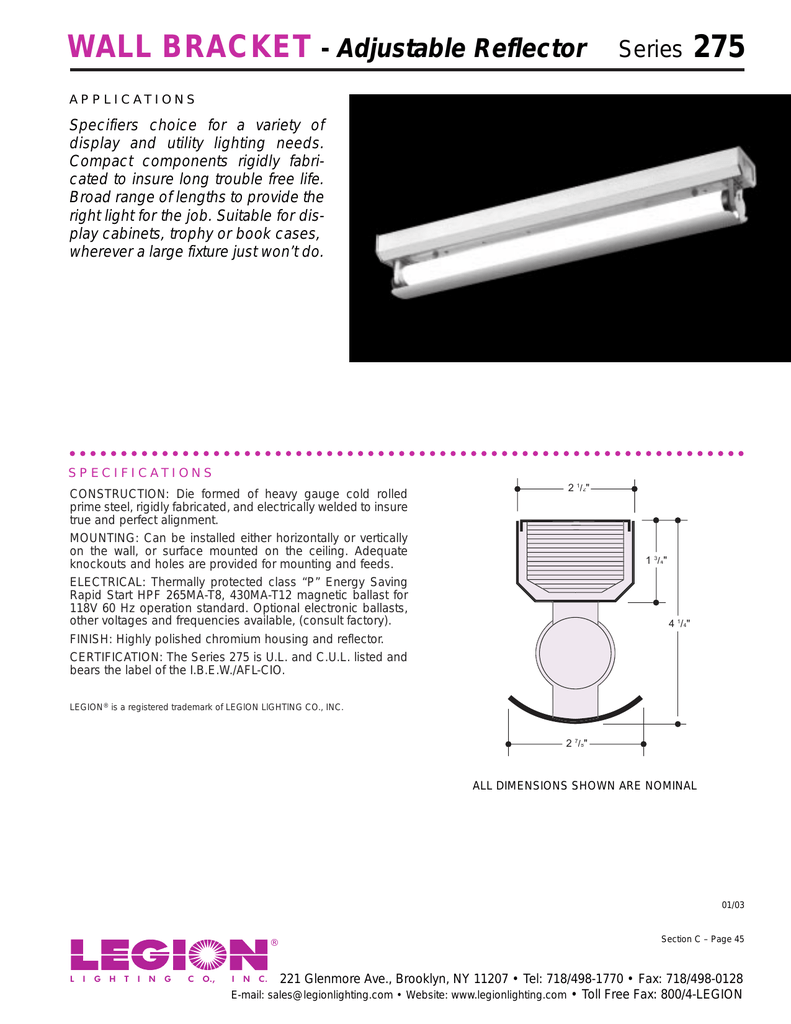 WALL BRACKET - Adjustable Reflector
Series
275
APPLICATIONS
Specifiers choice for a variety of
display and utility lighting needs.
Compact components rigidly fabricated to insure long trouble free life.
Broad range of lengths to provide the
right light for the job. Suitable for display cabinets, trophy or book cases,
wherever a large fixture just won't do.
SPECIFICATIONS
CONSTRUCTION: Die formed of heavy gauge cold rolled
prime steel, rigidly fabricated, and electrically welded to insure
true and perfect alignment.
MOUNTING: Can be installed either horizontally or vertically
on the wall, or surface mounted on the ceiling. Adequate
knockouts and holes are provided for mounting and feeds.
ELECTRICAL: Thermally protected class "P" Energy Saving
Rapid Start HPF 265MA-T8, 430MA-T12 magnetic ballast for
118V 60 Hz operation standard. Optional electronic ballasts,
other voltages and frequencies available, (consult factory).
FINISH: Highly polished chromium housing and reflector.
CERTIFICATION: The Series 275 is U.L. and C.U.L. listed and
bears the label of the I.B.E.W./AFL-CIO.
2 1/2"
1 3/4"
4 1/4"
LEGION® is a registered trademark of LEGlON LlGHTlNG CO., INC.
2 7/8"
ALL DIMENSIONS SHOWN ARE NOMINAL
01/03
®
L
I
G
H
T
I
N
G
C
O.,
I
N
C.
Section C – Page 45
221 Glenmore Ave., Brooklyn, NY 11207 • Tel: 718/498-1770 • Fax: 718/498-0128
E-mail: [email protected] • Website: www.legionlighting.com • Toll Free Fax: 800/4-LEGION
Wall Bracket - Adjustable Reflector
Series 275
OPTIONS
O R D E R I N G D ATA
275-114L
No. and
Type Lamp
1-14W-TS-T8/T12
275-115L
1-15W-TS-T8/T12
275-120L
1-20W-TS-T12
LPF
1-FO17-OCT-T8
HPF
FIXTURES
Catalog No.
★ 275-117
275-130L
275-130H
★ 275-125
275-140L
275-140H
Reflectors
★ 275-132
■
■
LPF
Nominal
Length
161/2"
LPF
191/2"
Ballast
Weight
HPF
1-FO25-OCT-T8
1-40W-RS-T12
4
371/2"
8
7
HPF
8
LPF
9
HPF
1-FO32-OCT-T8
3
251/2"
LPF
1-30W-RS-T12
Suffix "GCO" after catalog no. for grounded convenience outlet.
Suffix "TSW" after catalog no. for single circuit switch.
Suffix "DL" after catalog no. for damp location.
Suffix "EM" after cat. no. for emergency battery pack, and see
price list for types.
Suffix "DIM" after catalog no. for dimming ballast, where
applicable (consult factory).
Suffix "LT" after catalog no. for low temperature ballast, where
applicable (consult factory).
1
49 /2"
HPF
ENERGY SAVlNG BALLASTS Where applicable (consult factory).
Suffix "ESB" after catalog number, then / and one of the following:
10
MAGNETlC
"SLH "- Superlow Heat T12 Ballast
"PRE"- Premium III T12 Ballast
"OCT"- Octron T8 Ballast
10
■
275R-14
151/2"
1
■
275R-15
181/2"
1
■
275R-20
1
24 /2"
1
■
275R-30
361/2"
11/2
■
275R-40
481/2"
2
/2
ELECTRONlC
"EB"- Electronic T12 Ballast
"EBO"- Electronic T8 Octron Ballast
"EBD"- Electronic T12 Dimming Ballast
"EBDO"- Electronic T8 Dimming Ballast
/2
Suffix after catalog no. for Polished Chrome Adjustable Reflector.
Example: 275-140L-275R-40.
As a Energy Star® Partner, Legion Lighting Co., Inc. has determined
that the Series 275 Wall Bracket Starred ★ meets the Energy Star®
guidelines for energy efficiency. Please consult factory for specific
★ information.
EPA
DOE
Energy Star® and Logo are registered
trademarks of the U.S. Govt. and EPA
BACK PLAN
161/2", 191/2", 251/2", 371/2", 491/2"
1
31/2"
3 /2"
21/2"
7
/16" dia. K.O.
3
/16" dia. hole
7
/8" dia. K.O.
Information supplied primarily for illustrative purposes, subject to change.
Consult factory for verification and minimum quantity orders.
Section C - Page 46
®
L
I
G
H
T
I
N
G
C
O.,
I
N
C.