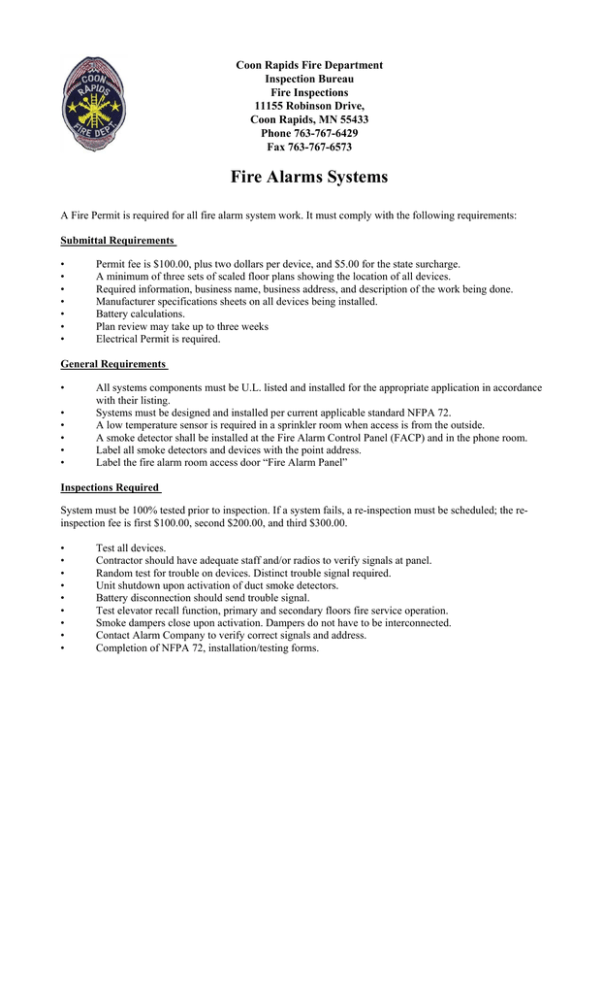 Coon Rapids Fire Department
Inspection Bureau
Fire Inspections
11155 Robinson Drive,
Coon Rapids, MN 55433
Phone 763-767-6429
Fax 763-767-6573
Fire Alarms Systems
A Fire Permit is required for all fire alarm system work. It must comply with the following requirements:
Submittal Requirements
•
•
•
•
•
•
•
Permit fee is $100.00, plus two dollars per device, and $5.00 for the state surcharge.
A minimum of three sets of scaled floor plans showing the location of all devices.
Required information, business name, business address, and description of the work being done.
Manufacturer specifications sheets on all devices being installed.
Battery calculations.
Plan review may take up to three weeks
Electrical Permit is required.
General Requirements
•
•
•
•
•
•
All systems components must be U.L. listed and installed for the appropriate application in accordance
with their listing.
Systems must be designed and installed per current applicable standard NFPA 72.
A low temperature sensor is required in a sprinkler room when access is from the outside.
A smoke detector shall be installed at the Fire Alarm Control Panel (FACP) and in the phone room.
Label all smoke detectors and devices with the point address.
Label the fire alarm room access door "Fire Alarm Panel"
Inspections Required
System must be 100% tested prior to inspection. If a system fails, a re-inspection must be scheduled; the reinspection fee is first $100.00, second $200.00, and third $300.00.
•
•
•
•
•
•
•
•
•
Test all devices.
Contractor should have adequate staff and/or radios to verify signals at panel.
Random test for trouble on devices. Distinct trouble signal required.
Unit shutdown upon activation of duct smoke detectors.
Battery disconnection should send trouble signal.
Test elevator recall function, primary and secondary floors fire service operation.
Smoke dampers close upon activation. Dampers do not have to be interconnected.
Contact Alarm Company to verify correct signals and address.
Completion of NFPA 72, installation/testing forms.
System Components and Hardware
•
•
•
•
•
•
•
•
Power supply for the alarm system must be on a dedicated circuit. Breakers for all alarm system
components, including exterior sprinkler alarms, must have approved locking devices to prevent the
accidental disconnecting of power and painted red.
Remote alarm indicating/testing devices are required when duct detectors are not visible/accessible from
floor.
On addressable systems, devices must be labeled to coincide with the device/address displayed on the fire
alarm panel.
Listed smoke detectors are required within five feet of all dampers locations.
Detectors used with hold-open devices must be U.L. listed for the release function.
All indicating sprinkler control valves, including WPIV's, must be secured and electronically supervised.
Zoning of the fire protection systems shall be approved during plan review and shall be annunciated on
the FACP/FAAP.
Document enclosure on cabinent is required. (10.18.2.3 – 2010 NFPA)
Monitoring/Annunciation
•
•
•
•
•
•
•
•
The FACP or Fire Annunciator (FAAP) must be located at the main entrance or at an approved location.
The FACP must be monitored by a U.L. Central Station and have a current U.L. Central Station certificate
for the property.
Alarm verification is required; verification cycle is required to be a minimum of 30 seconds.
Water flow alarms shall be monitor as a distinct signal.
Low air pressure on dry sprinkler systems shall be monitored as supervisory.
Low temperature shall be monitored as supervisory.
Duct smokes shall be monitored as "Supervisory Alarm".
Monitoring systems must comply with NFPA 72, including panel requirements for audible trouble signals
and must have two means of signal transmission.