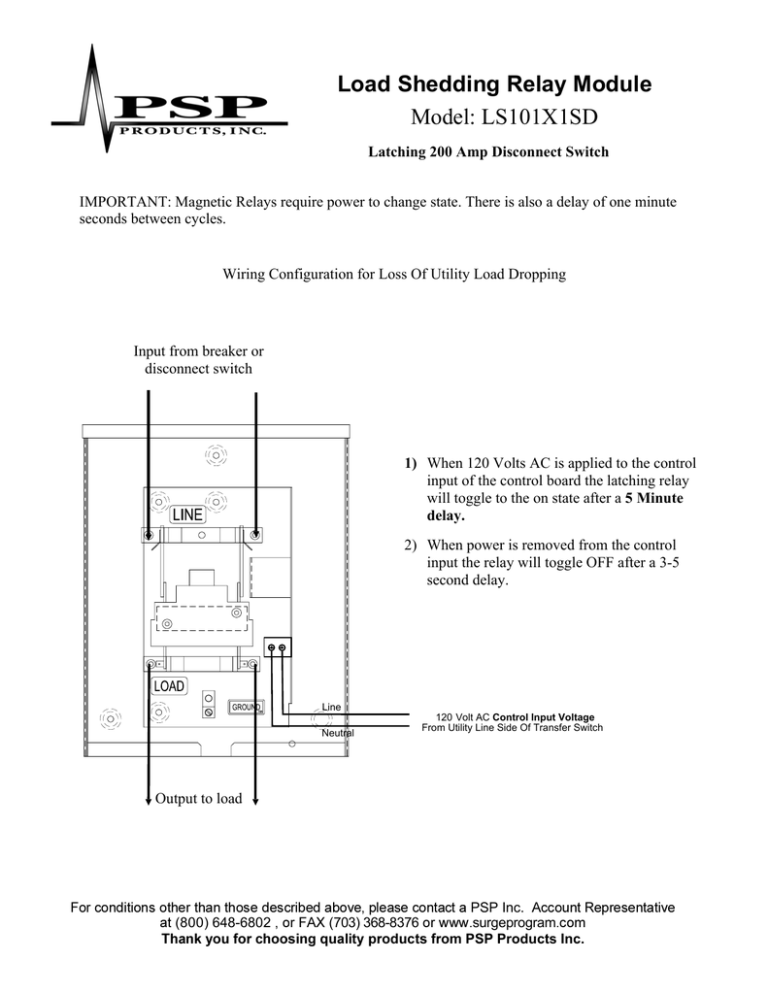 Load Shedding Relay Module
Model: LS101X1SD
Latching 200 Amp Disconnect Switch
IMPORTANT: Magnetic Relays require power to change state. There is also a delay of one minute
seconds between cycles.
Wiring Configuration for Loss Of Utility Load Dropping
Input from breaker or
disconnect switch
1) When 120 Volts AC is applied to the control
input of the control board the latching relay
will toggle to the on state after a 5 Minute
delay.
2) When power is removed from the control
input the relay will toggle OFF after a 3-5
second delay.
Line
Neutral
120 Volt AC Control Input Voltage
From Utility Line Side Of Transfer Switch
Output to load
6QT EQPFKVKQPU QVJGT VJCP VJQUG FGUETKDGF CDQXG# RNGCUG EQPVCEV C PSP Inc. 1EEQWPV =GRTGUGPVCVKXG
CV !800" 648-6802 # QT 61B (703) 368-8376 QT YYY%surgeprogram%EQO
8B<GD OHN @HK =BHHLCGA JN<ECMO IKH>N=ML @KHF PSP Products Inc.