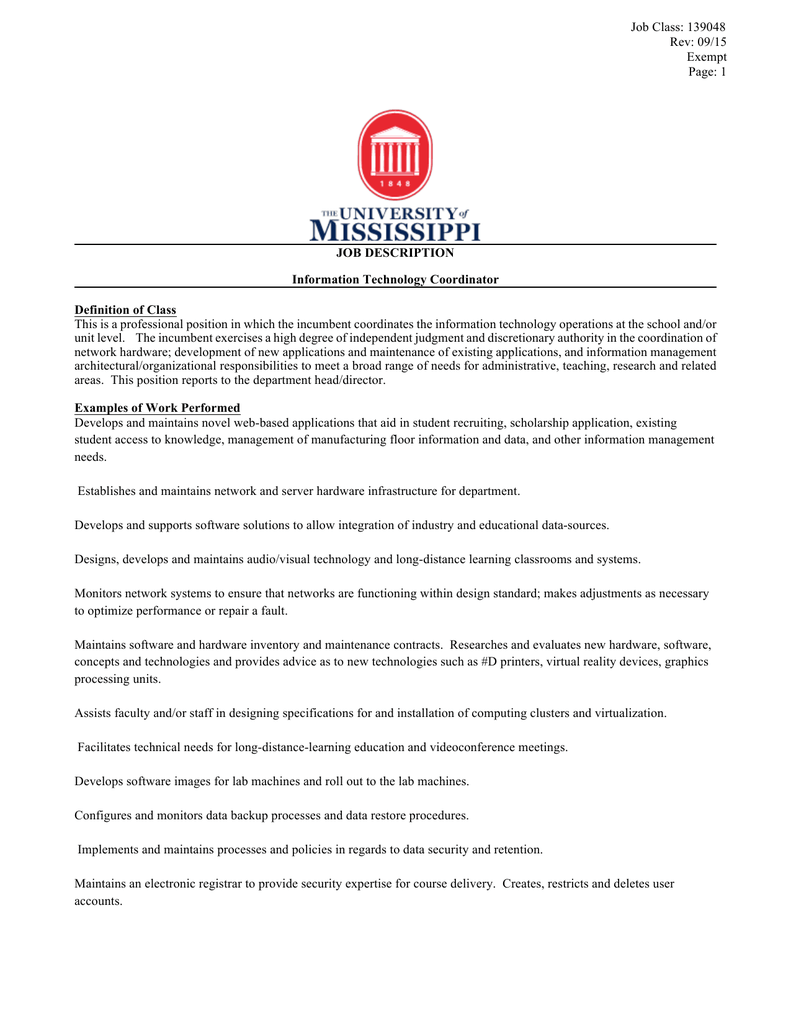 Job Class: 139048
Rev: 09/15
Exempt
Page: 1
JOB DESCRIPTION
Information Technology Coordinator
Definition of Class
This is a professional position in which the incumbent coordinates the information technology operations at the school and/or
unit level. The incumbent exercises a high degree of independent judgment and discretionary authority in the coordination of
network hardware; development of new applications and maintenance of existing applications, and information management
architectural/organizational responsibilities to meet a broad range of needs for administrative, teaching, research and related
areas. This position reports to the department head/director.
Examples of Work Performed
Develops and maintains novel web-based applications that aid in student recruiting, scholarship application, existing
student access to knowledge, management of manufacturing floor information and data, and other information management
needs.
Establishes and maintains network and server hardware infrastructure for department.
Develops and supports software solutions to allow integration of industry and educational data-sources.
Designs, develops and maintains audio/visual technology and long-distance learning classrooms and systems.
Monitors network systems to ensure that networks are functioning within design standard; makes adjustments as necessary
to optimize performance or repair a fault.
Maintains software and hardware inventory and maintenance contracts. Researches and evaluates new hardware, software,
concepts and technologies and provides advice as to new technologies such as #D printers, virtual reality devices, graphics
processing units.
Assists faculty and/or staff in designing specifications for and installation of computing clusters and virtualization.
Facilitates technical needs for long-distance-learning education and videoconference meetings.
Develops software images for lab machines and roll out to the lab machines.
Configures and monitors data backup processes and data restore procedures.
Implements and maintains processes and policies in regards to data security and retention.
Maintains an electronic registrar to provide security expertise for course delivery. Creates, restricts and deletes user
accounts.
Job Class: 139048
Rev: 09/15
Exempt
Page: 2
Establishes minimum personal computer specifications for incoming students.
Administers Windows and Unix based servers and labs.
Coordinates, organizes, manages, maintains and evaluates departmental information resources, such as relational databases.
May be required teach a course pertaining to the information technology field.
Performs related or similar duties as required or assigned.
Essential Functions
These essential functions include, but are not limited to, the following. Additional essential functions may be identified and
included by the hiring Department.
1. Develops web-based applications and maintains existing applications.
2. Maintains network systems and manages information architectural/organization.
3. Ensures digital security precautions and data retention practices are maintained.
4. Provides technical analysis and assistance to faculty and staff regarding software, hardware and network
operations.
5. Coordinates, organizes, manages, maintains and evaluates departmental information resources.
Minimum Qualifications
These minimum qualifications have been agreed upon by Subject Matter Experts (SEES) in this job class and are based upon
a job analysis and the essential functions. However, if a candidate believes he/she is qualified for the job although he/she
does not have the minimum qualifications set forth below, he/she may request special consideration through substitution of
related education and experience, demonstrating the ability to perform the essential functions of the position. Any request to
substitute related education or experience for minimum qualifications must be addressed to the University of Mississippi's
Department of Human Resources in writing, identifying the related education and experience which demonstrates the
candidate's ability to perform all essential functions of the position.
Physical Requirements: These physical requirements are not exhaustive, and additional job related physical requirements
may be added to these by individual agencies on an as needed basis. Corrective devices may be used to meet physical
requirements.
Physical Exertion: The incumbent may be required to lift up to approximately 50 pounds.
Vision: Requirements of this job include close vision and color vision.
Speaking/Hearing: Ability to give and receive information through speaking and listening.
Motor Coordination: While performing the duties of this job, the incumbent is frequently required to sit; talk
or hear; and use hands to finger, handle or feel objects, tools or controls. The incumbent is occasionally
required to stand; walk; climb or balance; and reach with hands and arms.
Experience/Educational Requirements:
Education:
Master's Degree in Business, MIS, Computer Science, or a related field from an accredited college or
university. (For School of Business only: Master's Degree in Business required)
AND
Job Class: 139048
Rev: 09/15
Exempt
Page: 3
Experience:
Five (5) years experience related to the above described duties.
Interview Requirements
Any candidate who is called for an interview must notify the Department of Human Resources in writing of any reasonable
accommodation needed prior to the date of the interview.
Rev. 09/21/2015
The University of Mississippi is an EOE/AA/Minorities/Females/Vet/Disability/Sexual Orientation/Gender Identity/Title VI/Title VII/Title
IX/504/ADA/ADEA employer. The University complies with all applicable laws regarding equal opportunity and affirmative action and does not
unlawfully discriminate against any employee or applicant for employment based upon race, color, gender, sex, sexual orientation, gender identity or
expression, religion, national origin, age, disability, veteran status, or genetic information. The University of Mississippi is an "at will" employer.
This job description does not constitute an employment contract or negate "at will" employment.