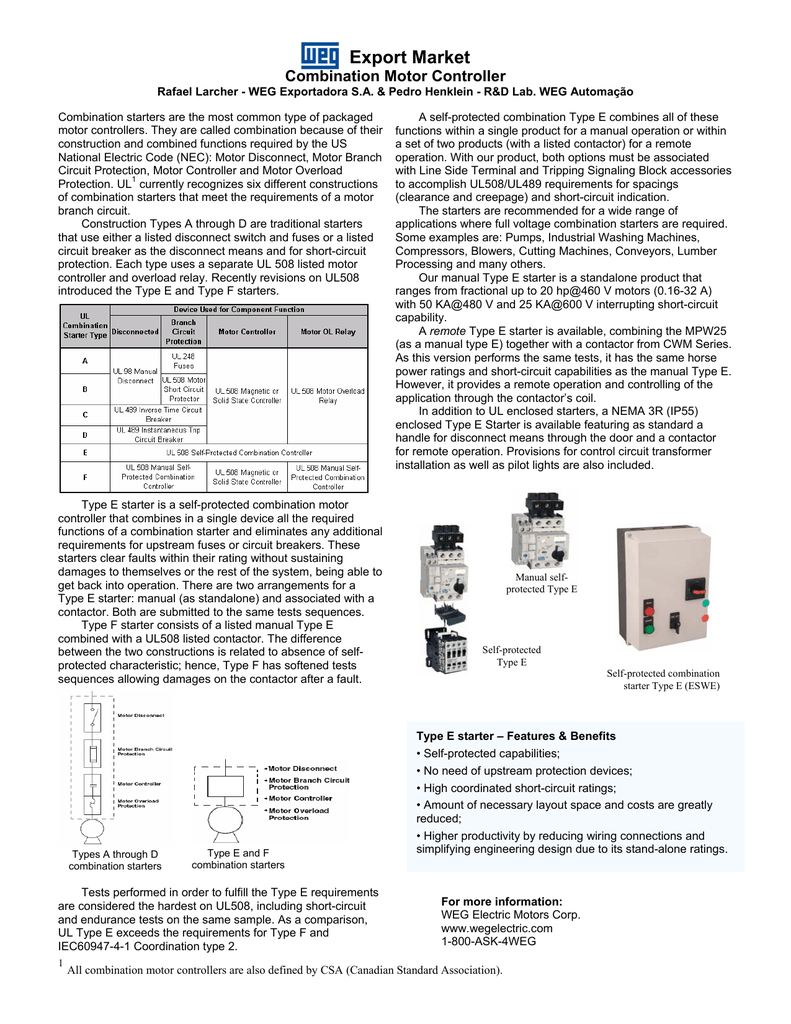 Export Market
Combination Motor Controller
Rafael Larcher - WEG Exportadora S.A. & Pedro Henklein - R&D Lab. WEG Automação
Combination starters are the most common type of packaged
motor controllers. They are called combination because of their
construction and combined functions required by the US
National Electric Code (NEC): Motor Disconnect, Motor Branch
Circuit Protection, Motor Controller and Motor Overload
Protection. UL1 currently recognizes six different constructions
of combination starters that meet the requirements of a motor
branch circuit.
Construction Types A through D are traditional starters
that use either a listed disconnect switch and fuses or a listed
circuit breaker as the disconnect means and for short-circuit
protection. Each type uses a separate UL 508 listed motor
controller and overload relay. Recently revisions on UL508
introduced the Type E and Type F starters.
Type E starter is a self-protected combination motor
controller that combines in a single device all the required
functions of a combination starter and eliminates any additional
requirements for upstream fuses or circuit breakers. These
starters clear faults within their rating without sustaining
damages to themselves or the rest of the system, being able to
get back into operation. There are two arrangements for a
Type E starter: manual (as standalone) and associated with a
contactor. Both are submitted to the same tests sequences.
Type F starter consists of a listed manual Type E
combined with a UL508 listed contactor. The difference
between the two constructions is related to absence of selfprotected characteristic; hence, Type F has softened tests
sequences allowing damages on the contactor after a fault.
Types A through D
combination starters
Type E and F
combination starters
Tests performed in order to fulfill the Type E requirements
are considered the hardest on UL508, including short-circuit
and endurance tests on the same sample. As a comparison,
UL Type E exceeds the requirements for Type F and
IEC60947-4-1 Coordination type 2.
1
A self-protected combination Type E combines all of these
functions within a single product for a manual operation or within
a set of two products (with a listed contactor) for a remote
operation. With our product, both options must be associated
with Line Side Terminal and Tripping Signaling Block accessories
to accomplish UL508/UL489 requirements for spacings
(clearance and creepage) and short-circuit indication.
The starters are recommended for a wide range of
applications where full voltage combination starters are required.
Some examples are: Pumps, Industrial Washing Machines,
Compressors, Blowers, Cutting Machines, Conveyors, Lumber
Processing and many others.
Our manual Type E starter is a standalone product that
ranges from fractional up to 20 [email protected] V motors (0.16-32 A)
with 50 [email protected] V and 25 [email protected] V interrupting short-circuit
capability.
A remote Type E starter is available, combining the MPW25
(as a manual type E) together with a contactor from CWM Series.
As this version performs the same tests, it has the same horse
power ratings and short-circuit capabilities as the manual Type E.
However, it provides a remote operation and controlling of the
application through the contactor's coil.
In addition to UL enclosed starters, a NEMA 3R (IP55)
enclosed Type E Starter is available featuring as standard a
handle for disconnect means through the door and a contactor
for remote operation. Provisions for control circuit transformer
installation as well as pilot lights are also included.
Manual selfprotected Type E
Self-protected
Type E
Self-protected combination
starter Type E (ESWE)
Type E starter – Features & Benefits
• Self-protected capabilities;
• No need of upstream protection devices;
• High coordinated short-circuit ratings;
• Amount of necessary layout space and costs are greatly
reduced;
• Higher productivity by reducing wiring connections and
simplifying engineering design due to its stand-alone ratings.
For more information:
WEG Electric Motors Corp.
www.wegelectric.com
1-800-ASK-4WEG
All combination motor controllers are also defined by CSA (Canadian Standard Association).