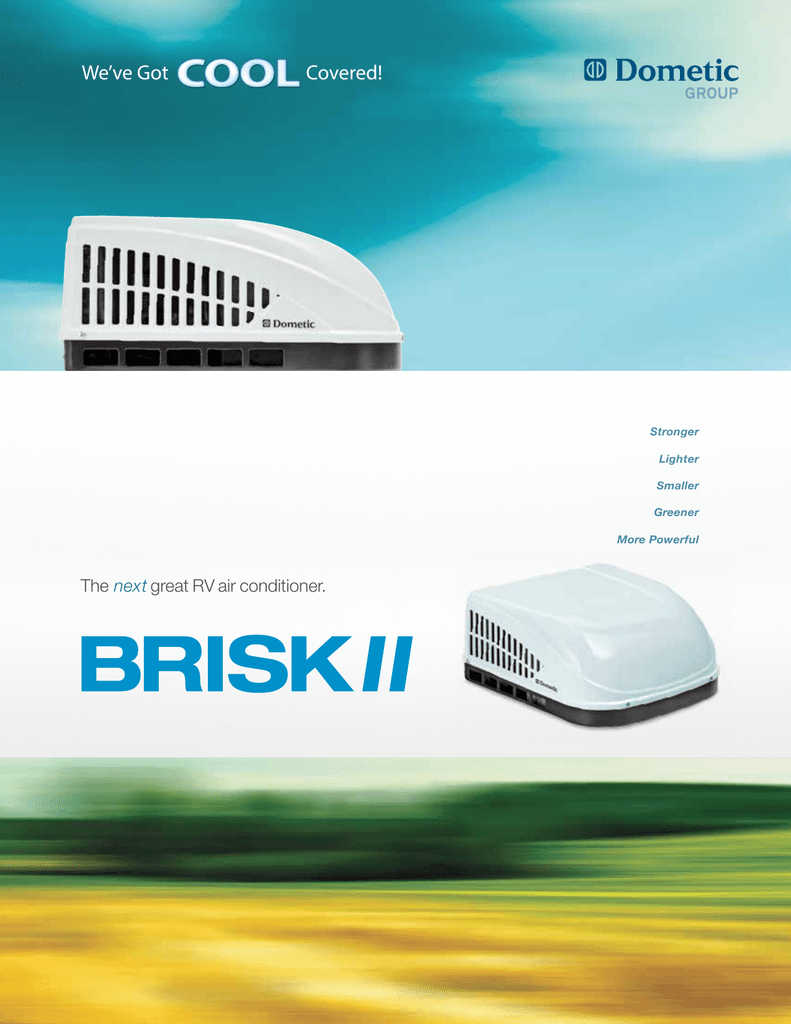 We've Got
Covered!
Stronger
Lighter
Smaller
Greener
More Powerful
The next great RV air conditioner.
Dometic engineers have spent two years completely
redesigning and reengineering one of the most
popular and most imitated RV air conditioners.
Durable design
WELCOME TO THE ALL- NEW . . .
SLEEK SHROUD
Sleek new shroud offers
better ventilation, more strength
and superior aerodynamic
performance.
A Revolution in
RV A/C Technology!
Cooler … stronger …
quieter … lighter … the
Brisk II puts it all together for an
all-new, best-in-class RV A/C, starting
with 15 percent increased air flow
and improved cooling capacity!
Reengineered
where it matters
Heavy-duty motor support brackets, reinforced mounting
screw holes, and thick structural EPP foam housings all help
create a sturdier, more reliable A/C unit. The compressor
and motor are mounted with rubber isolation pads and
grommets to reduce vibration.
Hi-tech materials
Used by automotive and aircraft
engineers, EPP (Expanded Polypropylene) foam makes Brisk II
lighter, better insulated, and more
aerodynamic, while adding
structural integrity and reducing
noise and vibration.
ALL-NEW BASE PAN
Three-inch deep-drawn G90
carbon steel has an extra smooth
powder-coated finish for longlasting durability against rust
and corrosion.
Ten percent greater strength
and rigidity is achieved through
a heavier gauge metal pan with
ribbed areas and reinforced vent
holes. More platform stability
adds to the life cycle.
High
performance
More structure, less weight.
Smart design
29.18 INCHES
SMALLER CARBON
FOOTPRINT
Smart design, tighter specification allowances, and improved
materials create energy efficiencies that reduce operating costs
and environmental footprint
while improving fit and finish.
BENCHMARK
TESTING
Rigorously tested to confirm it
outperforms every competitor in
all significant parameters, Brisk II
is best-in-class of any standard
rooftop A/C for weight, air flow
and capacity for RVs.
COLD-SHOT™
TECHNOLOGY
New air distribution box and return
air grill incorporate exclusive Cold
Shot™ technology that temporarily
circumvents the RV's air duct to
deliver a sturdy blast of cold air
directly into the immediate
interior and optimize air flow
and capacity.
27.23 INCHES
Tighter tolerances, more air.
EASY INSTALLATION,
MAINTENANCE
Just four fasteners allow for
quick and easy shroud removal.
Top-mount installation and
maintenance is quicker
and easier.
ADVANCED
COIL DESIGN
Hydrophilic Coating on coils
enhances high performance
and protects against corrosion
in high temperatures.
QUIETER TOO!
High performance motor with
sound dampening bracket design
turns down the buzz.
BRISK I
BRISK II
12.7" HIGH
BRISK II
SLEEKER DESIGN
Advanced Climate Control
Air Distribution Box NEW
· Ratcheting side vents
· Exclusive Cold Shot®
· Washable Hepa-style
technology
filters
· Five multi-directional
air slots
Return Air Grill
NEW
· Exclusive Cold Shot®
technology
· Washable filter:
Hepa-style
· Low profile
Single
Zone LCD Thermostat
Performance
· Simple, three-button
· Low profile
operation
· Manual or automatic
· Easy control for cool/
control
furnace, heat pump
· Large display screen
or heat strips
Comfort
Control Center II
Performance
· Fully digital operation
· Easily controls
· Large, low profile
rooftop A/C, heat
SMX bluelight display
· Industry first,
Quietzone™ Compatible
· Brisk II model
real time-of-day,
area-independent
programming
pump, furnace, heat
strip, hydronic heating
system or Automatic
Generator Start (AGS)
works with the
Quietzone ducted
air system
FEATURES
Nominal capacity, BTU/hr.
Installation type
Electrical rating
Compressor-rated load amps
Fan motor-rated load amps
SCFM, high-speed max./min.
Heater amps/watts @ 120VAC
Refrigerant 410A (oz.)
Minimum wire size
AC circuit protection
DC circuit protection
Installed weight, lbs.
Minimum generator size - 1 unit
Minimum generator size - 2 units
Thermostat/Control options
B57915
B59516
13,500
15,000
Non-ducted or Ducted
Non-ducted or Ducted
115V AC, 60 Hz, 1Ph
115V AC, 60 Hz, 1Ph
12.4
13.2
2.7
2.7
300/350
300/350
13.7/1,530
13.7/1,530
16
22
12 AWG copper up to 24 feet. For distances over 24 feet consult the National Electrical Code.
(User Supplied) 20 amp time delay fuse or 20 HCAR circuit breaker
(User Supplied) Installation must comply with national, state, provincial and/or local electrical codes
72
74
3.5 KW
3.5 KW
5.0 KW
5.0 KW
ADB or Thermostat
ADB or Thermostat
Outstanding Warranty
Dometic's 2-Year Protection Plus warranty.
For more information visit www.Dometic.com/USA
Dometic reserves the right to make improvements or modifications without notice.