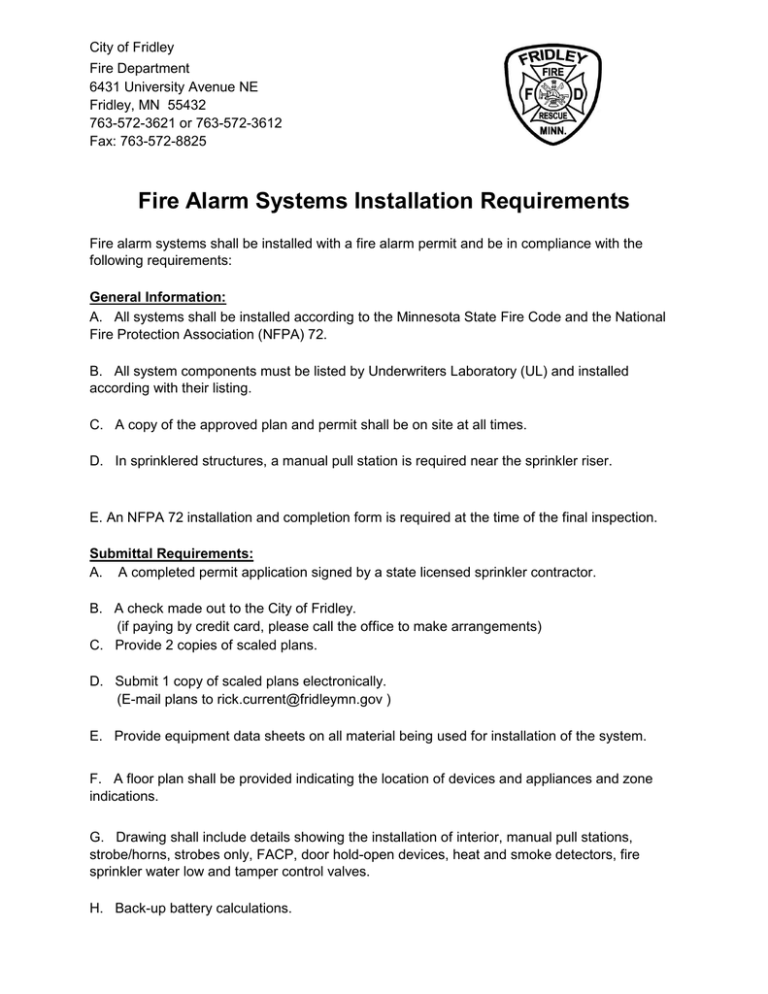 City of Fridley
Fire Department
6431 University Avenue NE
Fridley, MN 55432
763-572-3621 or 763-572-3612
Fax: 763-572-8825
Fire Alarm Systems Installation Requirements
Fire alarm systems shall be installed with a fire alarm permit and be in compliance with the
following requirements:
General Information:
A. All systems shall be installed according to the Minnesota State Fire Code and the National
Fire Protection Association (NFPA) 72.
B. All system components must be listed by Underwriters Laboratory (UL) and installed
according with their listing.
C. A copy of the approved plan and permit shall be on site at all times.
D. In sprinklered structures, a manual pull station is required near the sprinkler riser.
E. An NFPA 72 installation and completion form is required at the time of the final inspection.
Submittal Requirements:
A. A completed permit application signed by a state licensed sprinkler contractor.
B. A check made out to the City of Fridley.
(if paying by credit card, please call the office to make arrangements)
C. Provide 2 copies of scaled plans.
D. Submit 1 copy of scaled plans electronically.
(E-mail plans to rick.current@fridleymn.gov )
E. Provide equipment data sheets on all material being used for installation of the system.
F. A floor plan shall be provided indicating the location of devices and appliances and zone
indications.
G. Drawing shall include details showing the installation of interior, manual pull stations,
strobe/horns, strobes only, FACP, door hold-open devices, heat and smoke detectors, fire
sprinkler water low and tamper control valves.
H. Back-up battery calculations.
Fire Alarm Systems Installation Requirements
Page 2 of 3
Monitoring / Annunciation:
A. The fire alarm control panel or a remote annunciator must be located at the main entrance
or at an approved location.
B. Devices designed to initiate a specific function or action, i.e. duct smoke detection, elevator
recall, and door hold open detectors shall be monitored only for supervision.
C. Low pressure and low temperature alarms on fire sprinkler systems shall be monitored by
the fire alarm system.
D. Water flow alarm must be monitored as a distinct signal.
System Components and Hardware:
A. Monitoring must comply with NFPA including panel requirement for audible trouble signals
and must have 2 means of signal transmission.
B. Remote alarm indicating devices are required at locations when duct detectors are not
visible from the floor.
C. The power supply for alarm systems must be on a dedicated circuit. Breaker locks shall be
installed on all circuits that protect alarm system components t assure that power is not
disconnected to the system.
D. The fire alarm panel shall have the panel identification located on it with the correct circuit
number. The electrical panel must have the "Alarm Panel" permanently marked on it next to the
circuit.
E. All devices on addressable systems shall be labeled to coincide with the annunciator panel.
F. All indicating sprinkler control valves must be secured and electronically supervised.
G. The fire alarm control panel must be located in an enclosed room, i.e. mechanical, riser
room, etc. Prior approval of location should be obtained from the Fire Department.
H. A smoke detector is required to be installed in the room where each fire alarm panel,
monitoring panel, dialer, or any other panel that is part of the system is located.
I. Each floor shall have its own fire alarm zone and be annunciated at the panel.
J. Zoning shall be approved by the Fire Department.
Fire Alarm Systems Installation Requirements
Page 3 of 3
Inspections Required:
A. 24 hour advance notice to the Fire Department is required for inspections and witnessing
tests.
B. System must be 100% tested prior to calling for inspection.
C. All devices will be tested for proper operation. Smoke detectors, heat detectors, pull
stations, etc.
D. All sprinkler control valves shall be tested.
E. Test all horns and strobes. The decibel level and light intensity must be set correctly and
synchronized.
F. Test primary and secondary phone lines.
G. Test battery back-up via AC loss.
H. Magnetic door devices release, door close and latch on activation of any device.
I. Ventilation system shutdown upon activation of duct smoke detectors.
J. Smoke fire dampers close upon activation. Dampers do not have to be interconnected.
K. Contact alarm company to verify that the correct signals and addresses were received.
L. Completed NFPA 72 installation and testing paperwork.