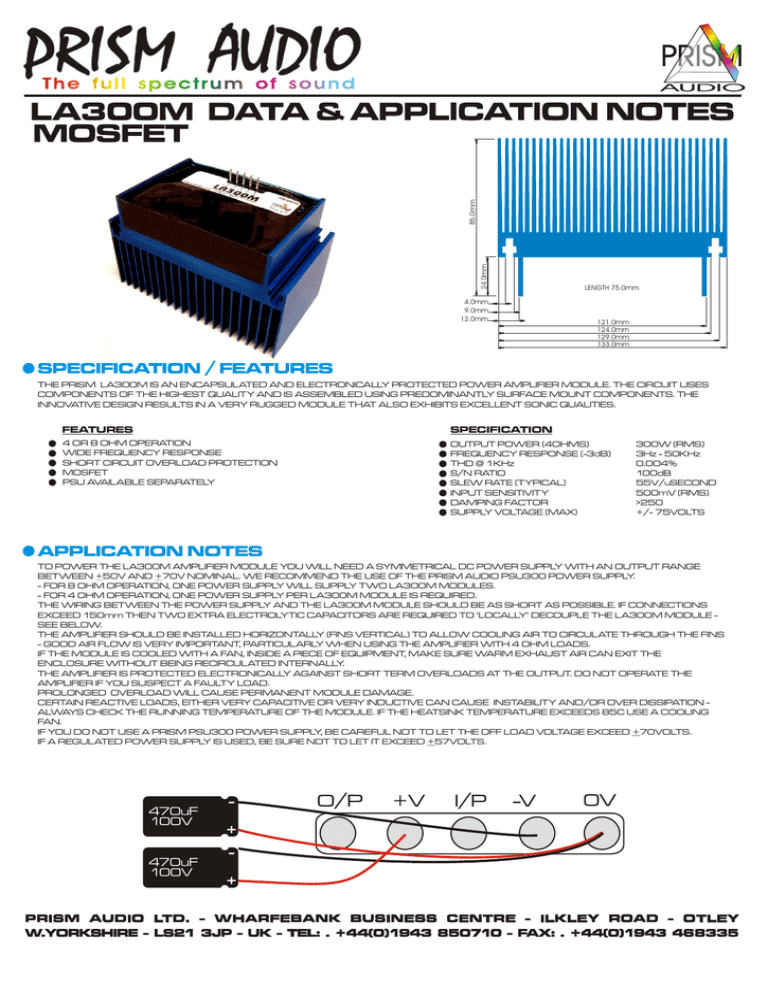 24.0mm
85.0mm
The full spectrum of sound
LENGTH 75.0mm
4.0mm
9.0mm
12.0mm
121.0mm
124.0mm
129.0mm
133.0mm
THE PRISM LA300M IS AN ENCAPSULATED AND ELECTRONICALLY PROTECTED POWER AMPLIFIER MODULE. THE CIRCUIT USES
COMPONENTS OF THE HIGHEST QUALITY AND IS ASSEMBLED USING PREDOMINANTLY SURFACE MOUNT COMPONENTS. THE
INNOVATIVE DESIGN RESULTS IN A VERY RUGGED MODULE THAT ALSO EXHIBITS EXCELLENT SONIC QUALITIES.
FEATURES
SPECIFICATION
4 OR 8 OHM OPERATION
WIDE FREQUENCY RESPONSE
SHORT CIRCUIT OVERLOAD PROTECTION
MOSFET
PSU AVAILABLE SEPARATELY
OUTPUT POWER (4OHMS)
FREQUENCY RESPONSE (-3dB)
THD @ 1KHz
S/N RATIO
SLEW RATE (TYPICAL)
INPUT SENSITIVITY
DAMPING FACTOR
SUPPLY VOLTAGE (MAX)
300W (RMS)
3Hz - 50KHz
0.004%
100dB
55V/uSECOND
500mV (RMS)
>250
+/- 75VOLTS
TO POWER THE LA300M AMPLIFIER MODULE YOU WILL NEED A SYMMETRICAL DC POWER SUPPLY WITH AN OUTPUT RANGE
BETWEEN +50V AND +70V NOMINAL. WE RECOMMEND THE USE OF THE PRISM AUDIO PSU300 POWER SUPPLY.
- FOR 8 OHM OPERATION, ONE POWER SUPPLY WILL SUPPLY TWO LA300M MODULES.
- FOR 4 OHM OPERATION, ONE POWER SUPPLY PER LA300M MODULE IS REQUIRED.
THE WIRING BETWEEN THE POWER SUPPLY AND THE LA300M MODULE SHOULD BE AS SHORT AS POSSIBLE. IF CONNECTIONS
EXCEED 150mm THEN TWO EXTRA ELECTROLYTIC CAPACITORS ARE REQUIRED TO 'LOCALLY' DECOUPLE THE LA300M MODULE SEE BELOW.
THE AMPLIFIER SHOULD BE INSTALLED HORIZONTALLY (FINS VERTICAL) TO ALLOW COOLING AIR TO CIRCULATE THROUGH THE FINS
- GOOD AIR FLOW IS VERY IMPORTANT, PARTICULARLY WHEN USING THE AMPLIFIER WITH 4 OHM LOADS.
IF THE MODULE IS COOLED WITH A FAN, INSIDE A PIECE OF EQUIPMENT, MAKE SURE WARM EXHAUST AIR CAN EXIT THE
ENCLOSURE WITHOUT BEING RECIRCULATED INTERNALLY.
THE AMPLIFIER IS PROTECTED ELECTRONICALLY AGAINST SHORT TERM OVERLOADS AT THE OUTPUT. DO NOT OPERATE THE
AMPLIFIER IF YOU SUSPECT A FAULTY LOAD.
PROLONGED OVERLOAD WILL CAUSE PERMANENT MODULE DAMAGE.
CERTAIN REACTIVE LOADS, EITHER VERY CAPACITIVE OR VERY INDUCTIVE CAN CAUSE INSTABILITY AND/OR OVER DISSIPATION ALWAYS CHECK THE RUNNING TEMPERATURE OF THE MODULE. IF THE HEATSINK TEMPERATURE EXCEEDS 85C USE A COOLING
FAN.
IF YOU DO NOT USE A PRISM PSU300 POWER SUPPLY, BE CAREFUL NOT TO LET THE OFF LOAD VOLTAGE EXCEED +70VOLTS.
IF A REGULATED POWER SUPPLY IS USED, BE SURE NOT TO LET IT EXCEED +57VOLTS.
470uF
100V
470uF
100V
+
+
O/P
+V
I/P
-V
0V
6.3A QUICK BLOW
FUSE
+50 to +75V
I/P
+V
0V
INPUT
O/P
-V
4 OHMS TO
*NOTE 1
0V
120 OHM
0.5W
RESISTOR
*NOTE 2
- 50 to -75V
6.3A QUICK BLOW
FUSE
6.3A QUICK BLOW
FUSE
+V
52V
+
15A BRIDGE
ON H/SINK
52V
0V
C2
4700uF
80V
-V
T1
6.3A QUICK BLOW
FUSE
T1 = 250VA 52-0, 52-0
C1/C2 = 4700uF 80V ELECTROLYTICS
BRIDGE = 15A 400V PIV
FROM AMP OUTPUT
C1
4700uF
80V
C1
THE MAINS INPUT PRIMARY MUST BE
PROTECTED BY A HBC CERAMIC FUSE.
A 6.3A RATING IS SUGGESTED.
C2
TO TRANSFORMER
4.7OHM 4W RESISTOR
C1 AND C2 ARE 1000uF 100V ELECTROLYTIC CAPACITORS FOR AN 8 OHM LOAD AND A FREQUENCY RESPONSE DOWN TO 50Hz.
TO AVOID TRANSFORMER SATURATION, DO NOT USE HIGHER VALUE CAPACITORS.
FOR THE SAME RESPONSE AT 4 OHMS, USE 2200uF 100V ELECTROLYTIC CAPACITORS. DAMAGE TO THE MODULE COULD OCCUR
IF THE TRANSFORMER IS ALLOWED TO SATURATE.