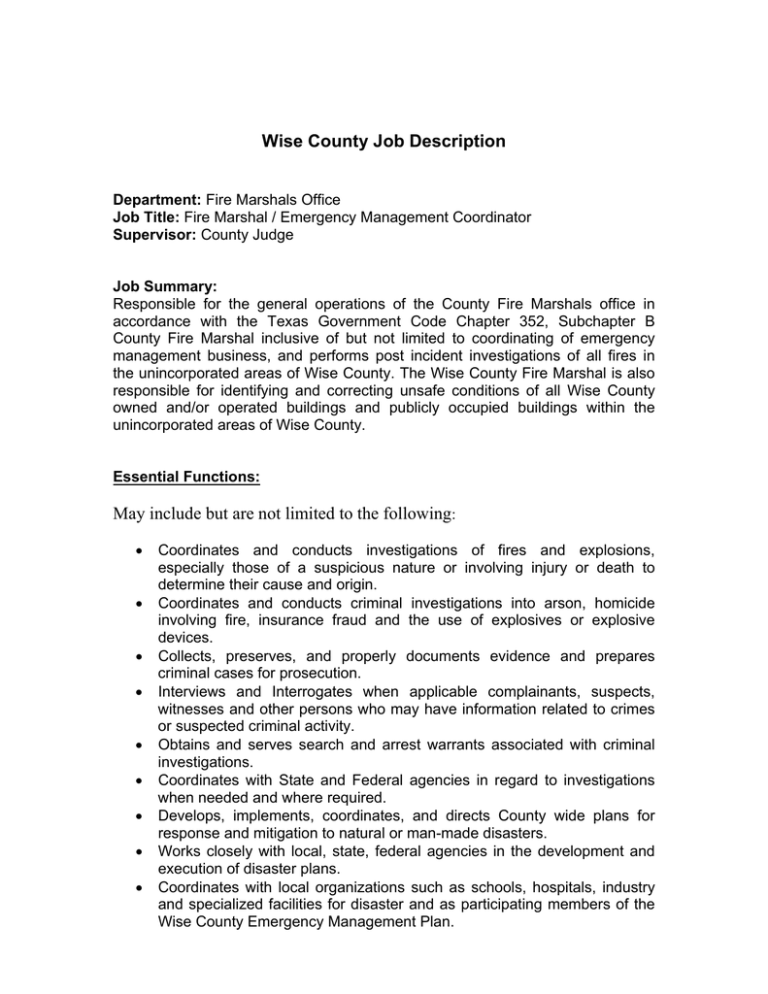 Wise County Job Description
Department: Fire Marshals Office
Job Title: Fire Marshal / Emergency Management Coordinator
Supervisor: County Judge
Job Summary:
Responsible for the general operations of the County Fire Marshals office in
accordance with the Texas Government Code Chapter 352, Subchapter B
County Fire Marshal inclusive of but not limited to coordinating of emergency
management business, and performs post incident investigations of all fires in
the unincorporated areas of Wise County. The Wise County Fire Marshal is also
responsible for identifying and correcting unsafe conditions of all Wise County
owned and/or operated buildings and publicly occupied buildings within the
unincorporated areas of Wise County.
Essential Functions:
May include but are not limited to the following:
•
•
•
•
•
•
•
•
•
Coordinates and conducts investigations of fires and explosions,
especially those of a suspicious nature or involving injury or death to
determine their cause and origin.
Coordinates and conducts criminal investigations into arson, homicide
involving fire, insurance fraud and the use of explosives or explosive
devices.
Collects, preserves, and properly documents evidence and prepares
criminal cases for prosecution.
Interviews and Interrogates when applicable complainants, suspects,
witnesses and other persons who may have information related to crimes
or suspected criminal activity.
Obtains and serves search and arrest warrants associated with criminal
investigations.
Coordinates with State and Federal agencies in regard to investigations
when needed and where required.
Develops, implements, coordinates, and directs County wide plans for
response and mitigation to natural or man-made disasters.
Works closely with local, state, federal agencies in the development and
execution of disaster plans.
Coordinates with local organizations such as schools, hospitals, industry
and specialized facilities for disaster and as participating members of the
Wise County Emergency Management Plan.
•
•
•
•
•
•
•
•
•
•
•
•
•
•
•
Coordinates and directs staff, and County officials for emergency
operations center, advising and instructing various agencies to ensure
understanding of proper roles and responsibilities of all officials.
Coordinates and ensures proper working condition of emergency alerting
equipment, and emergency operations post.
Responds to and may assist with command of all major emergency
response operations in the unincorporated areas of the County and
assists local municipalities through Interlocal Emergency Management
Agreements in management of large scale incidents including but not
limited to; multi-alarm fires, hazardous materials incidents, explosive
incidents, weapons of mass destruction incidents, and severe weather
incidents. Coordinating of various responding agencies, services,
resources and ensuring availability of necessary manpower and
equipment.
Develops and directs implementation of education programs to inform the
public of proper response to emergency and disaster situations and the
various services of the County emergency management programs.
Establishes and ensures adherence to preventative maintenance
programs for emergency response equipment, tools and supplies.
Prepares bid specifications for non-routine purchase of equipment and
supplies.
Researches, coordinates, and prepares grant proposals for available
government funding for new and continuing programs and projects.
Administers grant awards and appropriations, maintains records and
prepares reports for submission as required the funding authority and
Wise County.
Prepares, manages and controls the departmental budget.
Attends seminars, conferences, workshops, classes, lectures and other
continuing education opportunities to enhance and maintain knowledge of
trends and developments in the fields of emergency management, fire,
arson, and explosives investigation.
Reviews professional journals, attends association and professional
meetings and maintains contact with emergency management
professionals to facilitate the exchange of information.
Supervises the activity of subordinate positions in the arenas of arson
investigation, emergency management and other roles as assigned.
Works cooperatively with other County agencies in emergent and nonemergent situations.
Works cooperatively with municipalities and other agencies within Wise
County when requested to assist or direct, post incident investigations,
emergency management operations or in other duties as requested
emergent and non-emergent.
Works cooperatively with local Amateur Radio Emergency Services
(A.R.E.S.) and other volunteer based assistance organizations such as,
but not limited to the American Red Cross and, Texas Baptist Men.
Additional Job Functions:
•
•
•
•
•
On call status 24 hours a day, unless otherwise directed or arranged, to
respond to environmental incidents, fires, explosions, weapons of mass
destruction incidents, County governmental operations, County facility
emergency operations, natural and man-made disasters.
Makes recommendations on severe weather situations and County
building closures to the County Judge.
Regularly attends Wise County Commissioners Court in regard to matters
pertaining to the Wise County Fire Marshals Office, Wise County
Emergency Management, and other concerns that could affect Wise
County or citizens.
Serves as a member of various committees, councils, taskforces and
associations including, but not limited to the Wise County Firefighter's
Association, State Fireman's & Fire Marshals Association of Texas, and
other related organizations when applicable.
Performs other related work as required or as assigned by the Wise
County Judge.
Qualifications:
Knowledge of:
• Fire investigation procedures
• Emergency management planning and operations
• Hazardous materials and mitigation procedures
• Fire prevention and fire safety inspection practices
• National Incident Management Systems (NIMS)
Ability to:
• Communicate effectively in written and oral forms
• Operate efficiently technological equipment such as:
o Personal computers
o Records management software
o Digital imaging equipment
o Electronic sensory devices
• Assists in command and control roles of large scale incidents when:
o Required such as in the unincorporated areas of Wise
County
o Requested by Municipalities or Communities within Wise
County
o Requested by neighboring Counties
o Required or requested by the Federal, or State government
in disaster mitigation
• Organize and execute drills and scenarios for Wise County
emergency response and planning.
• Plan, organize, direct and coordinate the work of lower-level staff or
of others appointed to fulfill these roles.
Experience:
• 5 to 10 years in fire protection, law enforcement or emergency
management.
• Minimum of 2 years experience in a supervisory capacity or in
program planning.
• Any combination of experience and training that would likely
provide the required knowledge and abilities.
Education, License or Certificate:
• Intermediate or Advance Firefighter certification from the Texas
Commission on Fire Protection
• Intermediate or Advance Arson Investigator certification from the
Texas Commission on Fire Protection
• Basic or Intermediate Fire Inspector certification from the Texas
Commission on Fire Protection
• Basic or Intermediate Police Officer certification from the Texas
Commission on Law Enforcement
• Preferred Associates Degree in Fire Protection Technology or
Criminal Justice
Working Conditions:
Environmental Conditions:
• Indoors and outdoors
• Extremes of hot and cold
• During inclimate weather
Physical Conditions: This job requires the ability to perform the essential functions
contained in this description. These include but are not limited to the following
requirements:
•
•
Physical activity such as:
o Lifting
o Pulling
o Digging
o Crawling
o Other
Specialized Hazards:
o Smoke and toxic gases
o Chemical exposure
o Explosives
o Electrical Shock
Additional Requirements:
•
•
•
Must reside within Wise County or to relocate the primary residence to
Wise County within six months of appointment. Failure to comply will
result in termination from position.
Must obtain all required National Incident Management System training
such as IMS 100, IMS 200, IMS 300, IMS 400, IMS 700 and IMS 800 as a
minimum within one year of appointment.
Must obtain certification as an Emergency Manager within two years of
appointment.