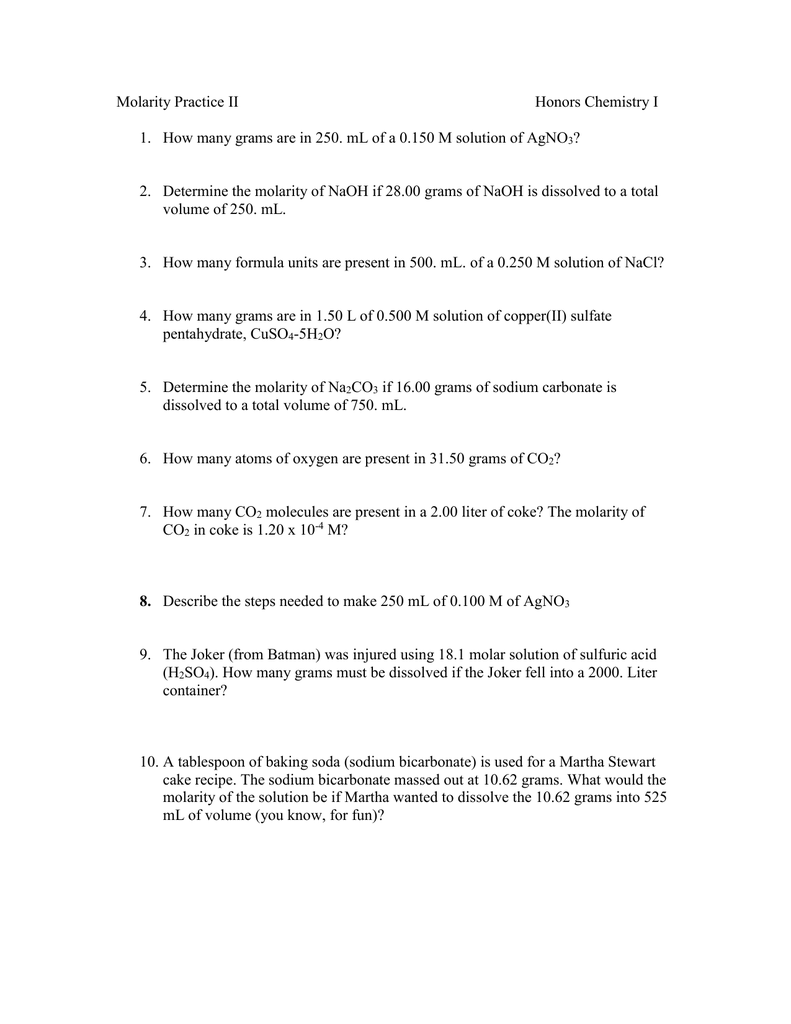 Molarity Practice II
Honors Chemistry I
1. How many grams are in 250. mL of a 0.150 M solution of AgNO3?
2. Determine the molarity of NaOH if 28.00 grams of NaOH is dissolved to a total
volume of 250. mL.
3. How many formula units are present in 500. mL. of a 0.250 M solution of NaCl?
4. How many grams are in 1.50 L of 0.500 M solution of copper(II) sulfate
pentahydrate, CuSO4-5H2O?
5. Determine the molarity of Na2CO3 if 16.00 grams of sodium carbonate is
dissolved to a total volume of 750. mL.
6. How many atoms of oxygen are present in 31.50 grams of CO2?
7. How many CO2 molecules are present in a 2.00 liter of coke? The molarity of
CO2 in coke is 1.20 x 10-4 M?
8. Describe the steps needed to make 250 mL of 0.100 M of AgNO3
9. The Joker (from Batman) was injured using 18.1 molar solution of sulfuric acid
(H2SO4). How many grams must be dissolved if the Joker fell into a 2000. Liter
container?
10. A tablespoon of baking soda (sodium bicarbonate) is used for a Martha Stewart
cake recipe. The sodium bicarbonate massed out at 10.62 grams. What would the
molarity of the solution be if Martha wanted to dissolve the 10.62 grams into 525
mL of volume (you know, for fun)?