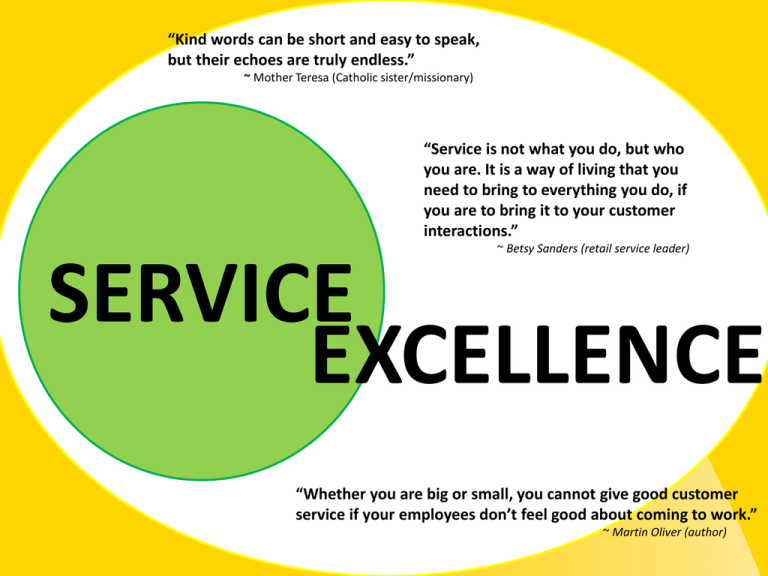 "Kind words can be short and easy to speak,
but their echoes are truly endless."
~ Mother Teresa (Catholic sister/missionary)
"Service is not what you do, but who
you are. It is a way of living that you
need to bring to everything you do, if
you are to bring it to your customer
interactions."
~ Betsy Sanders (retail service leader)
SERVICE
EXCELLENCE
"Whether you are big or small, you cannot give good customer
service if your employees don't feel good about coming to work."
~ Martin Oliver (author)
Identifying
Angie C. Timmins
Service
Characteristics
Mark O. Hatfield School of Government
Executive MPA
Portland State University
June 2014
During
Talent
Acquisition
AGENDA
1.
2.
3.
4.
5.
6.
7.
Purpose of study
Research question
Methods/Process
Findings/Analysis
Recommendations
Program reflection
Acknowledgements
SERVICE
IS NOT A
DEPARTMENT,
IT IS EVERYONE'S
JOB.
~ Anonymous
Purpose of the Study
Create foundation
for identifying
service
characteristics
before hiring a
candidate
Improve
patient
experience
Improve
employee
engagement
Research Questions
How
Can service
characteristics
be identified during the
talent acquisition
process at
Providence Medical
Group?
–
Why are service
characteristics important at
Providence Medical Group
–
What are the most
important service
characteristics at
Providence Medical Group
Methods Used
• Industry competency comparison
–
–
–
–
Healthcare
Hospitality
Retail
Financial services
• Professional publications
– Articles
– Case studies
• Internal data collection
– Hiring policies/procedures
– Service programs
– Survey results
• Workforce and patients
• Press Ganey/CGCAHPS (patient satisfaction)
• Kenexa (employee engagement)
Process
• Initiated a research-based competency comparison
– Literature review
• Identified top most desirable service behaviors
• Identified over 150 active participants
– Representing all levels of Providence Medical Group
• Workforce and patients
– Distributed electronic surveys
• Identified top three most desired service characteristics at
Providence Medical Group
• Compiled and analyzed all findings to develop recommendations
Publication Findings
• What service skills to look for:
1.
2.
3.
4.
5.
6.
7.
8.
9.
10.
11.
Communication
Compassionate
Considerate
Cooperative
Courteous
Empathetic
Happy
Helpful
Professional
Respectful
Tactful
BUT HOW?
Surveys
• Workforce
– From frontline to leadership level involved in hiring process at PMG
– 37% response rate
• Rank importance of common 11
– scale of importance = 5 most to 0 least
• Why are these characteristics important
• How do you find these characteristics
• Other service characteristics you look for
• Patients
– Online panel interested in giving feedback regarding service at PMG
– 55% response rate
• Rank the importance of common 11
– scale of importance = 5 most to 0 least
• Why are these characteristics important
• How do characteristics look when experienced
• Other service characteristics you expect
"It is a representation of what
Providence stands for."
"Having an awareness and respect are
utmost important – not just going the
extra mile … but WANTING to."
"They set the tone for the mindful,
professional, and comprehensive
interaction with patients, staff, and all
hospital/clinic/organizational relations."
WORKFORCE:
WHY ARE THESE
CHARACTERISTICS
IMPORTANT TO
YOU/PMG?
"It is often difficult to assess during
recruitment."
"Ask behaviorally oriented questions
where they tell a story about a time
when they displayed the
characteristics."
"Communication is about 90% body
language, body language is powerful.
Also, the way an individual presents
them self, from how they act at the
first check point to how they exit, I
evaluate it all."
WORKFORCE:
HOW DO YOU
IDENTIFY THESE
SERVICE
CHARACTERISTICS
BEFORE HIRING?
"It is very important part of patient care,
and can be a defining factor if a patient
decides to continue care at a facility."
PATIENTS:
WHY ARE THESE
CHARACTERISTICS
IMPORTANT
TO YOU?
"A patient is more likely to be candid
about symptoms with a caregiver who
can count Service Orientation among
their skills, leading to better treatment.
Colleagues who work in those conditions
are more apt to be happy in their job,
leading to better performance."
"Valuing the individual is reflective of the
quality of care of any caregiver. It evokes
trust and confidence."
"In person facial expressions speak
louder than your words. On the phone
your tone in your voice reflects a lot of
emotions."
PATENTS:
HOW DO THESE
SERVICE
CHARACTERISTICS
LOOK WHEN YOU
EXPERIENCE
THEM?
"I expect the caregiver to be calm and not
rushed. They look me in the eye and they smile
when appropriate. They ask me if I understand
in a non-condescending way and they actually
wait for my reply before carrying on."
"It can be different from each person, whatever
they are, they are GENUINE – not read off of a
computer screen or always the same for every
single person that calls/walks in. This is
something you can sense in the tone of voice,
body language and facial expression. It is
caring, compassionate, welcoming."
Findings & Analysis
COMMUNICATION
TOP
COMPASSION
3
RESPECT
Findings & Analysis
•
Behavior based interviewing
– Past behavior is the best predictor of future behavior
– Preliminary telephone interview
– Role specific questions
•
Simulation
– Role specific demonstration
• On the telephone
• Face-to-face
•
Reference checks
– Prior to interview
– Prior to offer
•
Emphasis on a service culture across the organization
–
–
–
–
Demonstrated by leadership
Branding
Training
Consistency
• Reward the right behavior
• Discourage the wrong behavior
Recommendation
• Resources created and used to guide hiring practices
– Job specific behavioral based service questions
– Job specific scenarios used to demonstrate skills
• References called prior to hire
– Compare interview findings with reference feedback
• Infusion of service standards as a culture across PMG at all levels
–
–
–
–
–
On-boarding introduction
Spoken regularly at meetings
Reward right behavior
Discourage wrong behavior
Demonstrated at all levels
• Leadership must demonstrate the importance of this culture consistently
30K Foot Reflection
History enlightens future governance (518)
We manage tasks
and lead people;
model the way to
influence others,
gain trust, and
inspire success!
Often the first follower is the real leader (517)
Operationalize terms to reduce variation (552)
"The Hill" is run by young energetic minds (539)
Organizations are complex social structures (540)
The beginning occurs at the end of change (545)
Be open to alternatives (533)
Don't fear Administrative Law (534)
Watch for cultural moments (510)
Great HR strategies help recruit and retain the best (590)
Excel can help you write a budget for anything (583)
Continually develop your own ethical framework (513)
Acknowledgements
PSU Faculty
Thank you for your support and guidance
Cohort Awesome!
Thank you for your wisdom
SERVICE
EXCELLENCE
Faculty Advisor
Professor, Cathy LaTourette
Family
My husband and daughter
Brother and parents
Providence Medical Group
Department manager, Mitch Yoder
Patient Advisors
Michaelyn Seals
Employees
Thank you for your friendship and partnership!