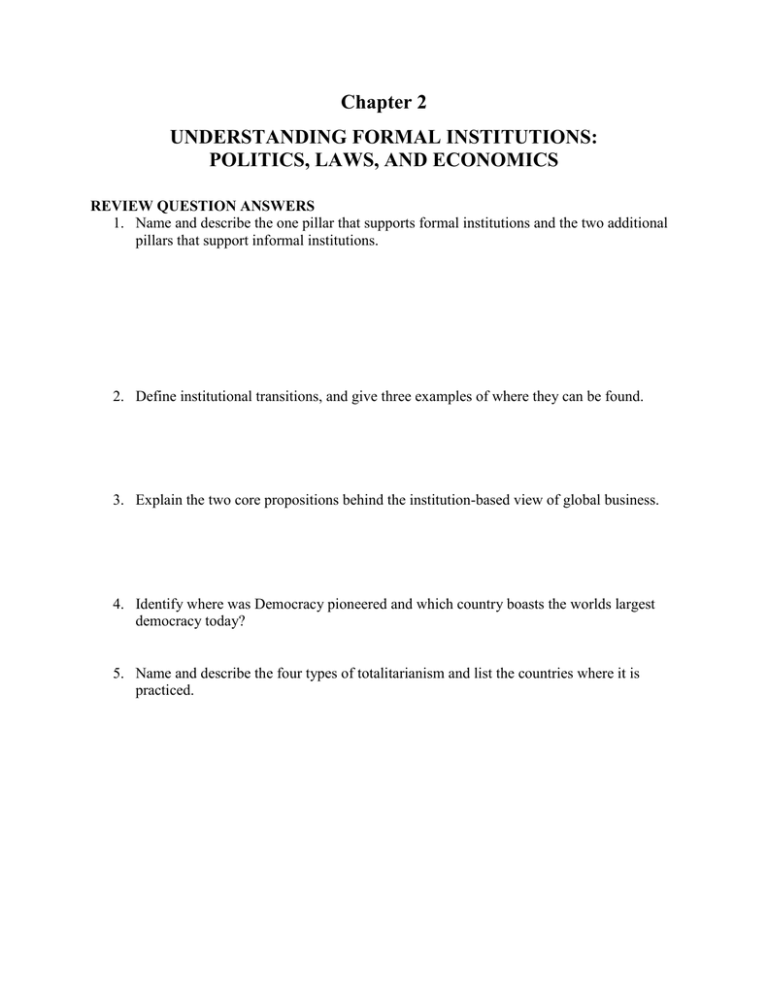 Chapter 2
UNDERSTANDING FORMAL INSTITUTIONS:
POLITICS, LAWS, AND ECONOMICS
REVIEW QUESTION ANSWERS
1. Name and describe the one pillar that supports formal institutions and the two additional
pillars that support informal institutions.
2. Define institutional transitions, and give three examples of where they can be found.
3. Explain the two core propositions behind the institution-based view of global business.
4. Identify where was Democracy pioneered and which country boasts the worlds largest
democracy today?
5. Name and describe the four types of totalitarianism and list the countries where it is
practiced.
6. How does political risk affect global business in totalitarian vs. democratic countries?
7. Describe the differences among the three types of legal systems.
8. List 2 examples of theocratic law.
9. Name three types of intellectual property, and explain how they could be used in
business.
10. What is TRIPS?
11. Name and describe the three economic systems.
12. Which country has the highest degree of Economic Freedom?
13. Which economic system is the most common and why?
14. Identify the highest per capita income country NOT based on PPP.
15. Name the leading objective measure of Political Risk.
16. Why should managers guard against a herd mentality?
17. If formal constraints are unclear or ineffective, what else can managers use to reduce
uncertainty?