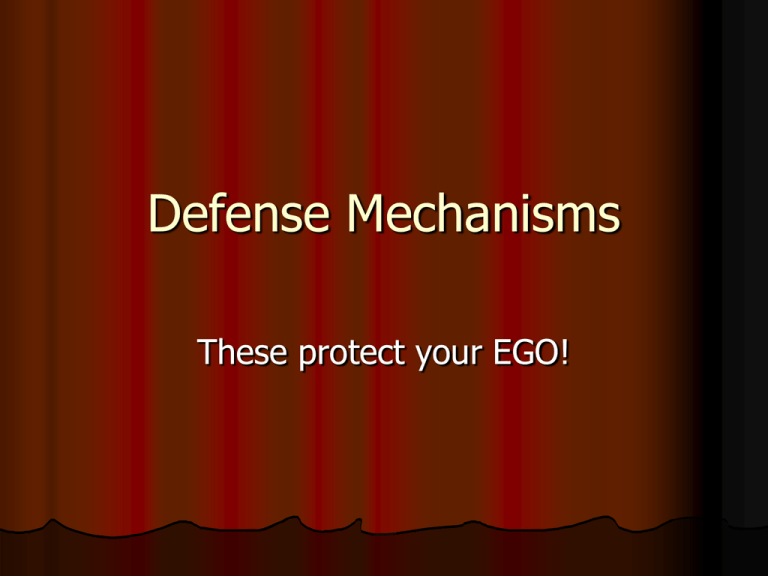 Defense Mechanisms
These protect your EGO!
REPRESSION
Forgetting a painful memory

Ex. Abuse
RATIONALIZATION
The attempt to justify actions, attitudes,
or thoughts on what are meant to be
logical grounds. (Deception by reason)
 This defense usually involves making up
acceptable excuses for behaviors that
cause us to feel anxious.
 Making-up
an excuse.

SUBLIMATION

Finding a socially acceptable outlet for
unacceptable social behavior.

Bully becomes Boxer
REACTION FORMATION

Act the opposite of what you feel to
protect your feelings.

Ex. Boyfriend/girlfriend 6th grade.
IDENTIFICATION

Join the Gang, wear the colors.
DISPLACEMENT

Taking out your anger on a nonthreatening object or person.

Ex. Punch the Wall
COMPENSATION

Not good at school, go into sports
FANTASY
An attempt to escape into a dream world
when conflicts become too overwhelming.
Daydreams may be a substitute for what a
person is unable to accomplish in reality.
 "One day I'll
be in the
Majors!"

REGRESSION

Going back to an earlier behavior in
childhood.

Crying to the cop.
PROJECTION

Putting your own feelings onto others.