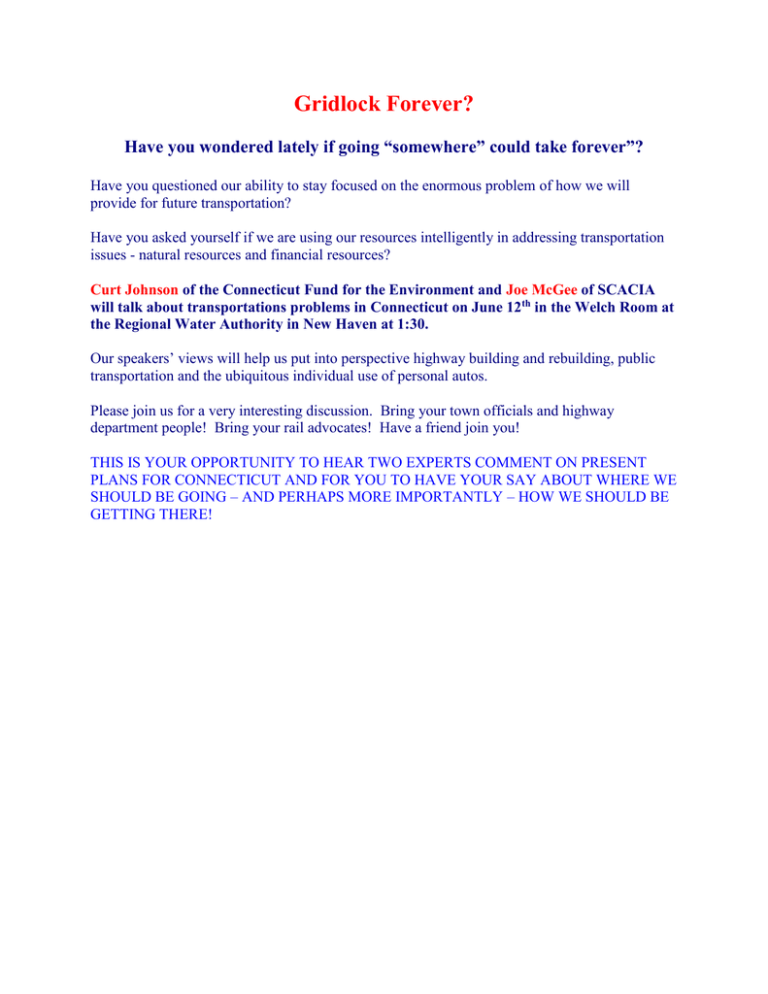 Gridlock Forever?
Have you wondered lately if going "somewhere" could take forever"?
Have you questioned our ability to stay focused on the enormous problem of how we will
provide for future transportation?
Have you asked yourself if we are using our resources intelligently in addressing transportation
issues - natural resources and financial resources?
Curt Johnson of the Connecticut Fund for the Environment and Joe McGee of SCACIA
will talk about transportations problems in Connecticut on June 12th in the Welch Room at
the Regional Water Authority in New Haven at 1:30.
Our speakers' views will help us put into perspective highway building and rebuilding, public
transportation and the ubiquitous individual use of personal autos.
Please join us for a very interesting discussion. Bring your town officials and highway
department people! Bring your rail advocates! Have a friend join you!
THIS IS YOUR OPPORTUNITY TO HEAR TWO EXPERTS COMMENT ON PRESENT
PLANS FOR CONNECTICUT AND FOR YOU TO HAVE YOUR SAY ABOUT WHERE WE
SHOULD BE GOING – AND PERHAPS MORE IMPORTANTLY – HOW WE SHOULD BE
GETTING THERE!