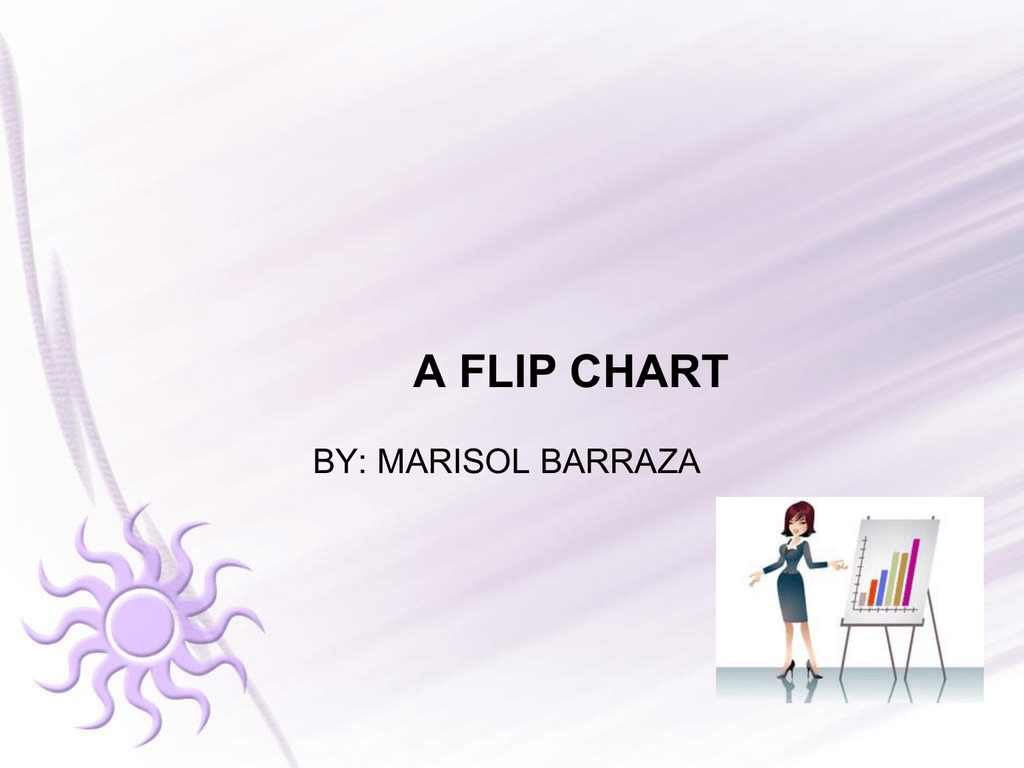 A FLIP CHART
BY: MARISOL BARRAZA
DEFINITION
• A flip chart is a collection of large pages
which are bound together at the top.
• The pages are "flipped" or brought up and
to the back as they are used.
TEACHING
• Flip charts are a useful teaching aid.
• They are useful in teaching situations
where you need to teach a number of
people at a time.
WHEN TO USE
• No power
• Teach a number of students at a time
• Books are unavailable, scarce, or too
expensive for individuals to have their own
copy.
• Other media such as overheads and slides
are not available.
HOW TO USE
• Placed on an easel
• Teacher stands beside the flip chart
• As each page is finished, the teacher flips
it over to the back
ADVANTAGES
1.
2.
3.
4.
5.
Simple, easy to use
Inexpensive
Don´t need electricity
Portable
Can be pre-prepared saving you
valuable class time
6. Allow spontaneity
7. Can be used to illustrate
information so that the students
can follow the sequence.
8. Sheets can be reused, if you store
them appropriately
ADVANTAGES
9. Color markers can be used to emphasize
information
10. Sheets can be changed easily.
11. Sheets can be removed from the pad and
hung around the room, keeping important
points in front of the audience or allowing
them to continually review information.
DISADVANTAGES
• Ink may bleed through sheets, causing
waste or creating material that is difficult to
read.
• Unless the charts are pre-prepared, they
can look sloppy.
• Sheets are fragile and can be torn easily.
• Reused sheets tend to look shabby over
time, especially if they're not stored
correctly.
WHY USE FLIP CHARTS IN
THE CLASSROOM
•
•
•
•
•
•
•
•
Discussion outlines
Parts of a lesson
Primers
Songs
Stages of a process
Steps of a procedure
Stories
Textbooks
SUGGESTIONS
1. Flip chart stand
•
Make sure the flip charts you use fit the
flip chart stand.
 Some have different spaced holes at the
top.
2. Writing
• Design your charts on paper first before drawing them
on the actual flip chart pad
• Use drawings when possible
• Graph the paper before you write (pencil)
• Leave 4cm margins
• Lightly write your text in pencil first before using the
actual flip chart markers.
 This will allow you to make any adjustments with text
spacing and any figures you will be drawing.
• Do NOT use all block letters (UPPER
CASE).
 Upper case letters should be at least two
inches tall.
 Using upper and lower case letters makes
it easier to read.
• Use the 7 x 7 rule. Have no more than 7
words on each line and no more than 7
lines to a sheet.
3. Markers
• Use flip chart markers
 Will not "bleed" through the paper.
4. Colors
• Avoid yellow, pink, or orange
 Extremely difficult to see.
• Avoid too many colors.
 One dark color and two accent color works
best.
• Use red to high light only
• Underline or change colors for emphasis
5. Teacher Notes
• Write "lightly in pencil" next to key points
you need.
 The audience won't be able to see them.
• Write what is on the next sheet.
 Knowing this will allow you to properly
introduce your next sheet.
6. Mistakes
• Cover with a double layer of flip chart
paper and correct the error.
7. Pointers
• Use a pointer to point to information
8. Blank sheets
• Have a blank sheet of paper between each
of your text sheets.
 This will keep the new information hidden
from your students.
9. Storing
• Properly store and transport your flip
charts in a case or a cardboard box.
 This will protect your flip charts and keep
them fresh and ready to use each time.
10. Preparation
• Prepare your flip charts in advance
 Making "prepared" flip charts can take a
considerable amount of time.
 Review them and make any changes or
corrections before hand.
 It takes practice to learn how to print
neatly. If you do not have neat printing,
ask someone who does prepare them for
you.
 A poorly prepared flip chart can be very
distracting.
DECORATE YOUR
FLIP CHARTS
Use:
 Brightly color markers (3 per page)
 Large stencils
 Large stickers
QUESTIONS
?