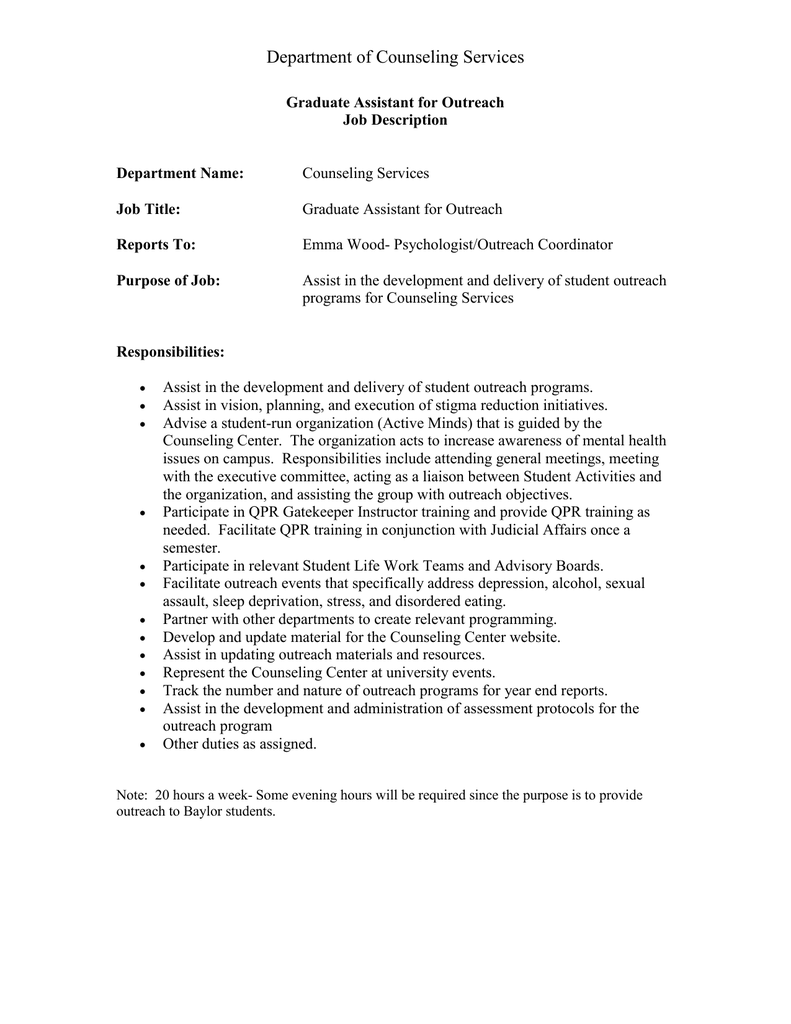 Department of Counseling Services
Graduate Assistant for Outreach
Job Description
Department Name:
Counseling Services
Job Title:
Graduate Assistant for Outreach
Reports To:
Emma Wood- Psychologist/Outreach Coordinator
Purpose of Job:
Assist in the development and delivery of student outreach
programs for Counseling Services
Responsibilities:













Assist in the development and delivery of student outreach programs.
Assist in vision, planning, and execution of stigma reduction initiatives.
Advise a student-run organization (Active Minds) that is guided by the
Counseling Center. The organization acts to increase awareness of mental health
issues on campus. Responsibilities include attending general meetings, meeting
with the executive committee, acting as a liaison between Student Activities and
the organization, and assisting the group with outreach objectives.
Participate in QPR Gatekeeper Instructor training and provide QPR training as
needed. Facilitate QPR training in conjunction with Judicial Affairs once a
semester.
Participate in relevant Student Life Work Teams and Advisory Boards.
Facilitate outreach events that specifically address depression, alcohol, sexual
assault, sleep deprivation, stress, and disordered eating.
Partner with other departments to create relevant programming.
Develop and update material for the Counseling Center website.
Assist in updating outreach materials and resources.
Represent the Counseling Center at university events.
Track the number and nature of outreach programs for year end reports.
Assist in the development and administration of assessment protocols for the
outreach program
Other duties as assigned.
Note: 20 hours a week- Some evening hours will be required since the purpose is to provide
outreach to Baylor students.