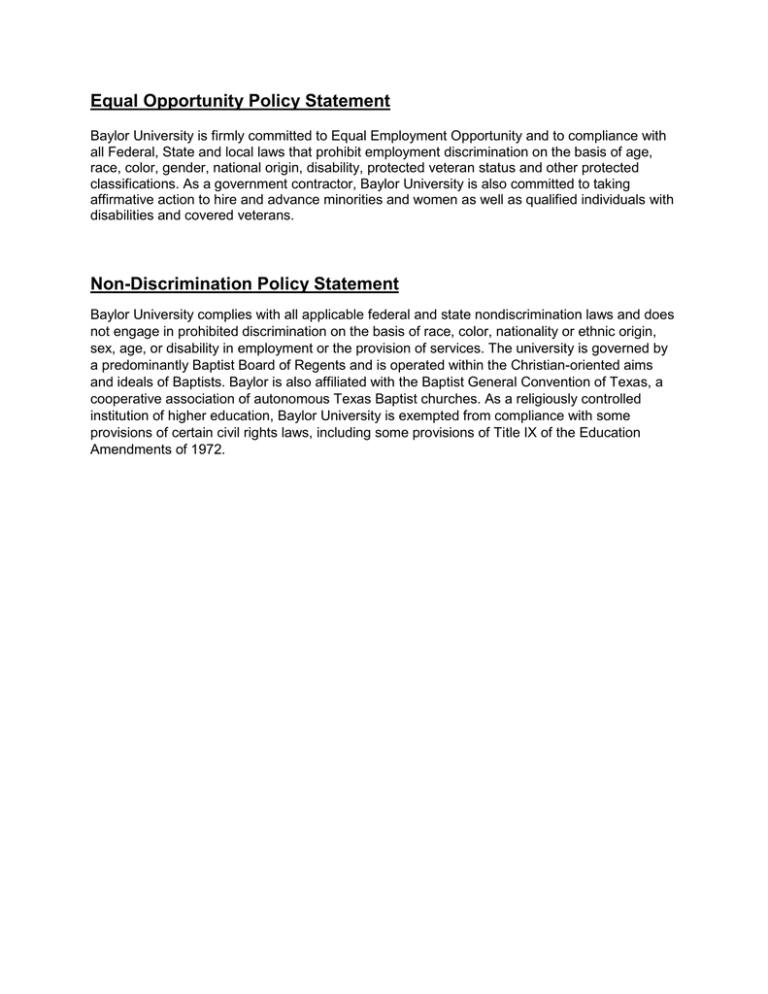 Equal Opportunity Policy Statement
Baylor University is firmly committed to Equal Employment Opportunity and to compliance with
all Federal, State and local laws that prohibit employment discrimination on the basis of age,
race, color, gender, national origin, disability, protected veteran status and other protected
classifications. As a government contractor, Baylor University is also committed to taking
affirmative action to hire and advance minorities and women as well as qualified individuals with
disabilities and covered veterans.
Non-Discrimination Policy Statement
Baylor University complies with all applicable federal and state nondiscrimination laws and does
not engage in prohibited discrimination on the basis of race, color, nationality or ethnic origin,
sex, age, or disability in employment or the provision of services. The university is governed by
a predominantly Baptist Board of Regents and is operated within the Christian-oriented aims
and ideals of Baptists. Baylor is also affiliated with the Baptist General Convention of Texas, a
cooperative association of autonomous Texas Baptist churches. As a religiously controlled
institution of higher education, Baylor University is exempted from compliance with some
provisions of certain civil rights laws, including some provisions of Title IX of the Education
Amendments of 1972.