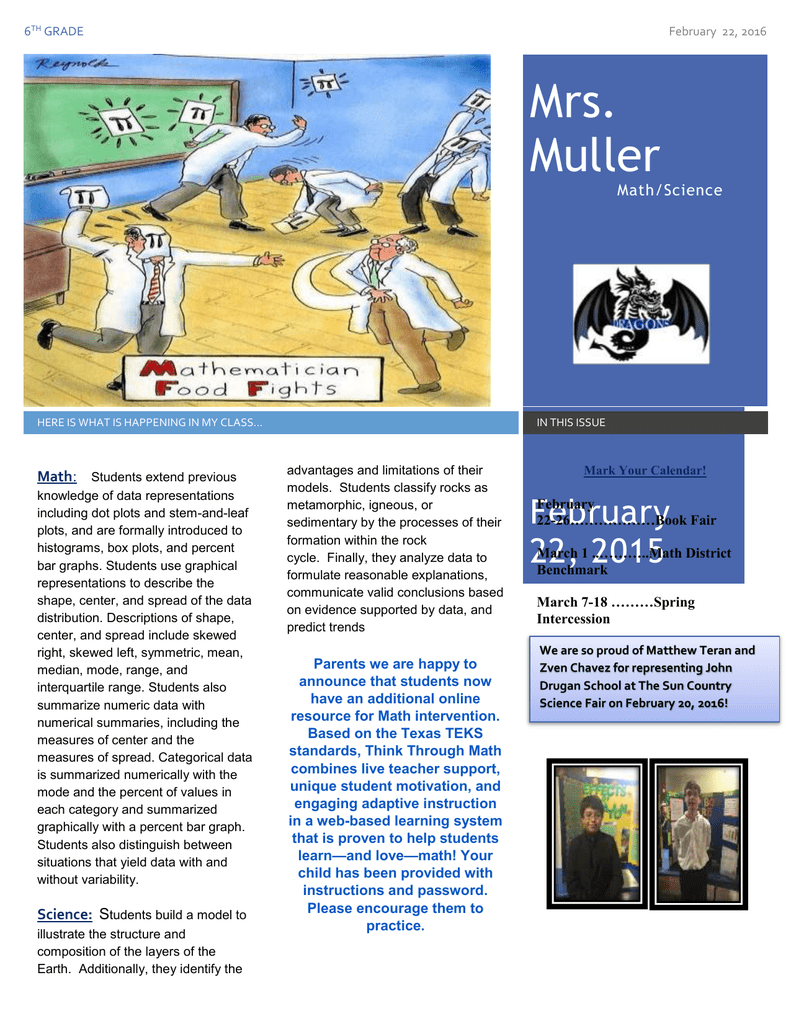 6TH GRADE
February 22, 2016
Mrs.
Muller
Math/Science
HERE IS WHAT IS HAPPENING IN MY CLASS…
Math: Students extend previous
knowledge of data representations
including dot plots and stem-and-leaf
plots, and are formally introduced to
histograms, box plots, and percent
bar graphs. Students use graphical
representations to describe the
shape, center, and spread of the data
distribution. Descriptions of shape,
center, and spread include skewed
right, skewed left, symmetric, mean,
median, mode, range, and
interquartile range. Students also
summarize numeric data with
numerical summaries, including the
measures of center and the
measures of spread. Categorical data
is summarized numerically with the
mode and the percent of values in
each category and summarized
graphically with a percent bar graph.
Students also distinguish between
situations that yield data with and
without variability.
Science: Students build a model to
illustrate the structure and
composition of the layers of the
Earth. Additionally, they identify the
IN THIS ISSUE
advantages and limitations of their
models. Students classify rocks as
metamorphic, igneous, or
sedimentary by the processes of their
formation within the rock
cycle. Finally, they analyze data to
formulate reasonable explanations,
communicate valid conclusions based
on evidence supported by data, and
predict trends
Parents we are happy to
announce that students now
have an additional online
resource for Math intervention.
Based on the Texas TEKS
standards, Think Through Math
combines live teacher support,
unique student motivation, and
engaging adaptive instruction
in a web-based learning system
that is proven to help students
learn—and love—math! Your
child has been provided with
instructions and password.
Please encourage them to
practice.
Mark Your Calendar!
February
February
22-26………………Book Fair
March 1 2015
..………..Math District
22,
Benchmark
March 7-18 ………Spring
Intercession
We are so proud of Matthew Teran and
Zven Chavez for representing John
Drugan School at The Sun Country
Science Fair on February 20, 2016!