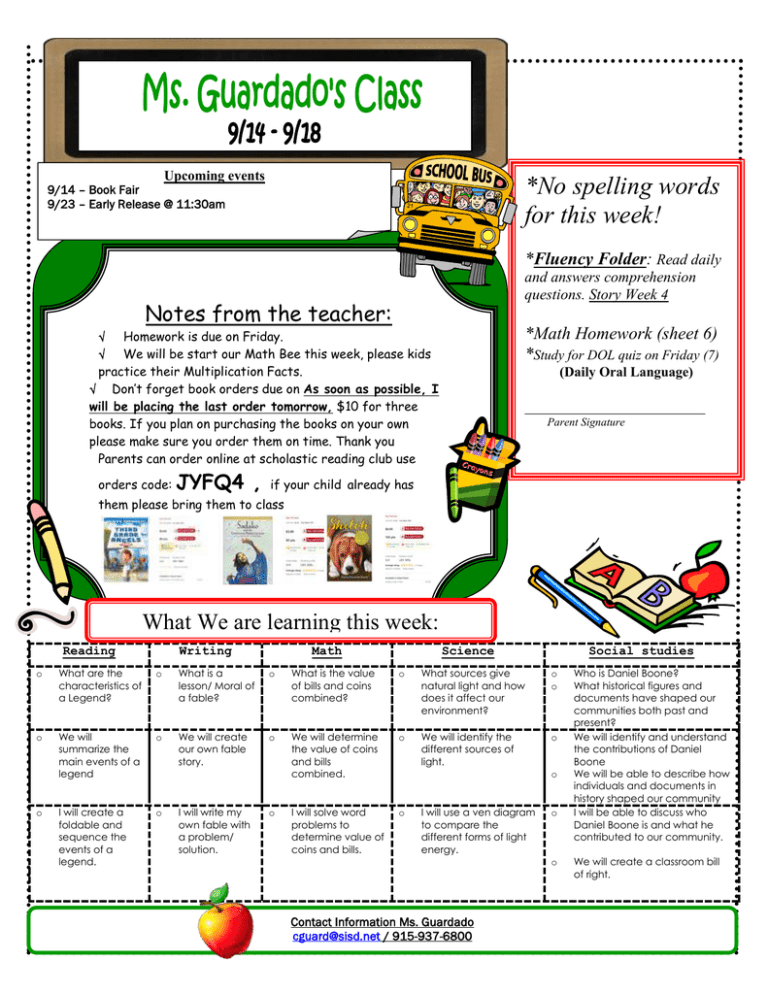 Upcoming events
*No spelling words
for this week!
9/14 – Book Fair
9/23 – Early Release @ 11:30am
*Fluency Folder: Read daily
and answers comprehension
questions. Story Week 4
Notes from the teacher:
*Math Homework (sheet 6)
*Study for DOL quiz on Friday (7)
Homework is due on Friday.

We will be start our Math Bee this week, please kids
practice their Multiplication Facts.
 Don't forget book orders due on As soon as possible, I
will be placing the last order tomorrow, $10 for three
books. If you plan on purchasing the books on your own
please make sure you order them on time. Thank you
Parents can order online at scholastic reading club use

orders code:
JYFQ4 ,
(Daily Oral Language)
Parent Signature
if your child already has
them please bring them to class
What We are learning this week:
Reading
Writing
Math
Science
Social studies
o
What are the
characteristics of
a Legend?
o
What is a
lesson/ Moral of
a fable?
o
What is the value
of bills and coins
combined?
o
What sources give
natural light and how
does it affect our
environment?
o
o
o
We will
summarize the
main events of a
legend
o
We will create
our own fable
story.
o
We will determine
the value of coins
and bills
combined.
o
We will identify the
different sources of
light.
o
I will create a
foldable and
sequence the
events of a
legend.
o
I will solve word
problems to
determine value of
coins and bills.
o
o
I will write my
own fable with
a problem/
solution.
o
o
I will use a ven diagram
to compare the
different forms of light
energy.
o
o
Contact Information Ms. Guardado
cguard@sisd.net / 915-937-6800
Who is Daniel Boone?
What historical figures and
documents have shaped our
communities both past and
present?
We will identify and understand
the contributions of Daniel
Boone
We will be able to describe how
individuals and documents in
history shaped our community
I will be able to discuss who
Daniel Boone is and what he
contributed to our community.
We will create a classroom bill
of right.