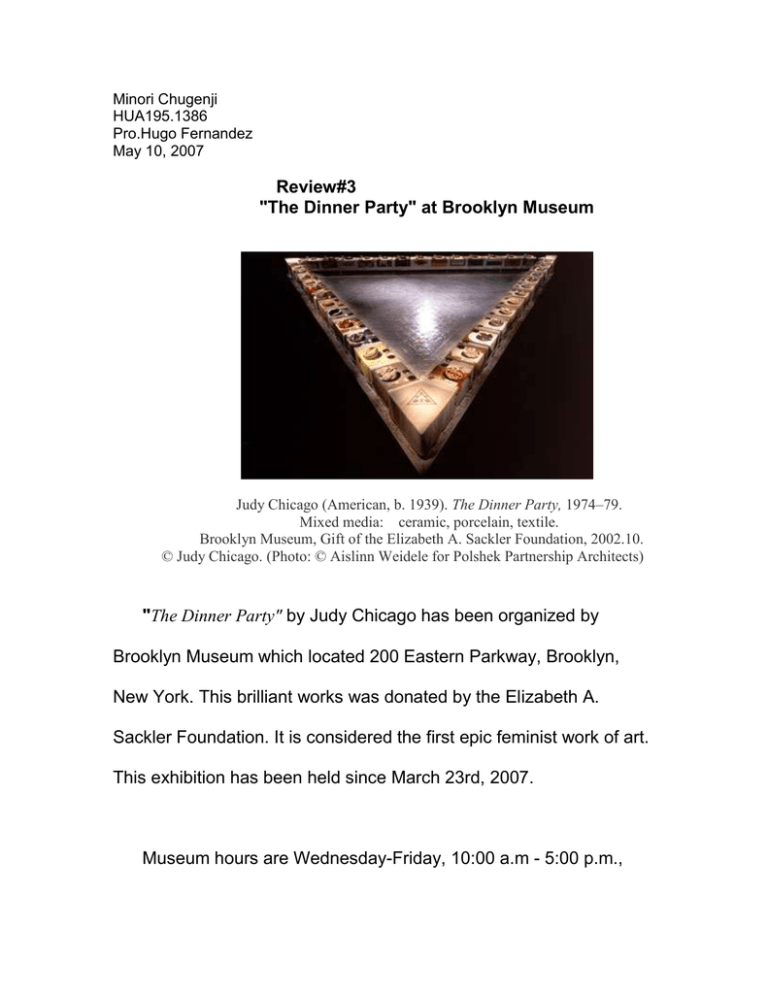 Minori Chugenji
HUA195.1386
Pro.Hugo Fernandez
May 10, 2007
Review#3
"The Dinner Party" at Brooklyn Museum
Judy Chicago (American, b. 1939). The Dinner Party, 1974–79.
Mixed media: ceramic, porcelain, textile.
Brooklyn Museum, Gift of the Elizabeth A. Sackler Foundation, 2002.10.
© Judy Chicago. (Photo: © Aislinn Weidele for Polshek Partnership Architects)
"The Dinner Party" by Judy Chicago has been organized by
Brooklyn Museum which located 200 Eastern Parkway, Brooklyn,
New York. This brilliant works was donated by the Elizabeth A.
Sackler Foundation. It is considered the first epic feminist work of art.
This exhibition has been held since March 23rd, 2007.
Museum hours are Wednesday-Friday, 10:00 a.m - 5:00 p.m.,
Saturday,11:00 a.m.-6:00 p.m., except first Saturday of each month,
11:00 a.m.11:00 a.m-11:00 p.m.; Sunday,11:00 a.m-6:00 p.m. Closed
on Monday and Tuesday as well as Thanksgiving, Christmas, and
New Year's Day.
"The Dinner Party" by Judy Chicago is the most significant icon of
1970s American feminist art. It was started in 1974 and finished in
1979. A lot of people helped to make the large scale of work. There
are actually 1038 of female's related works which celebrates as
plates of flowers. The subjects of works who had been neglected by
history, because they were women until they were reclaimed by
feminist scholars.
This exhibition is designed with very unique way. There is a
triangular table measuring forty-eight feet an each side with a total of
thirty-nine plates. The table is divided into three wings; Wing one of
the table begins in prehistory with the Primordial Goddess and
continues chronologically to the development of Judaism, to early
Greek societies, to the Roman Empire, marking the decline in
women's power, which is signified by Hypatia's place setting. Wing
two represents early Christianity through the reformation, depicting
women who signify the early expression of the fight for equal rights,
from marcela to Anna van Schurman. Wing three begins with Anne
Hutchinson and addressed the American Revolution and Suffragism.
Each plate represents a woman who is significantly made a
difference in history as a woman.
On the ground, 999 other women who is also honored.
Those plates placed with a certain manner, for each setting, a
gold ceramic chalice and utensils, a napkin with an embroidered
edge, and a fourteen inch china painted plate with a central motif
based on butterfly and vulvae forms and rendered in a style
appropriate to the individual woman being honored.
I would like to talk about a couple of plates, the one is for
Primordial Goddess who is place at the beginning, and Georgia
O'Keeffe who is placed at the end.
Both of these works were exclusively beautiful for me, and it seems
meaningful because both placed at the beginning and the end.
Judy Chicago (American, b. 1939). The Dinner Party (Primordial Goddess place setting),
1974–79. Mixed media: ceramic, porcelain, textile. Brooklyn Museum, Gift of the
Elizabeth A. Sackler Foundation, 2002.10. © Judy Chicago.
Photograph by Jook Leung Photography
This plate which is set very beginning of all works, is for Primordial
Goddess. Primordial Goddess represents the original female being, in
ancient religions, from whom all life emerged---the Earth Mother.
The coil around the Primordial Goddess's first initial represents the
early baskets and pottery made by women using coil forms. It also
echoes early art in which the coil is a recurrent motif, thought to be a
symbol of the goddess and sacred femininity. The calfskins represent
the early clothing made by women. This is made of a fourteen-inch
china-painted plate with a image of flesh and rock symbolizing the
ties between the female body and Mother Earth. Judy Chicago calls
the Primordial Goddess the "Primal Vagina," the original source of all
life. The Goddess was the universal soul, who accepted plant,
animal, and human matter in death in order to create new life from
the remains. The cycles of nature were reflected in the cycles of the
female body, such as menstruation pregnancy, birth, and lactation.
Those all facts made Judy Chicago thinks that we should appreciate
her as a first plate in this works as a primary work of the show.
Judy Chicago (American, b. 1939). The Dinner Party (Georgia O'Keeffe plate), 1974–79.
Porcelain with overglaze enamel (China paint).
Brooklyn Museum, Gift of the Elizabeth A. Sackler Foundation, 2002.10. © Judy Chicago
This plate represents Georgia O'keeffe (1887-1986) who is
American painter, well known for her paintings of flowers and
landscapes; she pursued an independent vision of modern art
divergent from the work of most of her male contemporaries.
Georgia O'Keeffe's is the last place setting at The Dinner Party. Her
plate has the most height, signifying her artistic liberation and her
success as a female artist. The imagery on O'Keeffe's plate represent
her paintings, such as Black Iris, 1926. Chicago pays tribute to both
O'Keeffe's originality and the imagery in her paintings. She also
acknowledges the influence O'Keefe had on later feminist artists,
claiming her work as "pivotal in the development of an authentically
female iconography" (Chicago, The Dinner Party, 155).
On the front of the runner, the first initial of Georgia O'Keeffe's name
is done in the style of her famous skull paintings, which were
influenced by the American West. The embroidered letter "G"
appears as an antler form, like those found in her paintings From the
Faraway Nearby, 1937, and Ram's Head, White Hollyhock-Hills, 1935.
Chicago chose these colors to represent fine art painting, and
O'Keeffe's participation in that tradition. A piece of raw Belgian linen,
which is used for art canvases, is attached to cherry wood stretcher
bars.
Why Judy chose her for the last is that she is the one who
represents the movement toward women's increased individual
creative expression.
At last, I actually do not understand why Judy tried to make this
work as plates, but not other forms. It is so strange for me to make
plates for women who achieved and made a difference the history of
feminism. But a hundreds of collaborators actually committed the
project because they were inspired what Judy was doing at that time.
There must be something what I have not found yet. But all of works
is based on the image of the each subject is of Judy, not ours.
Sometimes I do not agree with the works which Judy has completed.
For me, I prefer to appreciate by making something else, not those
plates but other ways for those who are significant women in the past.
I could say it was beautiful, but never understand as same as how
Judy feels for those women.