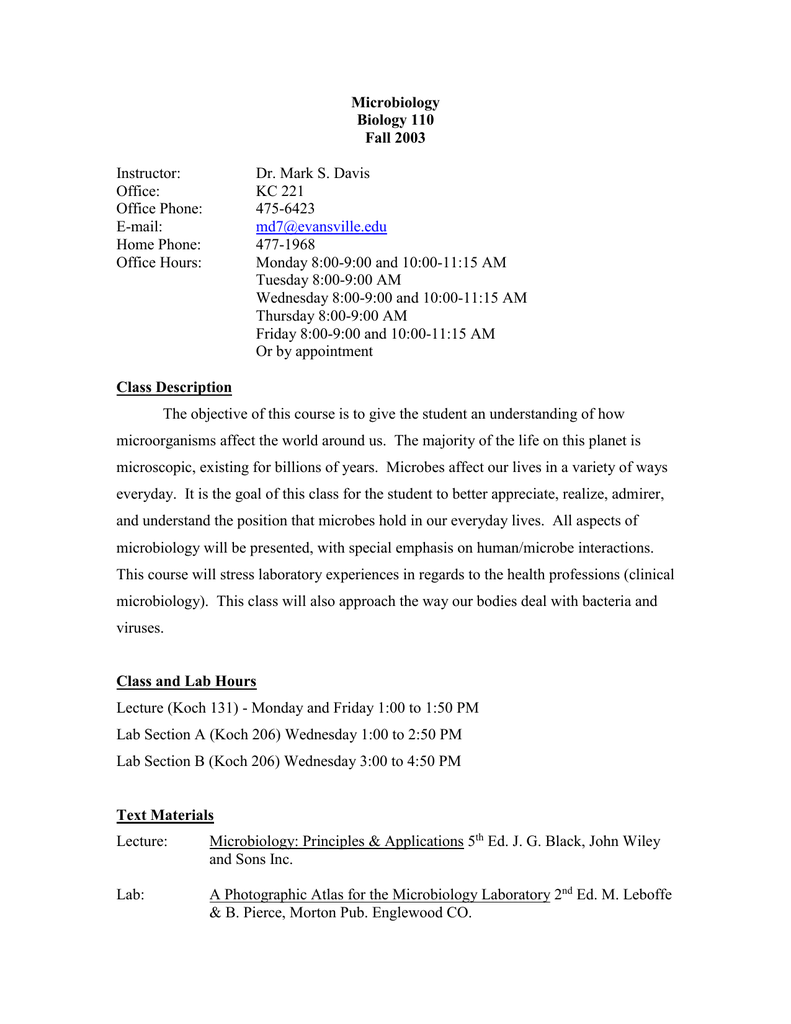 Microbiology
Biology 110
Fall 2003
Instructor:
Office:
Office Phone:
E-mail:
Home Phone:
Office Hours:
Dr. Mark S. Davis
KC 221
475-6423
[email protected]
477-1968
Monday 8:00-9:00 and 10:00-11:15 AM
Tuesday 8:00-9:00 AM
Wednesday 8:00-9:00 and 10:00-11:15 AM
Thursday 8:00-9:00 AM
Friday 8:00-9:00 and 10:00-11:15 AM
Or by appointment
Class Description
The objective of this course is to give the student an understanding of how
microorganisms affect the world around us. The majority of the life on this planet is
microscopic, existing for billions of years. Microbes affect our lives in a variety of ways
everyday. It is the goal of this class for the student to better appreciate, realize, admirer,
and understand the position that microbes hold in our everyday lives. All aspects of
microbiology will be presented, with special emphasis on human/microbe interactions.
This course will stress laboratory experiences in regards to the health professions (clinical
microbiology). This class will also approach the way our bodies deal with bacteria and
viruses.
Class and Lab Hours
Lecture (Koch 131) - Monday and Friday 1:00 to 1:50 PM
Lab Section A (Koch 206) Wednesday 1:00 to 2:50 PM
Lab Section B (Koch 206) Wednesday 3:00 to 4:50 PM
Text Materials
Lecture:
Microbiology: Principles & Applications 5th Ed. J. G. Black, John Wiley
and Sons Inc.
Lab:
A Photographic Atlas for the Microbiology Laboratory 2nd Ed. M. Leboffe
& B. Pierce, Morton Pub. Englewood CO.
Lab: (cont.)
Handouts available in room 219 from Mrs. Akrabawi ($5.00).
Other:
Additional material (articles and figures) will be handed out as needed.
Grading
Grades will be based on the following straight scale:
Grade
A
B
C
D
F
Percentage
100-90
89-80
79-70
69-60
59-lower
Two mid-semester exams will be given. Each exam will be 20% of the overall
grade. Exams will cover the material from the lecture and lab. Sample questions are at
the end of each chapter and in the lab manual. The questions will be roughly split
between objective (multiple choice, true/false, and matching) and essay.
A cumulative final will comprise 25% of the overall grade. The final will have
questions from the entire semester from lecture and lab.
A quiz will be given before every lab period. They will cover the subject of the
lab that day and will be roughly 5 minutes long. The material on the quiz will come
directly from the lab manual. The quizzes will comprise 5% of the overall grade.
At the end of each lab exercise is a section titled "questions." You are expected
to complete the section after that laboratory is finished. These "questions" will be
collected and graded. Some labs required addition items (graphs, tables, etc) which will
also be collected. This section will count for 10% of the overall grade.
A practical lab exam will be given about mid-semester. The exam will require
you to perform standard microbiological techniques (sterile technique, dilution problems,
isolating organisms, etc). In the first part of the semester, the labs will cover these
procedures. The practical is worth 5% of the overall grade.
A disease scenario/case study will determine the remaining 15% of the overall
grade. This disease scenario will require the student to determine the cause of a patient's
disease (diagnosis), prevent the spread of the disease/organism, and treat the patient (the
symptoms and the pathogen). Scenarios will be handed out early in October. A report
describing the above mentioned items will be due mid-November. A presentation of the
report to the class will occur during the last scheduled lab. More information concerning
the format of the report and the type of presentation expected will accompany the disease
scenario itself.
Attendance for the class will not be taken, however, material will be reviewed and
discussed in the classroom that is not presented in the text. This material can/will be
covered on the exams. Attendance for the laboratory is required. No make-up labs will
be given and if a quiz is missed due to an unexcused absence, no make-up will be given.
All students are expected to abide by the honor code stated in the student manual.
Tentative Lecture Syllabus
Topic
Chapter
History of Microbiology
Microscopy and Staining
Cell Characteristics
Metabolism
Growing and Culturing Bacteria
Date
1
3
4
5
6
8/29
9/1-5
9/5-12
9/12-15
9/15-19
7
8
9
10
11
12
13
9/26-29
9/29-10/3
10/6-10
10/17-20
10/24
10/24-27
10/27-31
14
15
16
17-18
19
20
21-22
23-24
11/7
11/10
11/14
11/17
11/21
11/24
12/1
12/5-8
Exam I Monday 9/22
Microbial Genetics
Recombinant DNA and Genetic Engineering
Bacteria
Viruses
Eukaryotic Microorganisms
Sterilization and Disinfection
Antimicrobial Therapy
Exam II Monday 11/3
Host Microbe Interactions
Epidemiology and Nosocomial Infections
Host Systems
Immunology
Diseases of Skin and Eyes
Urogenital and Sexually Transmitted Diseases
Diseases of the Respiratory, Oral, and GI tracts
Cardiovascular, Lymphatic, Systemic, and Nervous
Final Exam Thursday 12/11 12:30 PM
Previous examinations will be available on reserve in the library and online.
Review sessions can be scheduled if interest is noted.
Tentative Laboratory Syllabus
Date
8/27
Topic
Introduction to the Laboratory
Microbes in the Environment
9/3
Solid Media, Pure Cultures, Streaking Organisms, Transfer Techniques
9/10
Microscopes and Simple Stains
9/17
Specialized Stains
9/24
Viable and Colony Counts
10/1
Killing Microbes
10/8
Bacterial Structural Features
10/15
ID Unknowns
10/22
Practical
10/29
Food and Water Microbiology
11/5
Pathogens of the Urinary and Gastrointestinal Tract
11/12
Enterococci, Streptococci, Klebsiella, and Enteric Bacilli
11/19
Student Presentations Round 1
11/26
No Lab
12/3
Student Presentations Round 2
Most of the lab exercises can not be completed in one laboratory period;
therefore, they may continue into the next period or you might have to come in at another
time to look at cultures or record results from various tests.
To assure students submit original work, we will use turnitin.com. The class
name is Microbiology, the code number is 1080030, and the password is Shigella.