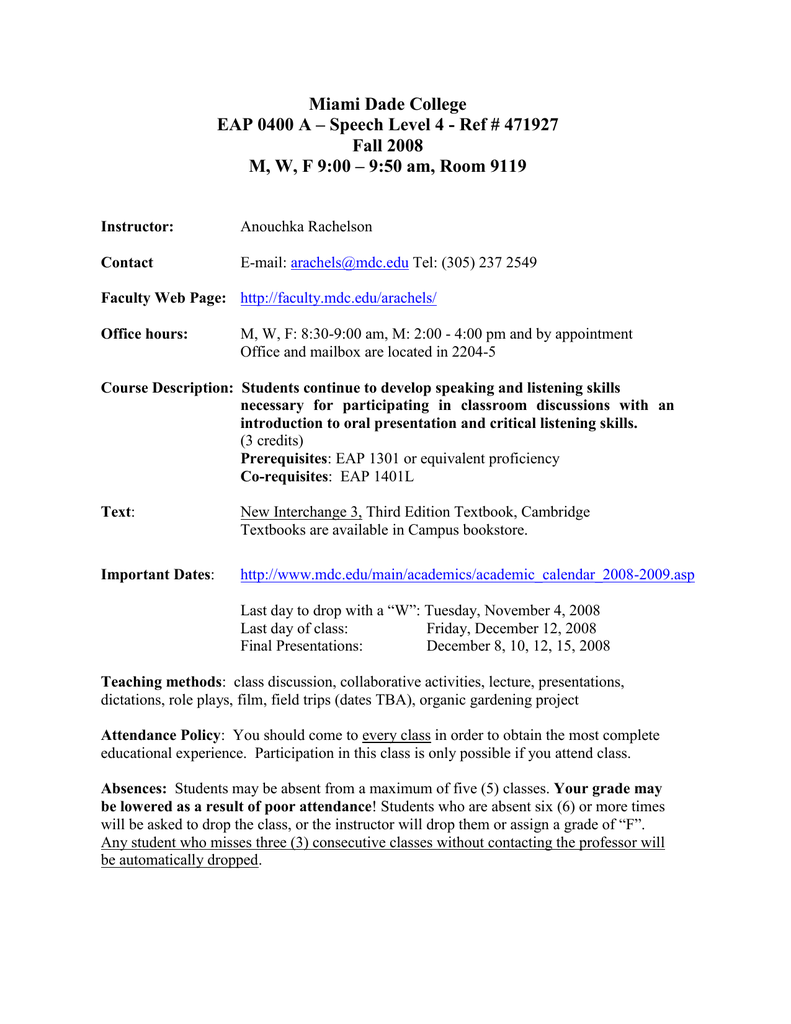 Miami Dade College
EAP 0400 A – Speech Level 4 - Ref # 471927
Fall 2008
M, W, F 9:00 – 9:50 am, Room 9119
Instructor:
Anouchka Rachelson
Contact
E-mail: [email protected] Tel: (305) 237 2549
Faculty Web Page: http://faculty.mdc.edu/arachels/
Office hours:
M, W, F: 8:30-9:00 am, M: 2:00 - 4:00 pm and by appointment
Office and mailbox are located in 2204-5
Course Description: Students continue to develop speaking and listening skills
necessary for participating in classroom discussions with an
introduction to oral presentation and critical listening skills.
(3 credits)
Prerequisites: EAP 1301 or equivalent proficiency
Co-requisites: EAP 1401L
Text:
New Interchange 3, Third Edition Textbook, Cambridge
Textbooks are available in Campus bookstore.
Important Dates:
http://www.mdc.edu/main/academics/academic_calendar_2008-2009.asp
Last day to drop with a "W": Tuesday, November 4, 2008
Last day of class:
Friday, December 12, 2008
Final Presentations:
December 8, 10, 12, 15, 2008
Teaching methods: class discussion, collaborative activities, lecture, presentations,
dictations, role plays, film, field trips (dates TBA), organic gardening project
Attendance Policy: You should come to every class in order to obtain the most complete
educational experience. Participation in this class is only possible if you attend class.
Absences: Students may be absent from a maximum of five (5) classes. Your grade may
be lowered as a result of poor attendance! Students who are absent six (6) or more times
will be asked to drop the class, or the instructor will drop them or assign a grade of "F".
Any student who misses three (3) consecutive classes without contacting the professor will
be automatically dropped.
Tardiness: If you are late, please enter quietly and join in the class activities. For every
three (3) times that you arrive late or depart early I will count one absence. Exceptions may
be made if you provide documentation that demonstrates that you had a serious illness,
injury or court appearance.
Course Policies:



Always bring a dictionary and your textbooks
Always present your own work.
Turn off your cell phones/ beepers
Student code of conduct: The college policy on the Student Code of Conduct is located at
http://www.mdc.edu/policy/student_rights_and_responsibilities.pdf . Please familiarize
yourself with it.
Academic dishonesty: The department affirms its commitment to treat cases of academic
dishonesty according to Miami-Dade Community College Procedure No. 4074. Students
are forewarned that academic dishonesty in any form will be penalized according to this
procedure. The instructor has the option to award a grade of "F" for the course. Cheating
or any form of academic dishonesty may also result in the student's being placed on
academic probation, suspended from school, or dismissed from the College.
Course Drop: It is your responsibility to drop this class within the time available.
Grading:
The final grade for this course will be based on the following:
Presentations
40 %
Participation, Quizzes, GEO- Portfolio
40 %
Final Presentation
20 %
Scale: A
B
C
D
F
90-100%
80-89%
70-79%
60-69 %
Below 60%
Tutoring is available in the lab in room 6237 for students who have a paid registration to
use the lab.
Course Competencies:
PRODUCTION
Competency 1: The student will use grammatical
structures consistent with levels 1-4.
Competency 2: The student will participate in classroom
discussion, express opinions and be understood by
attentive listeners. The student will continue to develop
oral communication skills including fluency, idea
sequencing, accuracy, vocabulary, and pronunciation.
Competency 3: The student will ask informational
questions and ask for clarification.
Competency 4: The student will actively participate in
role-playing, simulating social and academic situations
(e.g., giving advice, expressing obligation, necessity,
permission and drawing conclusions).
Competency 5: The student will prepare simple oral
presentations on familiar topics (e.g., comparison,
classification, process.)
COMPREHENSION
Competency 6: The student will follow orally expressed
multi-step directions appropriate to the level.
Competency 7: The student will understand factual
information and respond appropriately to comprehension
questions.
Competency 8: The student will take notes on
contemporary topics (e.g., news items, reports, etc.)
EAP 0400 A
A. Rachelson
Tentative Schedule
Fall 2008
Week
Date
Topic
Assignment
1
Introduction to course
Unit 1 – Friends, Personality types
Labor Day – No School
Unit 2 - Careers
Unit 3 – Doing favors
Buy textbook and portfolio
3
8/27
8/29
9/1
9/3 - 9/5
9/8- 9-12
4
9/15 – 9/19
5
9/22 – 9/26
6
9/29 – 10/3
Role Plays, Introduction to organic
gardening project
Present Tense pronunciation
workshop - Practice
Presentations
7
10/6-10/10
"A Career" (Informative Speech)
Unit 5 – Crossing cultures
8
10/13-10/17
Unit 7 – The world we live in
9
10/20-10/24
10
10/27-10/31
11
11/3-11/7
12
11/10-11/14
Unit 7 - continued
United Nations Day Celebration
Past Tense pronunciation workshop –
Unit 10 – The Past and the Future
Presentations – Telling a story in
the past tense
Food Unit - Reading and Talking
about food issues
13
11/17-11/21
14
15
11/24, 26
11/28
12/1-12/5
16
12/8 - 12/12
Chapter 16 – Challenges and
Accomplishments
Final Presentations
17
12/15
Final Presentations
2
Assigned readings and GEO portfolio
work
Preparing for Finals
Thanksgiving Holiday – No School
Class Participation Grading Rubric
Criteria
Attendance
A
Student attends
class regularly,
is always on
time, has
materials ready.
B
Student attends
regularly, is
sometimes
tardy, and is not
always ready.
Participation/
Engagement in
class
Student
proactively
contributes to
class, offers
ideas, asks
questions more
than once per
class. Student
always pays
attention.
Speaking skills
Student speaks
English at all
times.
Student
proactively
contributes to
class, offers
ideas and
questions once
per class.
Student
sometimes does
not pay
attention.
Student mostly
speaks English.
Listening skills
Student always
listens when
others talk, both
in groups and in
class. Student is
respectful of
others'
contributions.
Student is
always prepared
for class with
assignments and
required
materials.
Preparation
Student mostly
listens when
others talk, both
in groups and in
class. Student
mostly respects
others'
contributions.
Student is
almost always
prepared for
class with
assignments and
required
material.
C
Student attends
irregularly,
often arrives
late, has to be
told to get
materials ready.
Student rarely
contributes to
class, has to be
told to pay
attention, is off
task a lot.
D/F
Students has
poor attendance,
very often
arrives late and
is often not
ready.
Student never
contributes to
class, is often
not on task,
distracts others,
does not pay
attention.
Student
frequently
speaks in native
language or
mixes English
and native
language.
Student rarely
listens when
others talk in
class.
Student has to
be reminded
constantly not
to speak in
native
language.
Student is
usually
prepared for
class with
assignments and
required
materials.
Student is rarely
prepared for
class with
assignments and
required
materials.
Student does not
listen when
others talk.
Student
interrupts others
frequently.