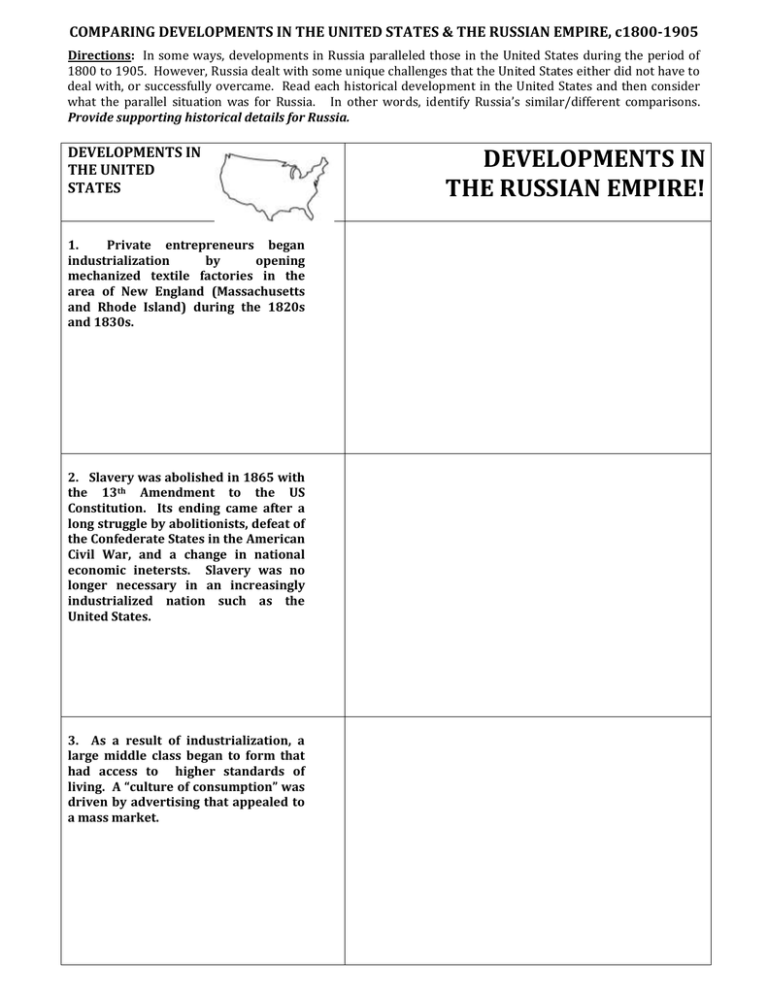 COMPARING DEVELOPMENTS IN THE UNITED STATES & THE RUSSIAN EMPIRE, c1800-1905
Directions: In some ways, developments in Russia paralleled those in the United States during the period of
1800 to 1905. However, Russia dealt with some unique challenges that the United States either did not have to
deal with, or successfully overcame. Read each historical development in the United States and then consider
what the parallel situation was for Russia. In other words, identify Russia's similar/different comparisons.
Provide supporting historical details for Russia.
DEVELOPMENTS IN
THE UNITED
STATES
1.
Private entrepreneurs began
industrialization
by
opening
mechanized textile factories in the
area of New England (Massachusetts
and Rhode Island) during the 1820s
and 1830s.
2. Slavery was abolished in 1865 with
the 13th Amendment to the US
Constitution. Its ending came after a
long struggle by abolitionists, defeat of
the Confederate States in the American
Civil War, and a change in national
economic inetersts. Slavery was no
longer necessary in an increasingly
industrialized nation such as the
United States.
3. As a result of industrialization, a
large middle class began to form that
had access to higher standards of
living. A "culture of consumption" was
driven by advertising that appealed to
a mass market.
DEVELOPMENTS IN
THE RUSSIAN EMPIRE!
DEVELOPMENTS IN
THE UNITED
STATES
4.
Unions began to organize,
representing the interests of industrial
workers who demanded better
working conditions and higher pay.
Sometimes, the US government would
intervene
with
force
to
end
particularly disruptive work strikes
such as the Pullman Strike in 1894.
5.
The United States pursued an
expansionist policy across the North
American
continent
with
the
nationalist attitude of Manifest
Destiny. It also became imperialistic
overseas. Hawaii was annexed in 1891
and the Spanish-American War in 1898
resulted in the US acquiring the
colonies of Puerto Rico, Guam, and the
Philippines from Spain.
6. Throughout the period, the US
government was structured as a
democratic republic. Presidents were
elected and had term limits. As guided
by the Constitution, a system of checks
and balances restricted their power in
politics.
DEVELOPMENTS IN
THE RUSSIAN EMPIRE!