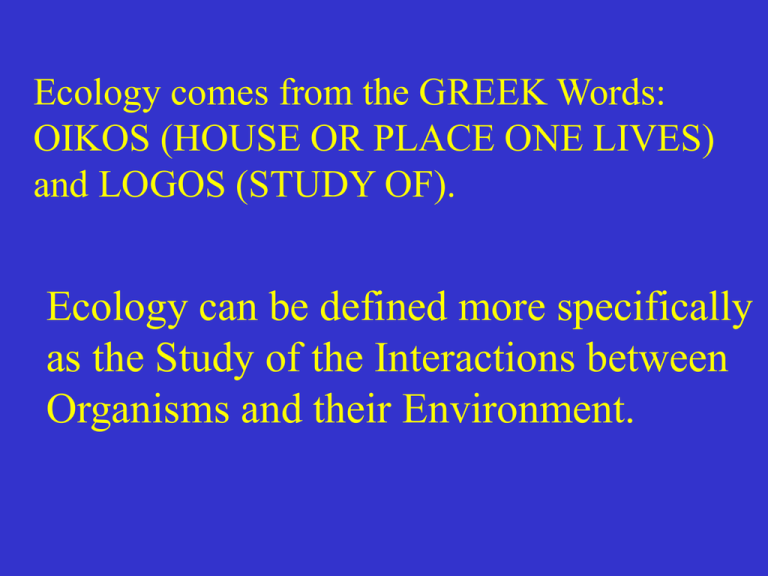 Ecology comes from the GREEK Words:
OIKOS (HOUSE OR PLACE ONE LIVES)
and LOGOS (STUDY OF).
Ecology can be defined more specifically
as the Study of the Interactions between
Organisms and their Environment.
We call the living surface of Earth the
BIOSPHERE.
The biosphere is composed of smaller units
called ECOSYSTEMS. An ecosystem includes
all organisms and nonliving environment in a
place
Ecosystems can be as large as we decide.
A Population includes all the members of the
Same Species that Live in one place at one time.
Populations are individual species, all the
interacting Organisms (All The Different
Populations) that live in a particular area make
up a COMMUNITY. The Physical Location of
a Community is called the HABITAT
A species' Niche is its way of life, or the role the
species plays in its environment.
The niche includes the range of conditions that
the species can tolerate, the methods by which it
obtains needed resources, the number of
offspring it has, its time of reproduction and all
its other interaction with its environment.
BIOTIC AND ABIOTIC FACTORS 1. An
Ecosystem possesses both LIVING
COMPONENTS OR BIOTIC FACTORS and
NONLIVING OR ABIOTIC FACTORS
FLOW OF ENERGY IN ECOSYSTEMS
The MOST Important Factor Determining HOW
MANY and WHAT KIND of Organisms that
can live in an Ecosystem is the amount of
ENERGY Available.
The amount of energy an Ecosystem receives
and the amount that is transferred from organism
to organism has an important effect on the
Ecosystem's structure.
Energy in an Ecosystem FLOWS from the SUN
to Autotrophs (Producers)
then to Organisms that Eat the Autotrophs
(Consumer, Herbivore)
then to Organisms that feed on other Organisms
(Consumers, Carnivore).
A. Decomposers – Consumers who feed on Remains of
Dead Plants and Animals.
B. Herbivores – Eat Producers or Plant Eaters.
C. Carnivores – Eat other Consumers. Meat Eaters.
D. Omnivores – Eat Both Producers and Consumers
E. Detritivores – Feed on the "Garbage" of an Ecosystem.
A. Producers are the First Trophic Level.
B. Herbivores are the Second Trophic Level.
C. Carnivores are the Third, Forth and Fifth
Trophic Levels.
At each Trophic Level, the Energy stored in an
organism is about 1/10 that of the Level Below
it. (10%).