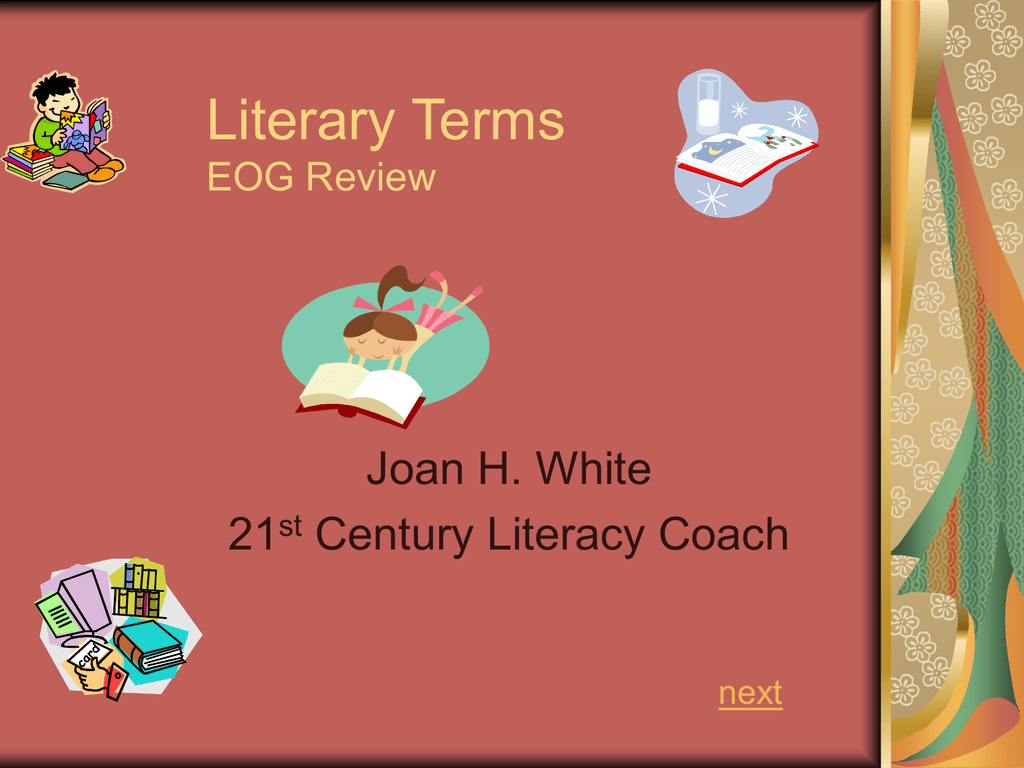 Literary Terms
EOG Review
Joan H. White
21st Century Literacy Coach
next
Practice and Review
Read each literary term and its
definition.
Next
Motive is …
the reason for doing something
Next
Compare means…
To show how two or more things are
alike
Next
Resolution means …
An answer to a problem
Next
Contrast means …
to show how two or more things are
different
Next
Mood means…
somebody's state of mind
Next
Imagery means …
a set of mental pictures produced by
the memory or imagination
Next
Theme means …
The main or overall idea or
topic
Next
Plot means …
the story or sequence of events in
something such as a novel, play, or
movie
First
Next
Last
Next
Climax means…
the most important or exciting point in
something such as an event or a story
Next
Tone means …
the way somebody says something as
an indicator of what that person is
feeling or thinking
Next
Antonym means…
a word that means the opposite of another
word
hot
cold
Next
Synonym means…
a word that means the same, or almost
the same, as another word
happy
glad
Next
Let's Practice.
Read each word or click the sound
button to listen to each word.
Raise your hand. Say the definition.
Next
Motive
Next
compare
next
resolution
next
contrast
Next
mood
Next
imagery
Next
theme
Next
plot
First
Next
last
Next
climax
Next
tone
Next
antonym
hot
Next
synonym
happy
glad
Next
You guys are so SMART!