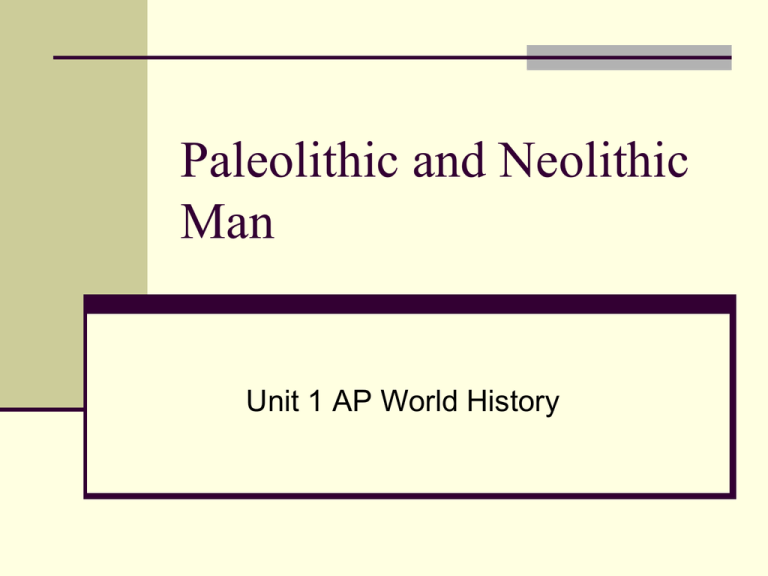 Paleolithic and Neolithic
Man
Unit 1 AP World History
Agenda for today
1. Bell Ringer
2. Expectations for the Class
- Textbooks
3. Lecture: Paleolithic and Neolithic Man
- Interpretation of Cave Paintings.
4. The Lemon Tree assignment
5. Timeline Activity: Advancement of Man
6. Map Activity: Spread of humans.
7. HW: Vocabulary assignment.
The First Humans
 Homo Sapiens emerge
250,000 years ago.
 Small clans develop,
and every generation
moves 2-3 miles.
 World is populated
around 10000 BCE
 "Africa Theory"

All human
development began in
Africa, moved outward.
Hunter-Gatherer Societies
 Paleo- Old Stone
 Hunter-gatherers
 Patterns develop
 Form clans of 30
 Moved frequently
 Rough gender equality
 Women stayed closer
to camp, while men
hunted.
 Adapting was
necessary for survival.
Neolithic Revolution
 10000-4000 BCE
 Food is produced
instead of gathered.
 Animals domesticated
over time.
 Settled into
communities.

These were still
relatively nomadic.
Growth of Farming
 Permanent settlements
develop with better
farming.
 Catal Huyuk

Home placement
 Food surplus leads to
more time for leisure.
 Polytheistic Religious
traditions, "Mother
Earth".
Consequences
 Settlement leads to trade,
but also a need for
protection.
 Specialization of labor.
 Men remained in the
field, while women were
relegated to household
tasks.
 Gender inequality
develops.
 Eventually, the patriarchal
society and the need for
protection would change the
village.
 Analyze the lifestyle
of Paleolithic man,
and how it differed
from Neolithic man.